Chris Kamas, center, who plays Romeo in the spring production of Romeo and Juliet, says director Casey McClellan's gender-blind casting method has been "liberating." (Sacramento State Department of Theatre and Dance)
By Ahmed V. Ortiz
Even nonfans of Shakespeare would agree his works hardly need revision. A little fresh perspective doesn't hurt, though.
Director Casey McClellan loves the Bard and Romeo and Juliet, and his Sacramento State production of the classic is scheduled to run March 18-29 in the University Theatre (Shasta 113).
But McClellan, a part-time Theatre and Dance lecturer, says familiarity with the romantic tragedy about love-struck teens fighting to dislodge a class-born wedge driven between them has bred, if not contempt, then certainly fatigue.
"I get bored with it," McClellan said. "I think our collective cultural context has made these grotesque stereotypes of those two characters as well as the play."
So he has flipped it on its ear, choosing a gender-blind approach to casting the play, his first for the University, instead of treating it as a "museum piece."
Most notably, Juliet is played by a man, Harrison Moore. Other prominent roles also disregard traditional gender assignments, but McClellan says he is concerned only with truth, not shock value.
Shanti Moore (left) as Sampson and Ana Muntean (right) as Benvolio parry as they rehearse a sword-fighting scene for
Romeo and Juliet
. (Sacramento State Department of Theatre and Dance)
"Whoever really approached the role with the greatest truth and riskiest choices got that role," McClellan said of his casting process, emphasizing that the original play's pronoun integrity is preserved. "We're not trying to rewrite Shakespeare."
"Hopefully, this is one where we sit forward," McClellan said, referring to his desire to hold audience attention.
Moore recognizes the challenge he faces portraying Juliet.
"It's a very daunting task, absolutely," Moore said. "The toughest thing has been finding an equilibrium between masculine and feminine."
To help immerse himself in the role and strike that balance for himself, Moore pierced his ears and has taken to painting his nails. He said he actually read for the part of Romeo but instead was offered Juliet for his first Shakespeare role – and his first as a lead of any kind.
Chris Kamas, who plays Romeo, said the experience has been liberating.
"It's an opportunity to take away the labels," he said. "It's just about the essence of these people falling in love.
"Casey has given me permission to explore my own truth and my own honesty. It's pretty remarkable."
McClellan said he expects, encourages and accepts negative feedback. He suggests, however, that any harsh reaction to his gender choices in casting should be tempered by the realization that his approach is hardly revolutionary; in Shakespeare's day, male actors played all roles, since women weren't even allowed on stage.
"There was a lot of blowback to Hamilton, before it became HAMILTON," McClellan said, referring to the Broadway musical that became a national phenomenon.
Sac State's Romeo and Juliet is set in contemporary times, a placement McClellan considers appropriate. He says parallels between the plight of the original 16th-century protagonists and today's LGBTQ teens are easily recognized, especially given the suicide rate of the latter. Romeo, Juliet and LGBTQ teens today, he said, occupy worlds where their connections can be discouraged or even disallowed, though for different reasons.
"Casey is really great about opening up a dialogue and asking us to question and asking us to discover and try different things," Kamas said. "When you have people around you who are willing to commit to it, it's really quite easy. There's no obstacle to stepping in and searching for truth."
McClellan said he was inspired to adopt this casting approach by a production of the play he watched about 20 years ago. Four high school boys read the play, including female dialogue. After a while, he said, the players' assigned gender was not a consideration.
"I think for the first time I actually heard the words and experienced the story," he said.
Ultimately, that's what he hopes audiences take away from this version – that the essential truth of Shakespeare's words uncovers something new in a 400-year-old work. McClellan also is thinking about the future of theater, a medium he says will vanish unless the work inspires viewers to begin sometimes-difficult conversations.
"The future," he said, "doesn't lie in the status quo."
More information on Theatre and Dance, including season schedule and tickets, can be found online.
More on stage
The Theatre and Dance season includes several other significant performances:
Sacramento/Black Art of Dance (S/BAD): Inner/Visions! is up first, running Feb. 19-March 1, with a two-day break Feb. 24-25, in Solano Dancespace (Solano 1010). Featured are local guest artist Kenya Hilliard, dance faculty member Nicole Manker, and visiting scholar-artists Pat Taylor of JazzAntiqua Dance and Music Ensemble and Linda Yudin of Viver Brasil. Inner/Visions! features movement forms from throughout the African diaspora, including jazz, contemporary and Afro-Brazilian. Founded by Dr. Linda Goodrich in 1991, the S/BAD company carries forward the legacy of Katherine Dunham of black concert dance in America.
House of Desires, directed by Nicole C. Limón, is a theatrical work by Sor Juana Inés de la Cruz, a major baroque literary figure of Mexico. House of Desires is a farcical tale of love and honor that examines the concept of free will for women in the 17th century, a time when a woman's role was subject to a strict moral code. This production, which runs April 8-19 (April 12-14 excepted) in Playwrights' Theatre (Shasta 101), features a diverse cast and plays with marrying the classic text with a modern sensibility, Limón says.
Student engagement is central to the Senior Theatre Showcase and Senior Dance Concert, which play concurrently April 30-May 3 in Playwrights' Theatre and Solano Dancespace, respectively. In these annual shows, students take the helm of almost all aspects of the production. This provides them the opportunity to develop their project's comprehensive artistic vision, to experiment with collaboration, and develop their individual artistic voices. Guest artist Audrey Johnson is a choreographer from the Bay Area. Her website states that Johnson will create a new dance work sourced by black feminist metaphysics, Afrofuturism, embodied time travel, and joy as resilience practices and survival strategies.
Festival of the Arts
The annual, weeklong Festival of the Arts runs from April 21-26, offering these events:
The annual U-Create! street festival returns to downtown Sacramento 5-9 p.m. Thursday, April 23, at the Verge Center for the Arts, Axis Gallery and Beatnik Studios. Programming specifics for U-Create! are in development, and a more comprehensive list of performances will be available later in spring.
The week culminates with Sunday Funday, 11 a.m.-3 p.m. Sunday, April 26. The University will welcome the community for a day of family-friendly events that immerse participants in the Sac State arts and letters experience. Included will be games and activities from the countries of Japan, France and Italy.
Two thought-provoking, annual symposia also are highlights. The two-day Nammour Symposium (April 21-22, University Union, Hinde Auditorium), sponsored by the Department of Philosophy, examines "The Philosophy of Art and Literature." Participants are invited to consider challenging questions relative to the nature and meaning of art, and philosophers and artists will lead conversations to better learn from differing perspectives. As in previous years, students will participate through a paper and poster session.
The Art History Symposium tackles "Looted Art and Postcolonial Justice: Decolonizing the Art Museum," 1-5 p.m. Saturday, April 25, in Mariposa 1005. This symposium delves into repatriation struggles across the globe. Recent calls for repatriation have put museums under greater public scrutiny. Speakers from the New Orleans Museum of Art, UC Santa Barbara, and CSU San Marcos will focus on artworks from West Africa, Cambodia, and Californian indigenous peoples that have been at the center of repatriation struggles.
Read more about FoTA and view its full calendar of events.
Music
This year's annual MOSAIC concert is a 60-minute overview of the School of Music's offerings, 3-4 p.m. Sunday, March 1, at Capistrano Concert Hall (Capistrano 151). Featured will be the University's Symphonic Wind Ensemble, Vocal Jazz Ensemble, University Chorale, and multiple student chamber ensembles.
The New Millennium Series, which opened its season Jan. 30, continues Thursday, Feb. 20, when Imani Winds brings its national tour, "Beauty of Strife," to the Capistrano Concert Hall for a 7:30 p.m. show. The show comprises works that have grown out of world crises, including South Africa's national anthem, early 20th century French composer Maurice Ravel's Le tombeau de Couperin, and works by mid-20th century composer Dmitri Shostakovich and Paquito D'Rivera, a contemporary Cuban-American composer wind instrumentalist.
Guest artist Eduardus Halim gets the spring Piano Series started with a master class at 2 p.m. Friday, March 6, and a solo recital at 7 p.m. Saturday, March 7, both in the Capistrano Concert Hall (Capistrano 151). Halim has performed with symphonies and philharmonics across the nation and around the globe, including in Chicago, Montreal, Malaysia, Russia, Hong Kong and Vancouver. He has performed recitals at prestigious venues around the world, including Alice Tully Hall in New York and the Kennedy Center in Washington.
Read more about the music season and purchase tickets. | View the School of Music's full spring calendar.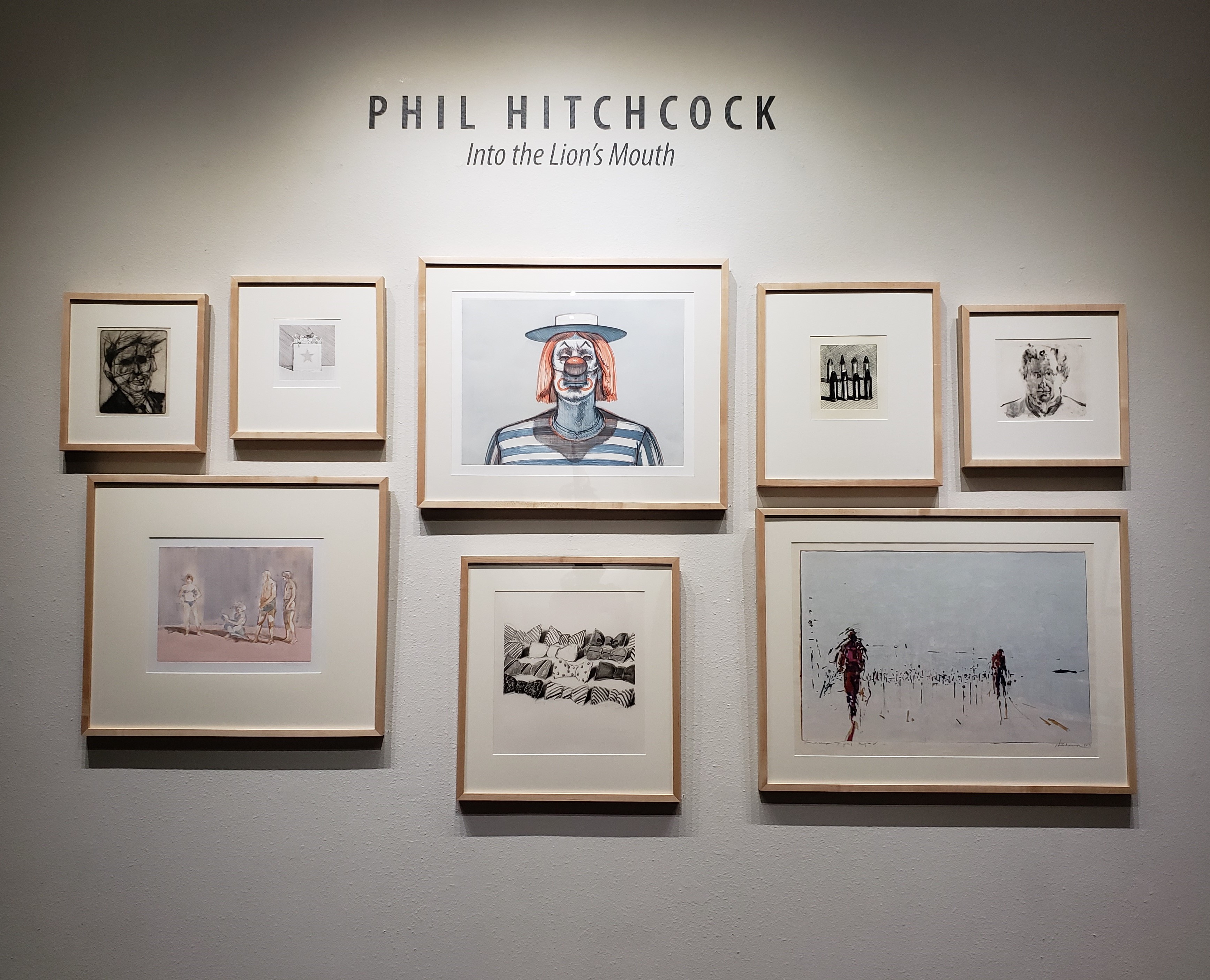 Works curated and collected by retired University Library Gallery founding director Phil Hitchcock are on display through Friday, April 24. (Sacramento State/Ahmed V. Ortiz)
Art
For nearly 20 years, the University Library Gallery has been a venue for impactful art exhibitions. None of it happens without the vision of Phil Hitchcock, who founded and directed the gallery for 17 years before retiring in 2018. "Phil Hitchcock: Into the Lion's Mouth," shows through Friday, April 24, in the gallery. The University Galleries webpage says that the exhibit brings a sampling of his curated and collected works, and exemplifies his vision and the dream he made real. An opening reception and program is 4:30-8 p.m. Thursday, March 5.
Hitchcock's reach and impact extended beyond the Sacramento region, as he commissioned, curated, and hosted shows of national and international reputation.
Learn more about the University's four galleries and campus collections. | Full Department of Art spring calendar.