By University Communications staff
Every spring, the University's seven academic deans each select a student they believe exemplifies the best of their respective college. From those students, President Robert S. Nelsen chooses the recipient of the President's Medal as the academic year's outstanding graduate. This year's Deans' Award recipients are:
President's Medal
College of Natural Sciences and Mathematics
Lillian Murphy
HOMETOWN: Sacramento
DEGREE/MAJOR: BS/Biological Sciences
ACHIEVEMENTS: Murphy is the 2020 President's Medal winner. She is a leader in the Mulligan Lab, where her research has been focused on genetic patterns in the brains of fruit flies that carry risk factors associated with autism. She has presented her findings at various research symposia on campus, as well as at the annual CSU Program for Education and Research in Biotechnology (CSUPERB) conferences. She was accepted into doctoral programs at the nation's top educational institutions, including Harvard University, and will pursue her doctorate at UC Berkeley. She plans to become a professor with a larger goal of helping to prevent and treat human diseases.
WHAT IT MEANS: Murphy credited her professors with helping to guide and support her through challenging times. "Perseverance and determination are very important qualities for science students," she said. "You might not do well when you first start, but if science and STEM is your passion, you should carry on and go for it. If it's what you really want, no one can stop you and you can be part of the next generation of scientists who can be role models and make a difference."
WHAT THE NOMINATORS SAY: "Lilly is dedicated to making a positive contribution to the world through her research and, at this rate, we have no doubt she will. We cannot imagine a better candidate for this award or representative of Sac State." – Professors Jennifer Lundmark, Kelly McDonald, and Kimberly Mulligan.
University President Robert S. Nelsen chose Murphy from among an impressive group of scholars to receive Sac State's most prestigious academic award. He cited her "razor-sharp" intellect, her extraordinary research skills and her ability and willingness to help others in awarding her the President's Medal this year.
Related story: President's Medal winner motivated to ease chronic pain
Arts and Letters
Elvy Seyman Villados
DEGREE/MAJOR: BA/History
HOMETOWN: Dixon
ACHIEVEMENTS: Seyman Villados is a true representative of both arts and letters. Always an avid reader, she was inspired to study history as a community college student. Those studies informed her artistic endeavors, which include working as a dramaturgist, actor and director at several local theaters; sculpting; and ceramics. Her artwork has been displayed in numerous public venues including the Crocker Art Museum. She graduates summa cum laude.
WHAT IT MEANS: "I cannot help but be eternally grateful to the staff and faculty who are so dedicated to the success of the students at Sacramento State. The quality of the education I have received will forever be an asset to me. I know with the skills I have developed that I will never stop learning."
WHAT THE DEAN SAYS: "As an artist and a historian, Elvy is already clearly committed to arts and the community, and her efforts illustrate the best of what we can do as an anchor institution. I have no doubt that as an alumna, Elvy will continue to help us build a creative economy and deploy her education for the public good." – Dean Sheree Meyer, College of Arts and Letters
Business Administration
Donna Walters
HOMETOWN: Folsom
DEGREE/MAJOR: BS/Business Administration
ACHIEVEMENTS: Walters has been on the dean's honor list every semester she has attended Sacramento State. She created and hosts the I Am ASI! show as a leader in Associated Students Inc. She helped the Big Sky Conference create an esports program and co-founded the Stinger Esports Recreational Club.
WHAT IT MEANS: "I exist to enrich the lives of individuals, build stronger organizations, and create a more rewarding life experience for everyone I encounter through my passion of serving others. I aim to grow future leaders through the use of their passion as a motivator and by providing the tools needed to successfully grow and develop their own communities and organizations."
WHAT THE NOMINATORS SAY: "Life is often not a straight nor linear path, and for Donna her road to academic success has been a long and winding one, making her success all the sweeter. Donna has overcome hurdles, obstacles and detours, and arrived at Sac State with a renewed zest for education. In her time on campus, Donna has contributed in countless ways and has grown exponentially." – from CBA's Outstanding Students website.
Related story: Rising from trauma, top CBA student learns to thrive
Education
Jacqueline Aviña Espinoza
DEGREE/MAJOR: BA/Child Development
HOMETOWN: Calistoga
ACHIEVEMENTS: The daughter of Mexican immigrants, Aviña Espinoza grew up in a low-income household in Napa Valley, where her father worked in the vineyards. After struggling as a child to speak English, she eventually began to excel academically and became the first in her family to attend a four-year college. At Sacramento State, she has shined in the classroom while staying highly active outside of it and developing a passion for doing everything she can to help more students like her succeed. Among other roles, she has served as a peer advisor with the College Assistance Migrant Program, as an officer in the student club Mujeres Ayudando la Raza, and as a President's Ambassador. Over the past year and a half, she also has participated in a research project studying data gathered from interviews with undocumented youth from Chicago.
WHAT IT MEANS: "I managed to get to college and I was succeeding academically, but I wanted to make sure that other people had that opportunity too. I realized if people hadn't helped me as mentors, or through programs like Upward Bound and CAMP, I wouldn't have had those opportunities."
WHAT THE DEAN SAYS: "During her time at Sacramento State, Ms. Aviña Espinoza has thrived academically, but has also worked hard to give back to the community. She represents some of the best aspects of our diverse and dedicated undergraduate student body." – Dean Alexander Sidorkin, College of Education
Related story: Top student's first after-graduation move: Pay it forward
Engineering and Computer Science
Madalyn Coughran
DEGREE/MAJOR: BS/Electrical Engineering (concentration in Power)
HOMETOWN: Turlock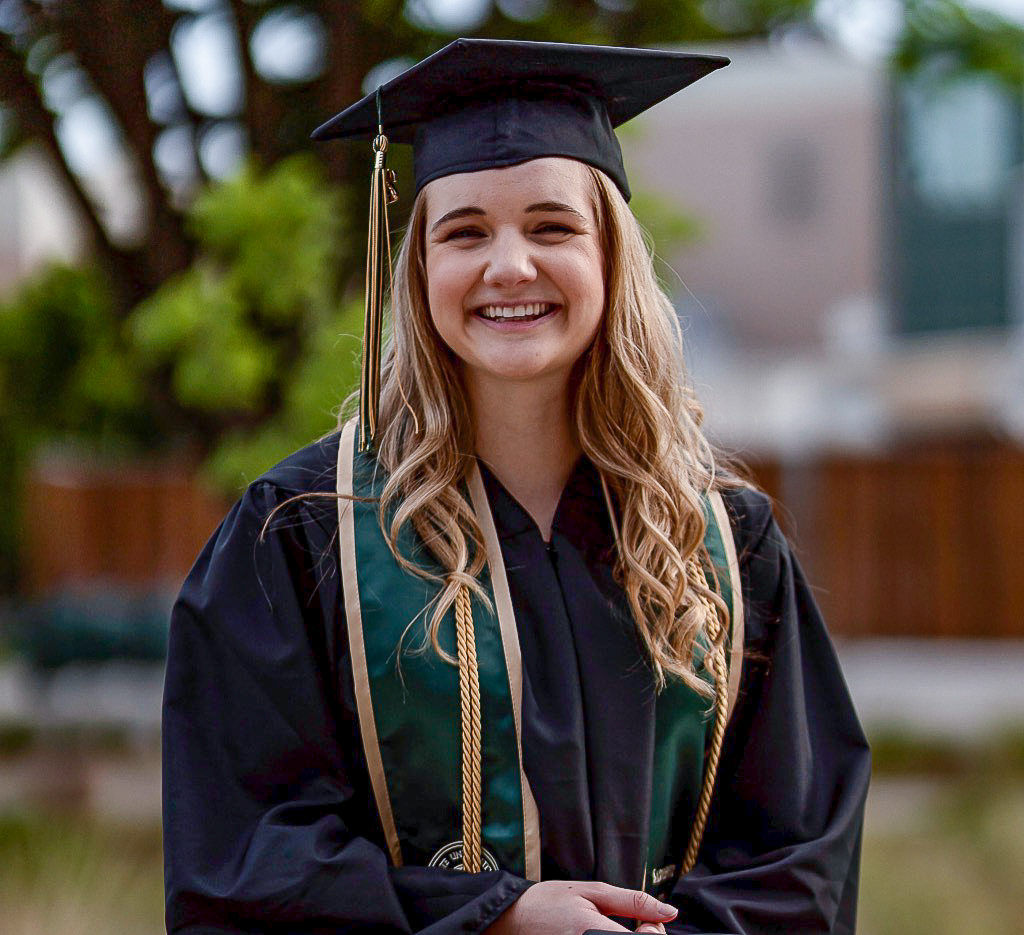 ACHIEVEMENTS: Coughran made the Dean's List seven times during her four years at Sacramento State and is graduating summa cum laude. She was a resident advisor at the American River Courtyard, where she helped to maintain the wellbeing of the 615 student residents. She was a member of the women's volleyball club for three years and served as a team officer for two of those years.
WHAT IT MEANS: "Sac State has allowed me to accomplish feats I never thought imaginable. My hard work in class allowed me to excel outside of the classroom, where I passed the Fundamental Engineering Exam in January 2020. I also have been able to apply my knowledge from school through internships. I look forward to taking my knowledge and experience of the last four years as I enter the real world and workforce."
WHAT THE DEAN SAYS: "I met with Mady and had some discussions with her this spring. I studied her transcript and had to look very hard to find an A- in the sea of straight A's. Clearly, Mady is a gifted student, but not everything was easy for her at Sacramento State. She's a very hard worker, a compassionate soul, and a tenacious seeker of excellence. Mady is a glowing example of what a Sac State student can be." — Dean Lorenzo Smith, College of Engineering and Computer Science
Health and Human Services
Putue Teh
DEGREE/MAJOR: BS/Health Science (Health Care Administration)
HOMETOWN: Chedepo Yakaken, Liberia, West Africa
ACHIEVEMENTS: Teh arrived at Sacramento State in spring 2019 after earning an associate degree in Science and Mathematics from Woodland Community College. During his time at the University, he maintained an extremely high GPA. He founded a charity to help underprivileged families in his native Liberia and opened a school in Jahgedehmon village.
WHAT IT MEANS: "I cherish the knowledge I gained from my professors at Sacramento State, learning methods that I, as a health care worker, can use to help develop the structures, processes, and operations of the health care system to assure safe, timely, effective, efficient, equitable, and patient-centered high-quality health care services."
WHAT THE DEAN SAYS: "Putue stands out for many reasons. Not only does he excel academically, but he uses what he's learned in his Public Health degree to help those who have experienced trauma and deprivation, particularly in Liberia. He faced significant challenges when he arrived in the United States and has risen to where he is now. We feel that Putue best represents the kind of Hornet Pride, commitment, and determination that we want to foster in students." — Interim Dean Robin Carter, College of Health and Human Services
Social Sciences and Interdisciplinary Studies
Nathalie Mendoza
DEGREE/MAJOR: BA/Anthropology
ACHIEVEMENTS: Mendoza, who is graduating magna cum laude, has assisted in research that uses rats to study Down syndrome. She wants to use her work as a scientist and activist as "a voice for humanity and a force for change" in society. She founded a project, Sacramento's Queer Latin Dance Community, that hosts weekly dance sessions where people of all backgrounds and ethnicities can learn to dance "without fear of discrimination and disrespect."
WHAT IT MEANS: "Every day, I get to be part of a project that impacts people's lives for the better and that inspires more critical thinking and open-mindedness. At the end of the day, I am a scientist and an activist. If my work as an anthropologist makes the world a better place, I know I am doing something right."
WHAT THE NOMINATOR SAYS: "Nathalie is bright, articulate, caring, and has the soul of a true champion for social justice. She has the demonstrated energy, commitment and perseverance to make things happen. She is, in a word, outstanding." – Chair Michael Delacorte, Department of Anthropology