'A true Homecoming:' Week of celebration carries added significance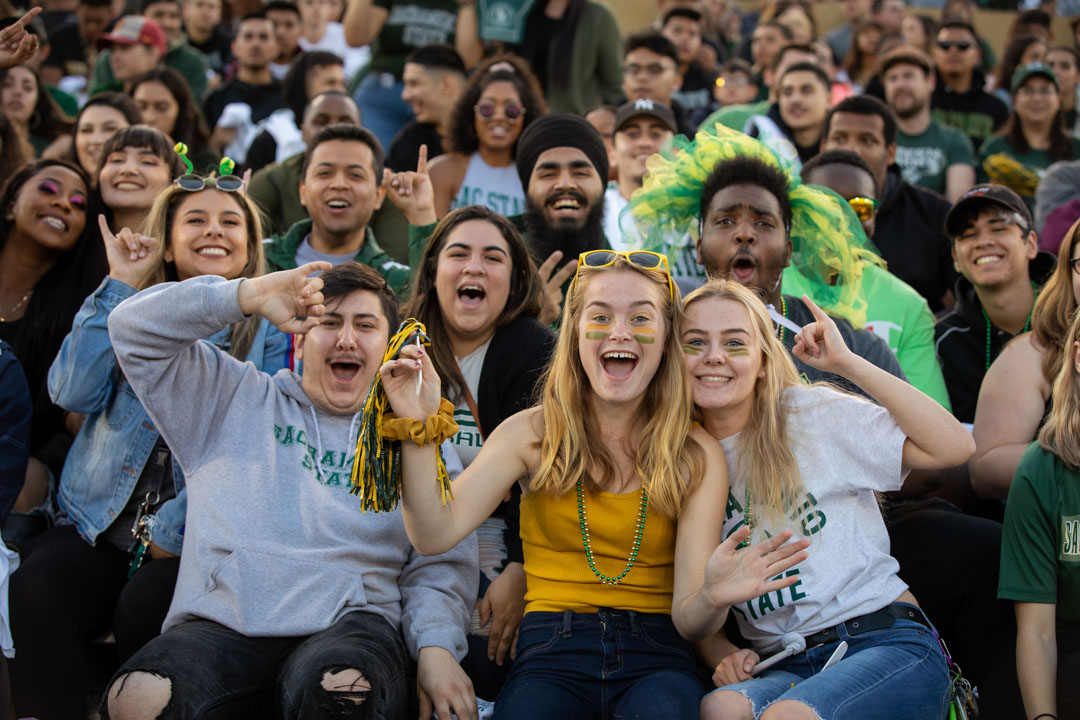 October 19, 2021
Homecoming takes on added significance for the Hornet Family following the 17-month campus shutdown because of the COVID-19 pandemic.
"I have always loved Homecoming, but this year's celebration is particularly special," said University President Robert S. Nelsen. "This year, we will have a true Homecoming: Our Hornets are home. After too much time apart, the Hornet Family is finally back together."
Sac State is again feeling vibrant and energetic with a record number of students – 31,588 –enrolled for fall.
The President will be on hand to greet each of them Friday, Oct. 22, during the Homecoming Welcome Back Student BBQ. It's one of several in-person and virtual festivities planned for Homecoming Week, ranging from a stage production to a food drive to a virtual fun run.
"We're excited to be together but doing so safely," said Jennifer Barber, assistant vice president for Alumni Relations and the Sac State Alumni Association. "It does feel different, because we haven't had this opportunity for two years."
The week culminates with the Homecoming football game at 6 p.m. Saturday, Oct. 23, when Sac State takes on the Northern Arizona University Lumberjacks at Hornet Stadium.
"Homecoming is an opportunity for the Hornet community, alumni, and friends to gather back on campus and celebrate Sacramento State, and to cheer on our student-athletes," said Mark Orr, director of Athletics.
"Due to the pandemic and having been apart for several months, returning to campus as a group is needed for all of us."
Among other Homecoming Week events (Full schedule)
Homecoming Food Drive for Associated Students Inc. (ASI) Food Pantry. Drop off food or monetary donations 8 a.m.-5 p.m. daily through Friday, Oct. 22, at the Leslie and Anita Harper Alumni Center, or 3-6 p.m. Saturday, Oct. 23, in Lot 8 during the Homecoming Festival.
Virtual Homecoming 5K, through Saturday, Oct. 23. Walk, run, or hike 3.1 miles.
"The Rocky Horror Show," various times Wednesday, Oct. 20-Sunday, Oct. 31, in the University Theatre. Campy tribute to B sci-fi and horror films presented by the Department of Theater and Dance and directed by Michelle Felten.
"The Science of Football," 6:30 p.m. Thursday, Oct. 21. Virtual lecture about the physics of the perfect throw, with Physics and Anatomy faculty.
"Stand-up Comedy with Kabir Singh," 7 p.m. Thursday, Oct. 21, Serna Plaza Stage. Presented by UNIQUE.
Homecoming Festival, 3-6 p.m. Saturday, Oct. 23, in Lot 8 near Harper Alumni Center. Games, food, and fun.
"In previous years, Homecoming marked a time that we came together as past, present, and future Hornets," said Samantha Elizalde, ASI's president and CEO. "This year is a bit different, because we are still in a time of uncertainty amidst a global pandemic.
"While we want to celebrate how we're together again, we are not fully there, yet. However, this year's Homecoming signifies some sense of going back to our new normal and being able to celebrate that."
President Nelsen's Homecoming Welcome Back BBQ