Laptop discount program helps ensure new students have the tech they need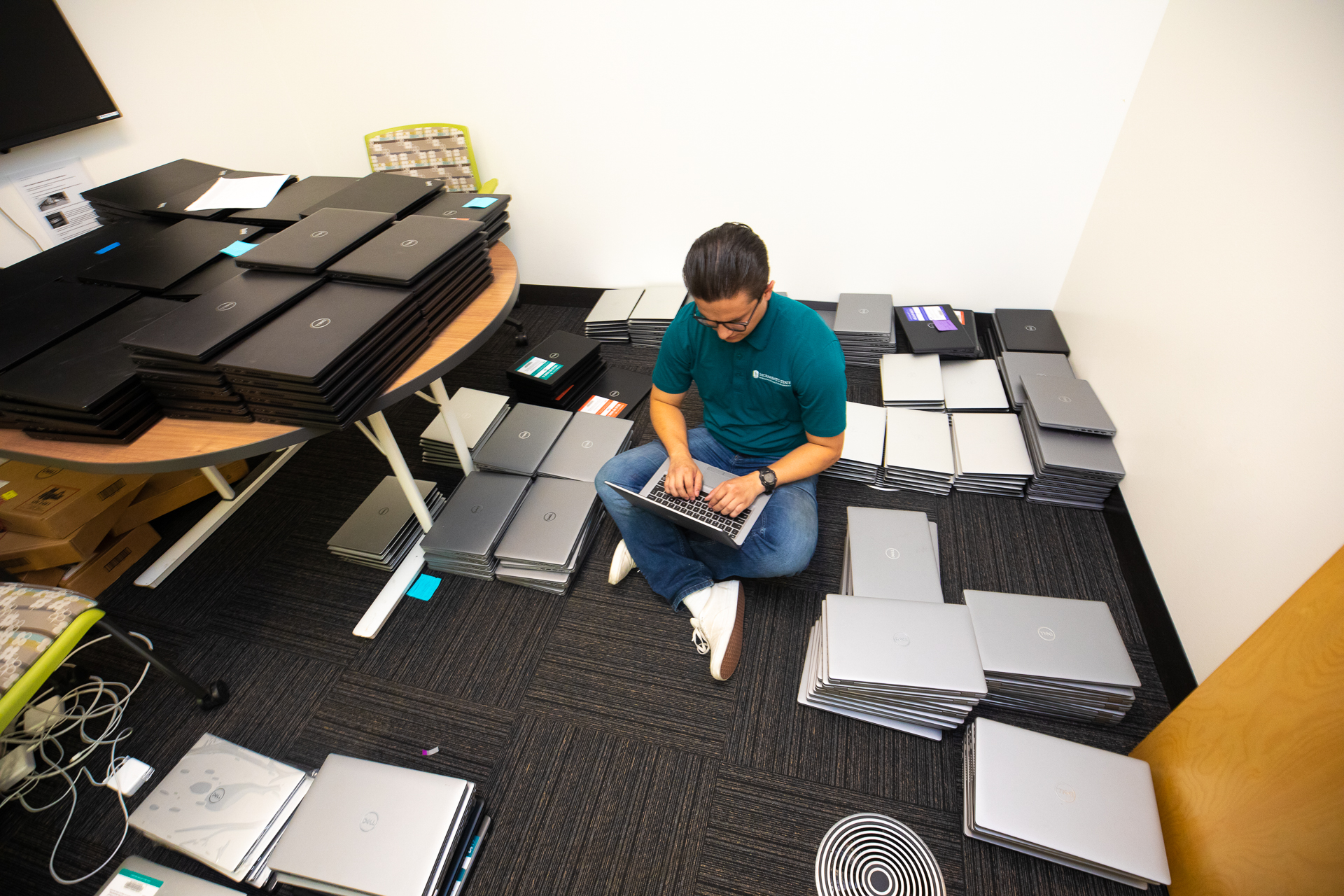 July 28, 2021
Sacramento State is helping make computer ownership a reality for Fall 2021 new, transfer and continuing undergraduate students.
The Hornet Laptop Discount Program is the University's latest effort to ensure that students have the tools they need to thrive academically.
"In this digital world, having appropriate technology to access coursework and material, participate in class, and work with student colleagues is crucial for our students' success," said Steve Perez, provost and vice president for Academic Affairs.
"As we adapt and change as a result of the pandemic, it has become even more so. This program will enable students to have the opportunity to ensure they have the necessary technology."
Cost of devices featured through the program starts at $599. Eligible new and transfer students enrolled in at least six units for Fall 2021 can apply a one-time $600 HEERF discount toward the cost of a Dell or Apple laptop purchased through the Hornet Bookstore. Continuing undergraduate students can apply a $250 discount.
Students who depend on federal Pell grants to pay for their education qualify for an additional $300 HEERF discount, which they can apply to the sales tax or an extended warranty.
"We want every student who needs a laptop to have an opportunity to choose the best option for them." - Sac State President Robert S. Nelsen
Starting Monday, Aug. 2, students can visit the Hornet Bookstore in person or online to take advantage of the discount.
"This is about equity, and we want to be sure that students who have need will have enough money to get the equipment that best suits them," said Mark Hendricks, interim vice president and chief information officer for Information Resources and Technology.
Approximately 7,800 first-year and transfer students are eligible to receive a discount. Funding comes from the federal Higher Education Emergency Relief Fund (HEERF) authorized by the Coronavirus Aid, Relief, and Security (CARES) Act.
The new discount program builds on the laptop loaner project IRT expanded after the COVID-19 pandemic led to a  campus shutdown in March 2020. IRT already had nearly 600 loaner laptops in its inventory but purchased another 1,930 computers, as well as 2,100 Wi-Fi hotspots, for use by students, faculty, and staff who were working and studying remotely.
More than 1,300 laptops currently are checked out.
Continuing undergraduate and graduate students can apply a $250 HEERF discount to the cost of an eligible laptop at the Hornet Bookstore. Students can look up their discount before selecting a laptop by calling or visiting the Hornet Bookstore in person or online.
In addition to HEERF special discounts, students may also choose to apply any remaining balance up to $2,000 to their student account for repayment through the Bookstore Loan Program.
"All these initiatives are about student success," University President Robert S. Nelsen said.
"We want every student who needs a laptop to have an opportunity to choose the best option for them. Some students may be satisfied with a loaner; other students may want to own a computer. Either way, all students have a choice."
Media Resources
Faculty/Staff Resources