Distinguished Alumni: Rising Star Jamil Kochai finds literary success with debut novel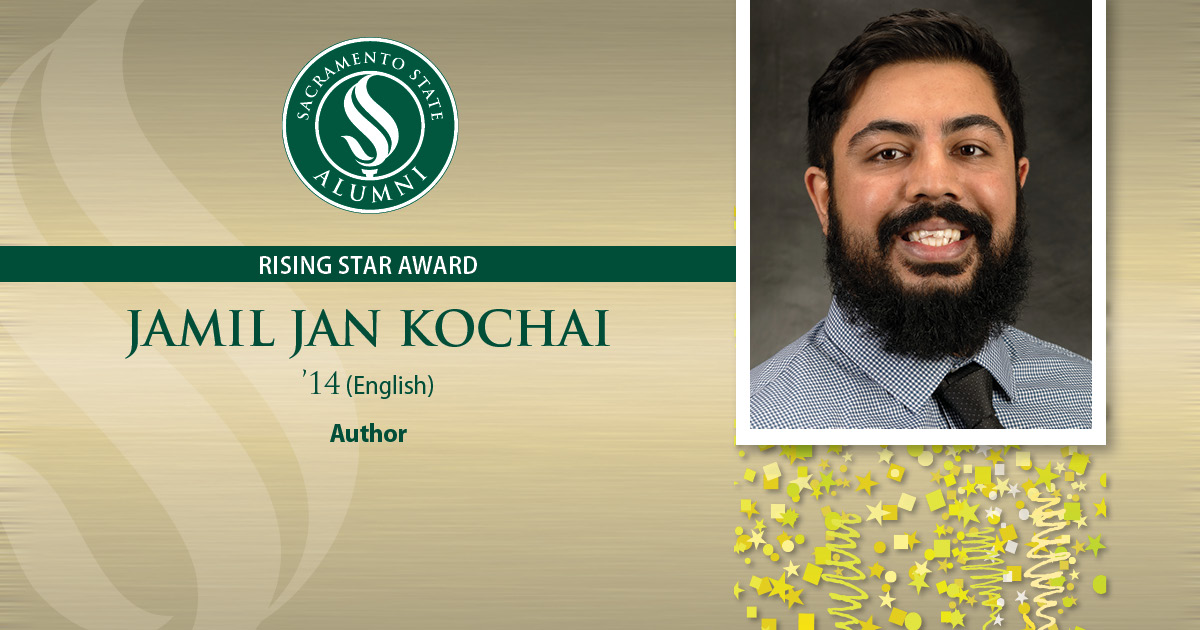 September 10, 2021
Jamil Kochai's highly acclaimed debut novel, 99 Nights in Logar, is both a dream realized and a celebration of his Afghan heritage.
Born in a refugee camp in Pakistan, Kochai immigrated to California as an infant. A trip back to his native Afghanistan 12 years later inspired his novel, as did his large, multi-generational family that only spoke Pashto at home.
"I had a teacher in elementary school who spent every day after school helping me learn English," Kochai said. "I still remember my father saying that every child is a rocket and just needs a little spark to lift off. This teacher was my spark."
Kochai is the recipient of the 2021 Rising Star Award, given by the Sacramento State Alumni Association to Sac State graduates who have made outstanding contributions professionally, to the community, or to the University.
Kochai credits a number of educators for helping launch his career as a writer.
"One of my teachers at River City High School in West Sacramento noticed my interests in reading and writing, and strongly encouraged me to take a creative writing class," Kochai said.
"Then, during my second year at Sac State, I enrolled in a creative writing class with Professor Doug Rice. He was a brilliant teacher who has this really great technique in which he incorporates not only writing, but philosophy and life lessons. I workshopped my first short story with him and he was very supportive."
Rice, now professor emeritus of Film and English, has high praise for his former student.
"In his writing and in his daily life, Jamil does not merely look at the world; he looks into the world," Rice said. "As a writer and as an intellectual, he is taking new and more profound risks – aesthetically as well as politically.
"In the face of political turmoil, writers have a responsibility to become engaged and to become a voice of conscience. Jamil is exactly that. True artists risk becoming vulnerable. Jamil has such courage. And Jamil had that same courage while a student at Sacramento State."  
As a young author, Kochai's contributions to the literary world are noteworthy and impressive: His novel was a finalist for the Pen/Hemingway Award and a story of his won an O. Henry Award. His work has appeared in multiple publications, including The New Yorker, The New York Times, and the Los Angeles Times.
Following his graduation from Sac State, Kochai earned a master's in Creative Writing from UC Davis and was the Truman Capote Distinguished Fellow at the Iowa University Writer's Workshop. Currently, he is in his second year of the Wallace Stegner Fellowship at Stanford University and is working on his second novel.
Kochai credits much of his success in writing to finding his voice, one that reflects his family's Afghan history and traditions of storytelling.
"Throughout my life there were all these times when we were sitting for dinner or drinking tea and all of the sudden in the middle of a conversation everyone is laughing and then someone dives into a story from back home from their childhood," he said.
This rich storytelling tradition weaves its way throughout the pages and characters of 99 Nights in Logar, with one chapter written entirely in Pashto.
"I found a voice that is multilingual and incorporates elements of Pashto and Farsi, and California lingo and slang," Kochai said. "It was only when I became comfortable writing in that voice that I began to value my own parents' stories and my writing, I think, really took off."