ASI Food Pantry seeks volunteers, donations to feed students in need
October 20, 2022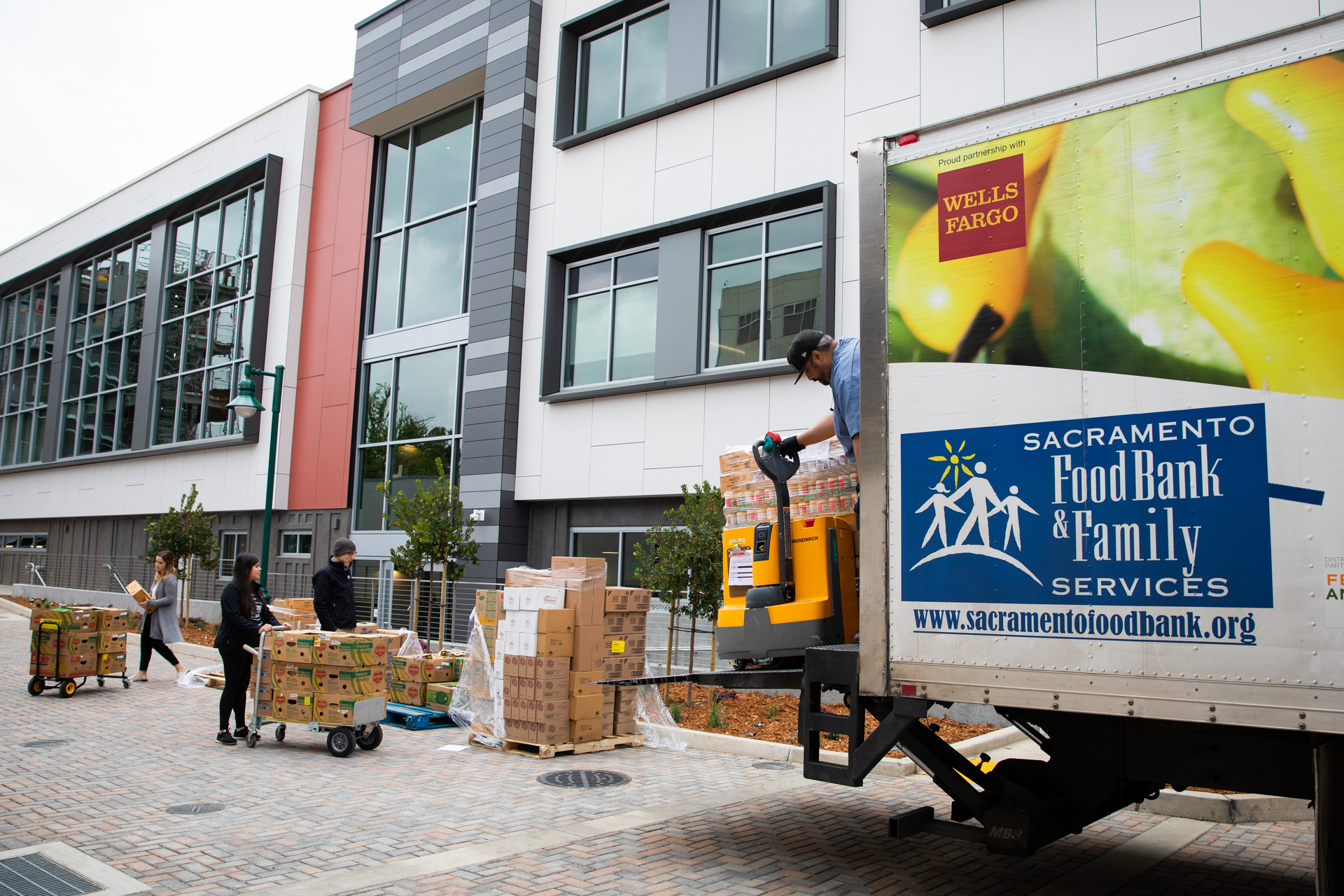 Every day since the start of the fall semester, there's been a line out the door at the Associated Students Inc. (ASI) Food Pantry. 
About a hundred students a day fill their reusable grocery bags with fresh produce, rice, pasta, canned veggies, and beans as well as ready-to-eat meals and healthy snacks.
"We're restocking multiple times every single day," ASI Food Pantry Coordinator Ryan Choi said. "We have a robust team of 30 volunteers, made up of students, staff, and faculty who generously contribute their time making sure our shelves and fridges are stocked."
As the number of students utilizing the pantry rises, the organization is asking for volunteer drivers to keep groceries on the shelves for students struggling to feed themselves and their families while staying in school.
"We go early in the morning each week and shop for items," Choi said. "We bring back a whole vanload of food."
Last year, the ASI Food Pantry served 8,700 students, Student Engagement and Outreach Director Wil Chen said, or an average of 167 weekly.
Only midway through the fall semester, the pantry staff has already seen an average of 500 students a week come through the doors.
"That's definitely a significant jump from previous years' numbers," Chen said.
Although ASI and various campus groups expected more students would need services, Chen said it was startling to see the surge first-hand.
"I was anticipating the increased need, but it's different when you see the line of students out the door," Chen said. "There's planning for it and anticipating it, but seeing the demand with your own eyes, that's a different story altogether."
Hunger is on the rise, particularly among college students, said Sacramento Food Bank and Family Services Director of Communications Kevin Buffalino.
Before the pandemic, the Sacramento County food bank – which partners with ASI to provide staples for the campus pantry –  served 150,000 people a month, according to Buffalino.
That number rose as high as 300,000 during the pandemic, but was starting to go down until early this year when the cost of food, gas, and housing shot up.
Now the nonprofit is serving 250,000 people a month, he said.
"Since inflation picked up, we've seen a 40% increase throughout the county," Buffalino said. "This summer we served the most people we ever have in the history of the organization, and we've been around since the '70s.
"People are definitely struggling."
College students, in particular, are having a hard time making ends meet.
"College students are one of our highest-rising populations when it comes to hunger," Buffalino said. "We're really seeing hunger and food insecurity take off with college students."
Sac State students who fill out an annual registration form can get groceries from the pantry once a week. 
"We encourage students to really fill up their grocery bags so they can prepare healthy and nutritious meals throughout the week," Choi said.Sac State senior Roshelle Czar depends on the groceries she gets from the ASI Food Pantry. Although scholarships and financial aid cover the cost of tuition, it doesn't stretch far enough to help with rent, food, or even a car to get to school.
She calculated that without the the food pantry, she'd probably spend $400 a month on necessities like milk, eggs, beans, and potatoes. And since she relies on rideshare services, shopping on the campus where she also has a part-time job helps save on transportation costs as well.
"We want to make sure students have all the means to thrive without facing the difficulties of thinking about when they'll be eating next." -- Ryan Choi, ASI Food Pantry coordinator
Czar said the pantry saves her at least $200 a month and eliminates the stress of figuring out how to pay for food.
"I can get a nutritious meal there, which is related directly to my academic success and mental health," she said. "When you have a proper meal to eat, you can go about the rest of your day feeling a lot more motivated and driven with energy to do well.
Since fall semester began, she's noticed the increased demand on the food pantry.
"Last week, we had boxes of croissants and muffins from Costco, and they were gone within minutes," Czar said.
Madeleine Vadenais, a program analyst for the College of Continuing Education, volunteers at the food pantry during her lunch hour and says it's always busy.
"There's constantly people there, so there is a need," said Vadenais, who helps students select their groceries and offers cooking and nutrition tips. "We had a student with dependents who came in looking for eggs, but we didn't have any. … I've talked to some students who wish they could come in more than once a week."
Almost half of Sac State's students are eligible to receive federal financial aid. 
"One in four students has a dependent or is a student-parent," Choi said. "We're also helping students who don't have stable housing, they're either sleeping in their vehicle, staying in a motel temporarily, or couch surfing."
In addition to staples such as carrots, onions and potatoes from the Sacramento Food Bank, the ASI pantry gets fresh, seasonal vegetables and herbs from the CapRadio Garden, a joint partnership between Capital Public Radio and Sac State's Sustainability and Facilities Management offices.
"They harvest and deliver the same day," Choi said. "I will remind students that we offer the best we can provide, and sometimes that looks like fresh produce that was harvested 30 minutes ago."
Choi also sources basic staples like spaghetti noodles, rice, mac and cheese, and canned vegetables such as green beans and carrots from discount retailers like Dollar Tree or Costco.
In addition, the ASI Food Pantry offers menstrual products and toiletries, including shampoo, bar soap, toilet paper, hand sanitizer, toothbrushes, and toothpaste.
"If you're struggling to feed yourself, you shouldn't also face the stigma of worrying about being clean," Choi said. "We want to make sure students have all the means to thrive without facing the difficulties of thinking about when they'll be eating next."
In addition to nonperishable food, the ASI Food Pantry is accepting monetary donations to buy in-demand items such as canned chicken, tuna and beans, as well as toiletries.
The ASI Food Pantry also needs volunteers, especially drivers, to pick up and deliver food to campus.
"The entire program really relies on volunteers," Chen said. "It's a relatively small staff, and to sustain the program we need volunteer support and that includes students, faculty, and even community members who are looking to get connected with Sac State."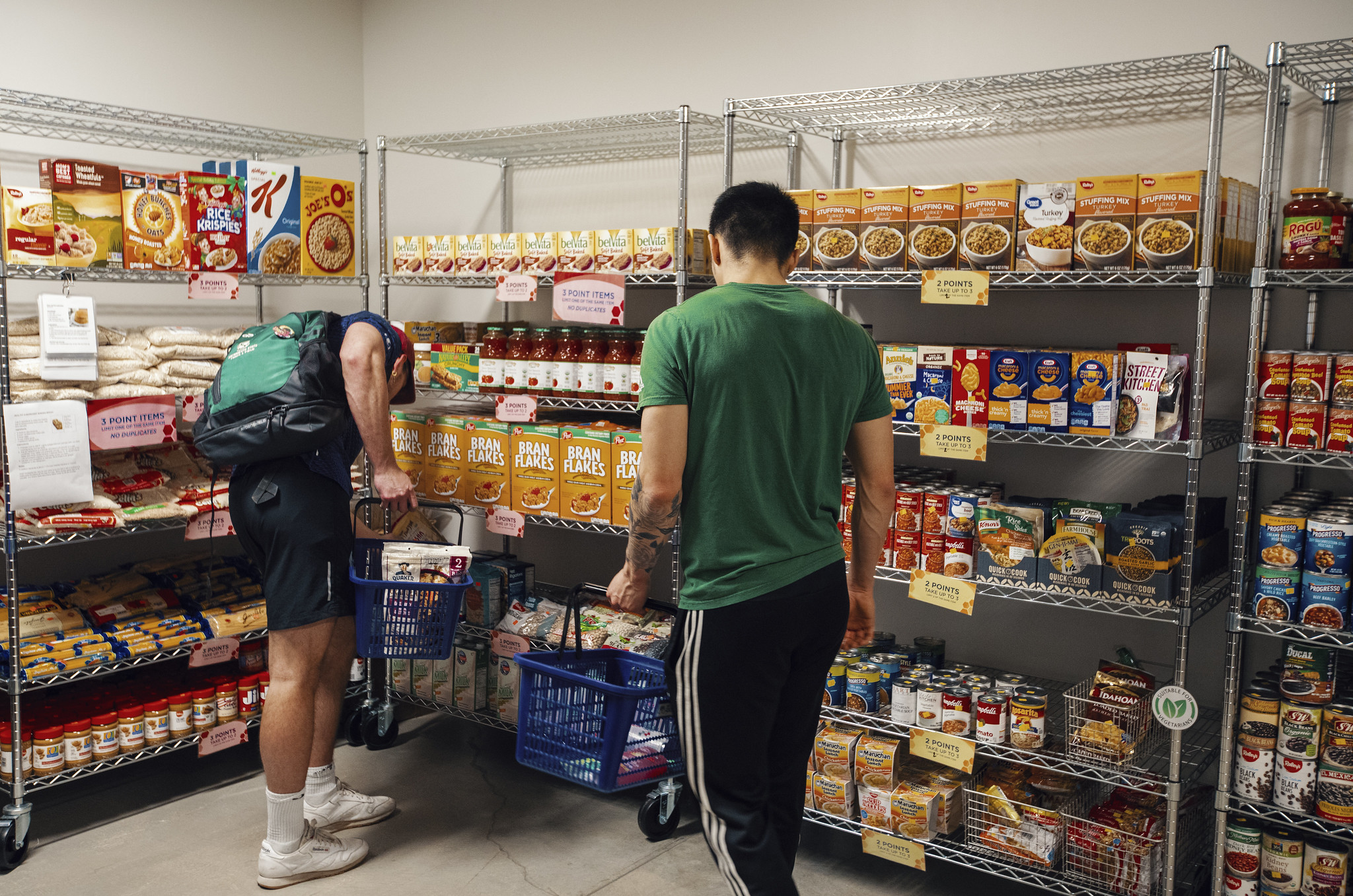 Media Resources
Faculty/Staff Resources