Developers break ground on project where a new Sacramento State campus will be located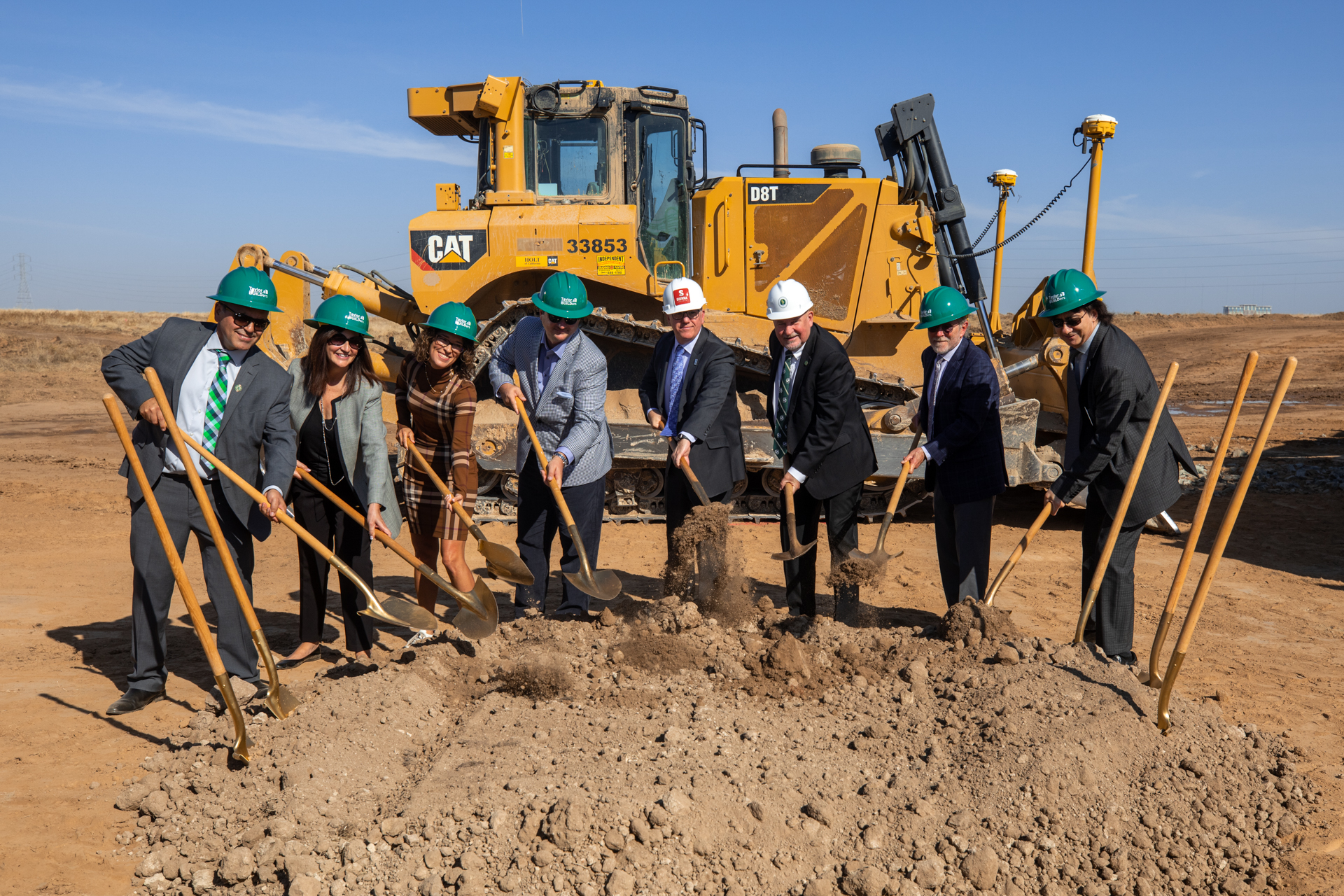 October 24, 2022
Roseville-based Taylor Builders Inc. broke ground Friday, Oct. 21, on Placer One, a 2,213-acre master-planned community in Placer County, laying the groundwork for a new Sacramento State campus and an unprecedented partnership with Sierra College, the county, and developers.
"This is about the community," Sacramento State President Robert S. Nelsen said at the groundbreaking ceremony. "Sacramento State is 75 years old. We have 31,000 students. … come to campus. It's crowded.
"We needed Placer County. We needed to serve our community. We needed all of this to come together for the future of this country, to deliver education in a new way to our students."
Placer One is located along the Highway 65 corridor in unincorporated Placer County north of Roseville. The planned community will feature 5,636 residential units, commercial and employment centers, parks, and natural open space. An extensive bikeway network will connect neighborhoods with jobs, shopping, and dining.
Previously known as Placer Ranch, the development includes a future site for the Sacramento State Placer Center and Sierra College Transfer Center.
The groundbreaking ceremony marked the beginning of infrastructure work for Placer One, including roads, water, sewer, and electrical. Construction on the first home is scheduled to begin in early 2024.
Placer Center will serve 1,500 full-time students in its initial phase, with plans to grow into a full-size campus with 12,000 students, a conference center, and performing arts center over a period of 15 years.
The first phase of construction for Placer Center is scheduled to begin within the next five years and will include an extension of Sierra College, one of the University's largest feeder schools.
Sierra College President Willy Duncan said 40% of his students transfer to Sac State, making it the No. 1 transfer institution for the Rocklin community college.
Between 3,000 and 5,000 Sac State students commute from Placer County, Duncan said.
"That drive can be 30 minutes to an hour, maybe longer depending on how much traffic you hit," Duncan said, adding proximity to campus is a major factor in student success.
"If you're a student that's struggling, you're on the margins, and have to work full time or have a family at home, it's so easy to say, 'I can't do that, yet. I don't have the money or the resources,' " Duncan said.
"So, getting this right here in our community, to me, is what will make a huge difference to so many of our students."
Duncan and Nelsen said Placer Center will be an innovative campus, offering students the chance to dual enroll at both Sierra College and Sac State, saving them time and money.
Placer Center would also partner with the county and neighboring cities to use nearby resources such as the vernal pools, landfill, and casino to create academic clusters in areas of hospitality, forestry, and environmental sciences, among others.
"This will be a place of innovation, a place that is transformative, where our students will be able to call home," Nelsen said.
Eli Broad, the philanthropist and businessman behind Placer Ranch, donated 301 acres of land to Sac State to build a satellite campus in one of California's fastest-growing regions.
In March 2020, the CSU Board of Trustees voted to accept the land gift, valued at $27.4 million. Taylor Builders bought the project in 2021, changing the name to Placer One.
"This will be a place of innovation, a place that is transformative, where our students will be able to call home." -- Robert S. Nelsen, Sac State president
Clifton Taylor, president of Taylor Builders, said Placer One and the new campus will be an economic catalyst for Placer County and the greater Sacramento region.
"I feel very strongly this will be a major driver of economic development in the region," Taylor said. "I personally believe it could be the most important economic driver in the region, and we're going to work very hard to make that a reality."
Placer County Supervisor Robert Weygandt estimated the project could bring 4,000 new permanent jobs to the county as well as millions of dollars in new labor income and indirect business taxes.
"All of this is beyond my wildest dreams when we started about 30 years ago," Weygandt said.
The project has been decades in the making and faced several hurdles, according to Holly Tiche, chair of the Sacramento State University Foundation Board of Directors and former Placer Ranch president.
Tiche, a Sac State alumna who was instrumental in making Placer Center a reality, called it a "region changer."
"We might've been able to have a campus with some co-located services for students, but nothing like (Duncan and Nelsen's) vision for a true partnership between the institutions, which creates another heavy lift for both campuses," Tiche said. "But it also creates a seamless transition for students and gets them to their degrees in the most effective way possible without all the institutional hurdles.
"That's not something that's happening anywhere else in the state of California."
Media Resources
Faculty/Staff Resources