Homecoming Week is packed with festivities leading up to the big game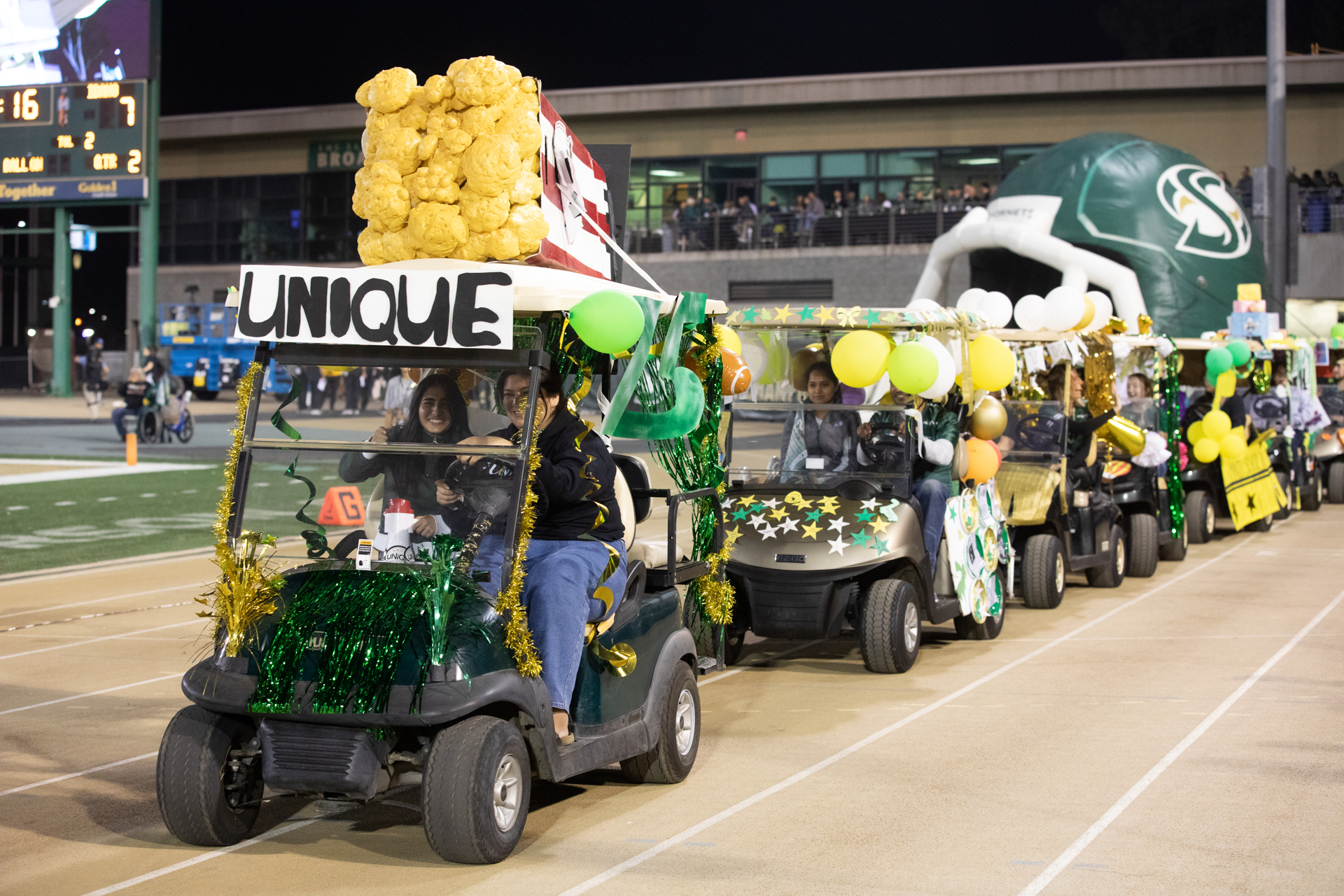 October 25, 2023
Every fall, the Sacramento State campus community comes together to celebrate Homecoming.
The weeklong celebration includes activities for students, staff, faculty, alumni, and the community, culminating in one of the most anticipated Hornet football games of the year.
Homecoming Week, which ends Saturday, Oct. 28, with the Hornets playing Idaho State, is an opportunity for the Hornet Family to join and celebrate the University, said Jennifer Barber, assistant vice president for Alumni Relations and the Sac State Alumni Association.
"It's an easily accessible way for people to come back to the University, in the case of alums, or to engage with the University for the first time as a community member," Barber said. "The goal with Homecoming is really just to amplify all the campus has to offer while eliminating barriers or fear of participation."
• See photographs from Sac State's 2022 Homecoming
The Hornets, No. 7 in FCS national rankings, look to rebound against Idaho State after losing a Big Sky Conference game to No. 2-ranked Montana State on Oct. 21. The Hornets, who are now 5-2 overall and 2-2 in the Big Sky, last played Idaho State in 2021, defeating the Bengals 23-21. Last year, the Hornets defeated Idaho 31-28 in the Homecoming game.
"The football team having the success that we've experienced over the last four years has made a significant impact on all of our home games, especially Homecoming, and to see so many alumni return to campus has just been phenomenal," Athletic Director Mark Orr said.
"Saturday's game is going to be a terrific game. Idaho State is 3-1 in the conference. They're a formidable opponent. I look forward to seeing everyone there."
The game begins at 6 p.m. and will be preceded 3-6 p.m. by the Homecoming Festival and followed by a post-game fireworks display. The festival features games, various booths, and more, including the popular Golf Cart Parade and Hornet Walk before the game. Carts, which are decorated by various campus departments and programs, also will loop the track surrounding the football field at halftime. Winner of the grand prize for best-decorated cart will be announced following that display.
The festival and game are part of what makes Homecoming welcoming for the community, Barber said.
"It serves as such a good entry point to the University," Barber said. "You can come with family, you can come with friends, you can come alone, and it's still going to be fun and engaging. And we've kind of expanded that into community members to come back to campus and celebrate that day, celebrate everything that makes the Hornet community, the Hornet community."
Sacramento State President Luke Wood, who will be participating in his first Sac State Homecoming, encouraged the community to attend.
"I look forward to cheering on our Hornets at Saturday's Homecoming game, and hope everyone joins us as we pack Hornet Stadium and show our Hornet Pride," he said.
Some of Homecoming Week's other festivities include:
Homecoming Food Drive – Monetary and select food donations are being accepted to benefit the ASI Food Pantry, 8 a.m. -5 p.m. through Friday, Oct. 27, at the Harper Alumni Center. Donations will also be accepted during the Homecoming Festival.
Olivia O'Brien concert – The singer-songwriter will perform 7:30-9:30 p.m. Thursday, Oct. 26, in the University Union Ballroom. Tickets are $23 for students or $30 for the public.
Launch and reception for the University Union Gallery's "The Seen Iranian Woman."
Student events, including Future Hornet Day and a Halloween-themed dance marathon.
Other sports games, including women's basketball and men's soccer.
Tailgating has become part of Sac State football tradition. Approved locations and guidelines for tailgating are on the Athletics website.
Information about how to purchase tickets and for additional details about all the Homecoming Week events can be found online.
Media Resources
Faculty/Staff Resources