Sac State professor's writing contest promotes the Spanish language, shares personal stories
October 20, 2023
Julissa Félix-Gallegos nervously walked on stage, the last speaker in an evening of spoken-word Spanish poetry and short stories. Trying not to look too much at the 80 or so people in the audience, she began reading.
"Las casas con techo de lámina suelen ser muy calientes durante verano," read Félix-Gallegos, a Sacramento State graduate student, "lo cual hace casi imposible para alguien el conciliar el sueño." Houses with tin roofs are usually very hot during the summer, which makes it almost impossible for anyone to fall asleep.
The opening line sets the scene for Félix-Gallegos' short story, "Chilindrina," about the death of a beloved family pet, inspired by her childhood growing up in the small, central Mexican town of Mezquital del Oro.
The story won first place in the third annual Voces de Sacramento competition, a Spanish-language writing contest open to the public and organized by Brenda Romero, Sacramento State assistant professor of World Languages and Literatures. Félix-Gallegos and other winners were recognized and read their pieces during a ceremony Oct. 12 in the University Union.
The contest allows members of the Spanish-speaking community to share their stories and have their work published while promoting the written Spanish language.
The latter goal hits home for Romero, a native of Mexico who admits the ability of her two American-born children to write in Spanish does not exactly match their conversational skills.
"As a mother, I see that we do a very good job of trying to get our kids to speak Spanish, but there are not very many outlets where they can write," she said. "This competition is aimed at increasing the opportunities that the new generation has to write in Spanish."
In addition, the pandemic hit Spanish-speaking communities especially hard, Romero said, and she wanted to provide a platform for people to share their stories, struggles, and dreams.
Romero was a doctoral student at the University of Utah in Salt Lake City when an organization there launched a Spanish-language writing contest. With its significantly larger Spanish-speaking population, she felt Sacramento would welcome a similar competition.
Voces de Sacramento is open to anyone, from elementary school students to older adults. Submissions can be fiction or nonfiction, on any topic, and have included short stories, poetry, and autobiographical essays. The challenges of growing up in a bicultural environment are a common theme among younger writers, while older writers often draw upon nostalgia, such as stories about their childhoods or hometowns, Romero said.
The first competition, held 2021 amid the pandemic, drew a handful of mostly adult writers. The competition has since grown, with 60 submissions this year split roughly evenly between young and older authors.
Entries are judged in two categories: age 17 and younger, and age 18 and older. This year's youngest submission came from a fourth-grader, while its oldest writer was 90. Submissions are judged by a panel of five Sac State faculty members. The submissions are stripped of author names to ensure objectivity. First-, second-, and third-place winners along with honorable mentions are published in a free, downloadable e-book.
"This is something that really encourages everybody to continue writing and to know that their talent is being recognized and published," Romero said. "It's also a way to share all these stories with the community. It's no good if they just live in my hard drive. We want people to read these poems and these short stories and these autobiographical essays and know about the people who live in our community."
As the competition has grown, Romero has reached out to local community organizations and K-12 schools. Among those is Center High School in Antelope, where Sac State alumna Ana Hernandez teaches Spanish.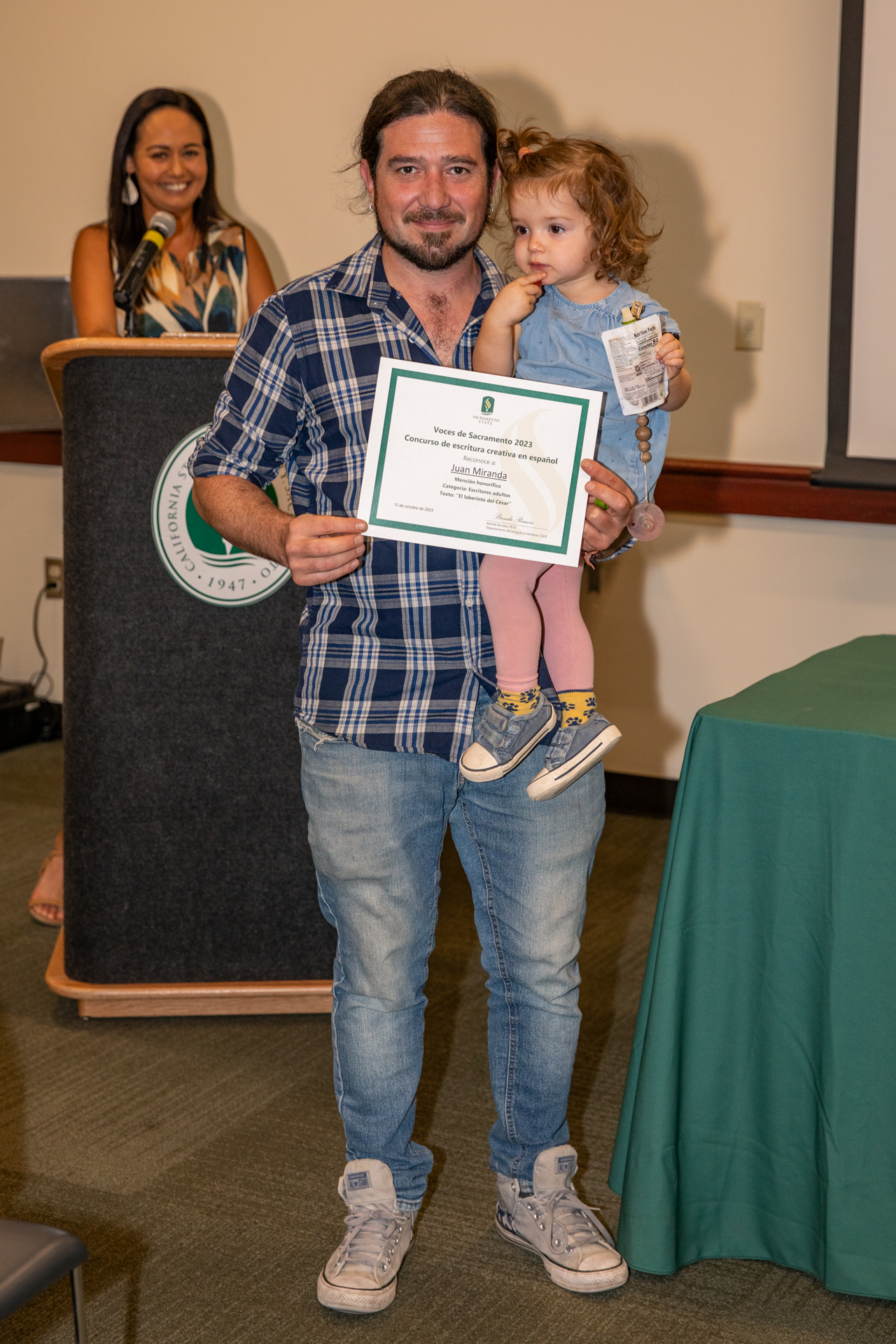 Hernandez says writing was already a heavy part of her curriculum, and she encourages her students to submit their work to Voces de Sacramento. This year, five of her students did so, and one of her colleague's students took third place.
In addition to connecting with their culture and identity, Hernandez said, the opportunity to be singled out for their writing is especially important for students at low-income schools such as Center High, where graduation rates are "not the best."
"It's a big deal for our students to be recognized," she said. "They get excited, they work for it, and even though they don't believe in themselves (initially), at the end of this, they're like, 'OK, I can do it,' and that encourages more students."
From Sac State, 10 students, one lecturer, and one staff member participated in this year's competition, with three winning honorable mention in addition to Félix-Gallegos' first-place award.
In Félix-Gallegos' story, a boy awakes to find his beloved dog, Chilindrina, outside and foaming at the mouth. Wanting to be seen as a man, he resists the urge to cry as the pet dies. That night, he dreams of his deceased grandmother as an angel who will take care of the dog in heaven.
The bulk of the story is true: Félix-Gallegos' family dog died from poisoning when she was a child, and she would subsequently learn that someone in the neighborhood had laid out tainted food to kill all the dogs. That grim issue is not uncommon in Mexico, she said, and she wanted to bring attention to it.
Félix-Gallegos, who received her undergraduate degree in Spanish from Sac State in May, is working toward a master's degree in Spanish. She hopes to earn a doctorate and become a college professor. She said competitions like Voces de Sacramento can help shatter the myth that the Spanish language is less complex as or important than English.
Winning first place, she said, was a major confidence booster.
"Since I was young, I always wanted to be a writer, but then I thought, maybe I'm not good enough. If I write something who's going to read it?" Félix-Gallegos said. "Seeing how other people think about my writing, that it's good, it helped me to see that maybe I have some potential, I just needed a little more practice."
Download the 2023 Voces de Sacramento e-book at the Voces de Sacramento website.
Media Resources
Faculty/Staff Resources