Personal stories at Out of the Darkness walk show importance of support for suicide prevention
April 07, 2023
They are dedicated scholars and student leaders who outwardly radiate confidence.
Inside, however, sometimes they feel so anxious or depressed that they have a hard time getting out of bed.
At Sacramento State's annual Out of the Darkness Campus Walk for Suicide Prevention on Thursday, April 6, they told their stories to a crowd of about 1,000 people. Conversation, they said, is one of the keys to preventing suicide.
"Too many of us are struggling in silence," said Salma Pacheco, Associated Students Inc. (ASI) president, her voice breaking with emotion. "I'm here because I battle with my mental health every day."
Pacheco said others in her family also struggle with depression. Events such as the Out of the Darkness walk help open dialogue about those challenging conditions and raise money for research and programs to address them, she said.
After she spoke, Pacheco received a hug from President Robert S. Nelsen, whose son Seth died by suicide in 2001 at age 25.
"I ask that we support one another, that we look for signs that people are hurting and need us," Nelsen said. "I ask that those who have those feelings speak to someone about them."
The Out of the Darkness event, hosted by Student Health and Counseling Services, Active Minds Sacramento State, and the American Foundation for Suicide Prevention, puts a spotlight on suicide prevention and mental health awareness, and raises funds for programs that support area residents in need of services.
This year's event featured a health and wellness fair where participants could obtain information about crisis hotlines, domestic violence resources, services for veterans, and more. Therapy dogs from Canine Companions offered comfort and prompted smiles.
During the 2-mile trek across campus, walkers carried signs with sentiments including "Tomorrow Needs You" and "You Matter." Participants wore colorful beads representing loved ones lost.
About 46,000 people across the United States die by suicide each year, statistics show. Suicide is one of the leading causes of death among college students.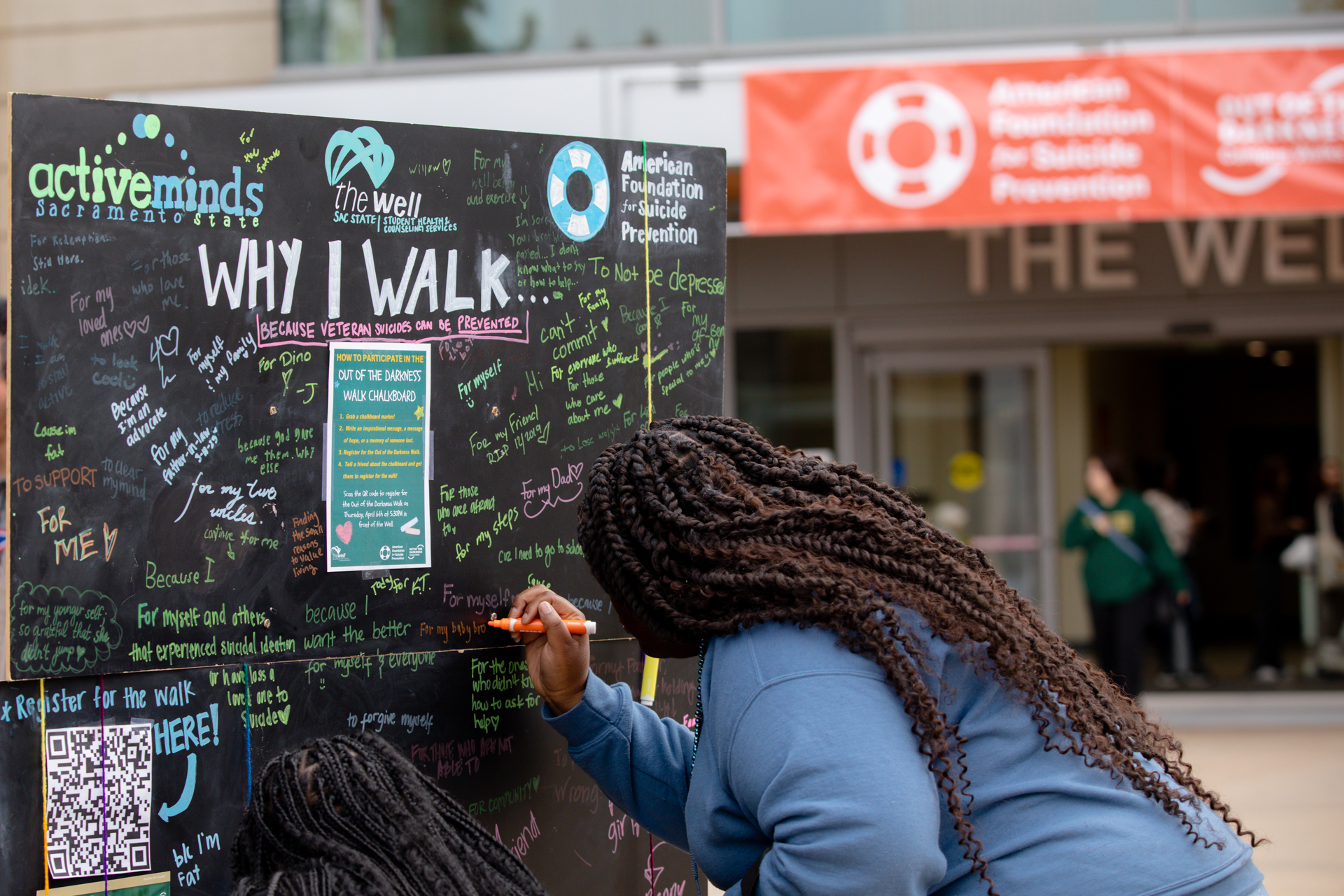 Sac State student Kamiya Turner, who is in the Family Studies and Human Development program, carried a sign that said she was supporting "The Unseen and The Unheard."
"They are the ones who don't have the ability to articulate what's going on inside of them," she said. Turner has had friends and family members who have suffered from depression, one who attempted suicide, she said.
"I'm here for them and others who have gone through similar things."
Another student, Alexandra Estrella, said she has long carried "invisible scars" from an abusive childhood and at times has been "scared of what I might do to myself."
Counseling and treatment have helped make her symptoms manageable.
"My life mission now is to help others," said Estrella, who serves as ASI's vice president for University Affairs.
The nearly 1,000 participants helped raise about $14,600 for mental health programs, said Lara Falkenstein, associate director for Health and Wellness in Student Health and Counseling Services.
"By showing up today, you are sending a message that mental health is as important as physical health," Erica Brown, representing the Sacramento chapter of the American Foundation for Suicide Prevention, told the crowd. "You are letting others know that they are not alone.
"Together we are making real and lasting change, and it's all because of you."
Click here to see more photos from the event.
Media Resources
Faculty/Staff Resources