With Festival of the Arts launch, student-made map will lead to Sac State public art treasures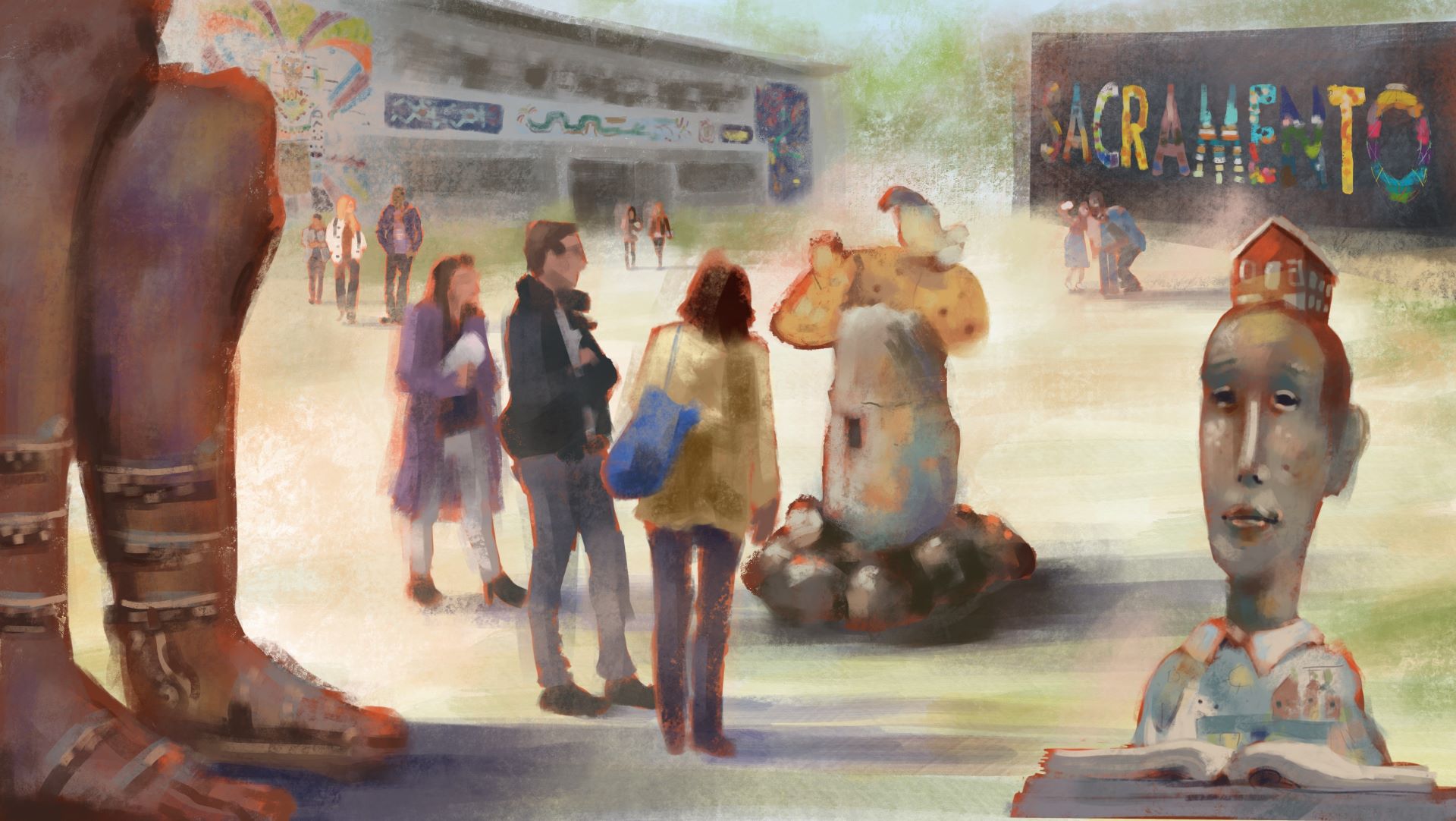 April 06, 2023
Sacramento State is teeming with public art. As a student, however, Genesis Torres would watch his fellow Hornets and even community members walk through campus, paying little mind to the murals and sculptures they passed.
That observation led him to start thinking about how to connect the campus history with people's daily routines.
"There's no plaques or identifiers for these public artworks," said Torres, who graduated in December 2022 with a bachelor's degree in studio art. "We have a beautiful campus. We're known for trees, but it would be nice to be known for art as well."
Torres spearheaded creation of the Sacramento State Public Art Map, which will launch during the annual Festival of the Arts. The map details public art locations and the stories behind 13 pieces on campus. Students have spent the last year researching the artworks, and more entries will be added as the project continues.
Festival of the Arts, a six-day celebration of arts and humanities taking place April 11-16, will feature performances, exhibits, guest lectures, and master classes from local and national artists, including Sacramento State College of Arts and Letters students and faculty.
Torres thought up the idea for the public art map while working as an intern for the University Galleries, and he approached Professor of Art Mya Dosch about working with the galleries to create it. She subsequently enlisted her students to research and develop written content for the map.
The 13 artworks included range from hard-to-miss to hidden gems. The iconic SACRAMENTO mural near the front of campus is there, as are the Serna Fountain and the Lassen Hall murals. Other pieces, such as sculptures outside Capistrano, Alpine, and Shasta Halls, each day see hundreds of people pass, many giving little thought to them.
The student researchers sometimes ran into challenges. Information about a 1972 mural by alumnus Henry Ortiz tucked inside Sacramento Hall, Dosch said, was hard to find until students learned he now goes by Enrique Ortiz Ortega. They eventually contacted him via email to learn more about the piece.
Another important aspect of the map, Torres said, is that future students will have the opportunity to continue the work, adding entries for existing and new pieces such as the Tributary sculpture recently unveiled outside the Welcome Center.
"There's room for more," he said. "I love this project because it's ongoing. … It can always be revitalized."
In conjunction with the launch of the map, the University Galleries will hold a scavenger hunt during Sunday Funday, the daylong family-friendly event that concludes Festival of the Arts. Participants can scan a QR code that will take them to the map and a series of questions that can only be answered by visiting each of the included artworks. Torres and fellow student Brianna Fernandez developed the scavenger hunt.
Participants who answer all the questions correctly are eligible to receive an original poster highlighting campus art.
"Seeing a project from thin air to completion is really huge, and I'm proud of the team that worked on this and for what I was able to contribute to Sac State." -- Genesis Torres, creator of the Sacramento State Public Art Map
Dosch said the map and scavenger hunt fit perfectly with Festival of the Arts, which puts the spotlight on faculty and student talent.
"It's a way to showcase both the research our students have done and the amazing artworks by students and faculty and other artists that are on our campus," she said. "It highlights the resources we have in the arts at Sac State."
Sacramento's association with public art – highlighted by the annual Wide Open Walls festival – means community members are used to seeing murals, sculptures, and other pieces in public spaces, said Kelly Lindner, University Galleries curator. They might not always associate such art with Sac State, however, she said.
"Oftentimes, we're sort of siloed as being separate from the rest of the city," Lindner said. "This is a way to bridge that and make it clear that we are inviting artists, both in the community and outside of the community, to bring art to our campus, and that we want the community to come as well."
That idea of inviting the community to come to campus to experience the creativity and innovation happening at Sac State is at the heart of Festival of the Arts, the College of Arts and Letters' signature showcase.
Arts and Letters Dean Sheree Meyer said the festival is "an opportunity to celebrate what makes the visual and performing arts and the humanities so engaging." She emphasized the variety of attractions.
"Throughout the week, there'll be a smorgasbord of speakers, workshops, and performances—all of which are a testament to the power of the arts and letters," Meyer said.
Two major public events anchor Festival of the Arts. The first, U-Create!, takes place in downtown Sacramento at the Verge Center for the Arts on April 13. The free community-based arts and cultural showcase features creative and collaborative projects from teams of students and faculty.
Sunday Funday, on campus April 16, is a free, family-friendly event featuring games, entertainment, and hands-on projects. The event also includes Japan Day, which celebrates Japanese language and culture with a Taiko drumming performance, martial arts demonstrations, hands-on origami activities, and more.
Torres, who now works as a curator and professional artist, appreciates the opportunities he experienced as a student to develop and lead a project that will make an impact on campus for years to come.
"Seeing a project from thin air to completion is really huge, and I'm proud of the team that worked on this and for what I was able to contribute to Sac State," he said.
To view the Sacramento State Public Art Map, visit Google Maps.
For a full list of Festival of the Arts events, visit 
https://www.csus.edu/college/arts-letters/festival-of-the-arts/
Media Resources
Faculty/Staff Resources