President, students reflect on another record-breaking Commencement
May 23, 2023
The familiar purple beam that has lighted many a night sky over Golden 1 Center was absent, but smiles from thousands of green and gold-clad graduates shone bright during this year's Sacramento State Commencement, May 19-21.
The downtown arena, home to the Sacramento Kings, hosted seven ceremonies over the three days to accommodate the record 9,574 eligible graduates. The thousands participating were cheered from packed stands as they crossed the stage, marking the end of one journey and the beginning of another.
This year's ceremonies also marked the curtain call for President Robert S. Nelsen, who will retire in July. Nelsen has worked to improve graduation rates, enrollment, and access to campus resources as well as revitalize campus facilities and find innovative new ways to reach students.
"People often ask me now that I'm about to retire, 'What do you want your legacy to be?' " Nelsen said during each of the ceremonies before listing accomplishments that marked his eight-year tenure, such as the 65,000 students who graduated during that time. "I want my legacy to be the Hornet Honor Code, a promise of a civil and caring campus where all feel at home."
At the end of the final ceremony Sunday morning, Nelsen's wife, Jody, joined him on stage.
"For 48 years, this woman has been by my side," Nelsen said tearfully. "She has supported me, and she has supported you. I could never have done this job without her, and I could never have done this job without the faculty (and staff)."
He signed off by saying "P Nelly out," referring to an affectionate nickname given to him by students. He then shouted "Stingers Up!" four times while again fighting back tears as "Pomp and Circumstance" played and the final procession of students began.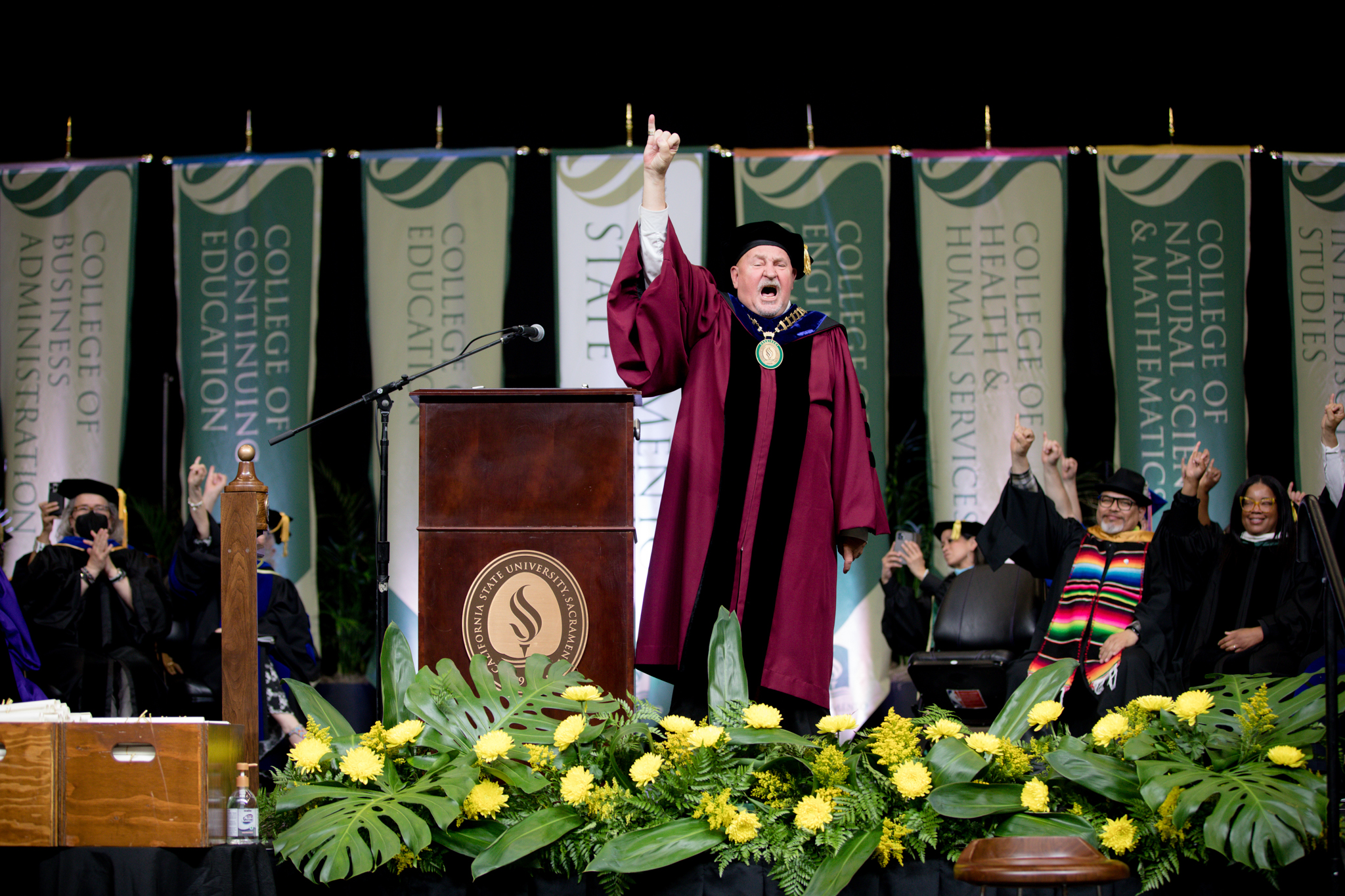 Before each ceremony, a kickoff "Grad Jam" with a DJ and music, emcee, and giveaways greeted attendees as students found their seats on the arena floor and friends and family made their way into the stands.
Graduates adorned their mortarboards with creative and colorful decorations and phrases, such as "I Mastered It! MBA," "I've been Accounting Down the Days," and "Five Years Later…" in reference to a popular "SpongeBob SquarePants" meme.
While lined up near the stage, awaiting the big walk, one graduate shouted, "I'm just soaking it in!" to his family in the bleachers. Others took selfies, adjusted their stoles and caps, and accepted fresh leis from loved ones in the crowd.
"It was a long time coming," said Sierra Raymond, an English major who graduated in a cap decorated with sunflowers and the words "On to the next chapter."
"To go through the whole pandemic and stuff, it's really crazy to see so many people I know graduate and not get this … it feels really special to have this," she said. "I'm the first of my parents' kids to graduate. It's a big moment, not only for me but for my family, and I'm really happy to be here."
Parents and other attendees shared the good feelings.
Mindy Lareze said her 23-year-old daughter, who worked and attended college full time, graduated with a degree in Fine Arts and wants to pursue a master's degree and teach at the college level.
"She was juggling a lot, and she's done that continuously throughout the process," Lareze said. "I can't say enough about her. I'm so proud. She's the most talented person I know."
Among graduates were seven Deans' Awards recipients, recognizing the top students in each academic college. Two of those students also received a President's Medal of Honor.
Two honorary doctorates were given to individuals who have demonstrated excellence in society, and President's Medal for Distinguished Service awards recognized two community members who provide outstanding service to the region.
For the first time, Sac State bestowed honorary bachelor's degrees on two individuals, Stephen Googooian and Aaron Nevin Rehman. Rehman, a Biology student, died in a car accident in 2013. His family, including siblings Xavier and Jeanette both graduated with Biology degrees this year, accepted the posthumous degree.
Googooian, a History student who was badly hurt in an automobile accident, accepted an honorary bachelor's degree.
Hanna Archibasova, who graduated magna cum laude with a bachelor's in Nursing, came to the United States by herself as a refugee from Ukraine, speaking little English. Determined to combat inequities in health care, she decided to become a nurse.
"Hanna, keep following your dreams," said College of Health and Human Services Dean Mary Maguire during the HHS ceremony May 20. "You are an inspiration to all of us."
While speaking at the podium, Archibasova offered words of encouragement and reflection to her peers.
"Let me tell you a little secret," she said. "Dreams can come true. I want to say thank you for not giving up on your dreams and persevering in your goals."
Berenice Ledesma graduated with a degree in Spanish and said she wants to be a translator.
"In order to smile, you have to cry first. I cried a lot," she said. "There were family problems, and then school was a little bit hard, but I'm here now."
Yutthachat Thao, who graduated with a master's degree in Electrical and Electronic Engineering, also highlighted the importance of having a strong support system.
"There's been many times where I (wanted) to give up, but with the help of my family, my friends, (and) professors, they kind of (helped) me push through all of this, and now that I'm here, it feels great," he said. "This is one of the most amazing things I've ever felt."
Senior writers Cynthia Hubert and Jennifer K. Morita contributed to this report.
To see more Commencement 2023 photos, view our gallery here.
Media Resources
Faculty/Staff Resources