MESSAGE FROM THE VICE PRESIDENT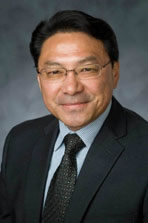 Message from the Vice President
Planning for the future of Sacramento State is at the heart of many campus activities this fall. Update of the Master Plan, which began last year, is in full swing, with a focus on gathering feedback from the University's constituents.
The plan, which is renewed every ten years, will guide changes to all aspects of the campus physical environment over the long-term, including existing and proposed buildings, open space, traffic circulation and pedestrian and bike pathways, as well as connections to the surrounding city.

Concurrently, revisions to the University's Strategic Plan are underway. Over the summer, President Gonzalez established a structure for review of the plan, last revised in 2007. The Strategic Plan embodies the academic mission, along with the vision, values and strategic priorities of the University.
A third element that spans both efforts is Redefine the Possible, an inspiring charge delivered in 2012 by the president that encourages us to think creatively and innovatively – to dream big - in all that we do.
The planning calendar couldn't be timelier. As we slowly emerge from the economic challenges of the past few years, the colossal changes that have taken place are unmistakable. Planning at this juncture offers us great possibilities for growth and development that is both reflective and strategic.
It is an exciting time to embark on shaping the future of Sac State. And, there are many opportunities to hear about the planning efforts and share your ideas. As ABA staff professionals, you possess immeasurable knowledge and insights about campus operations and services that make your participation so valuable. To learn more about the plans and how you can participate, please visit the websites.
University Strategic Plan - http://www.csus.edu/universitystrategicplan/
University Master Plan - http://www.csus.edu/masterplan/
At the division level, ABA's family/department goals for the current year, and first quarter progress reports, have been posted to our website. Your direct contributions will be critical here - http://www.csus.edu/aba/SPQI/progress-reports.html
ABA's planning program has a strong emphasis on reporting and recognition of accomplishments. And the ABA FOCUS newsletter is one of ways in which we capture and share information about the good work that you accomplish every day. I couldn't be prouder of the commitment that each of you brings to your daily efforts. I hope you will enjoy reading the stories and articles and share in celebrating the many ways in which ABA supports Sacramento State.