Law Enforcement Candidate Scholars' (LECS) Program
The LECS program is a 21st century solution that partners local and state law enforcement agencies in California and their neighboring communities. The LECS program is expressly designed to eliminate challenges and barriers that face women and men seeking opportunities in law enforcement.
The LECS program is fashioned to increase higher education and graduation rates, as well as and career placement while creating greater inclusion in recruitment and hiring within law enforcement. The LECS program also addresses leadership and policy issues and community relations concerns locally and throughout the state and the nation.


LECS News
Sac State Paving the Way for a New Generation of Law Enforcement Officers
State funds to boost University's groundbreaking LECS program
LECS Info Sessions Spring 2023: Feb. 6 (2pm), 15 (12pm), March 1&6 (2pm), & April 3 (4pm)
October 27, 2021 - LECS Anniversary
October 27, 2021 - Sac State Professor Recognized for Scholars-to-Officers Program
August 4, 2021 - Director's Statement
June 6, 2020 - What Future Officers Can Do to Support Equity
May 31, 2020 - Commitment to Social Justice
Law Enforcement Candidate Scholars' Program
California State University, Sacramento
Division of Criminal Justice
6000 J Street
Alpine Hall 112, MS 6085
Sacramento, CA 95819
(916) 278-5157 | lecs@csus.edu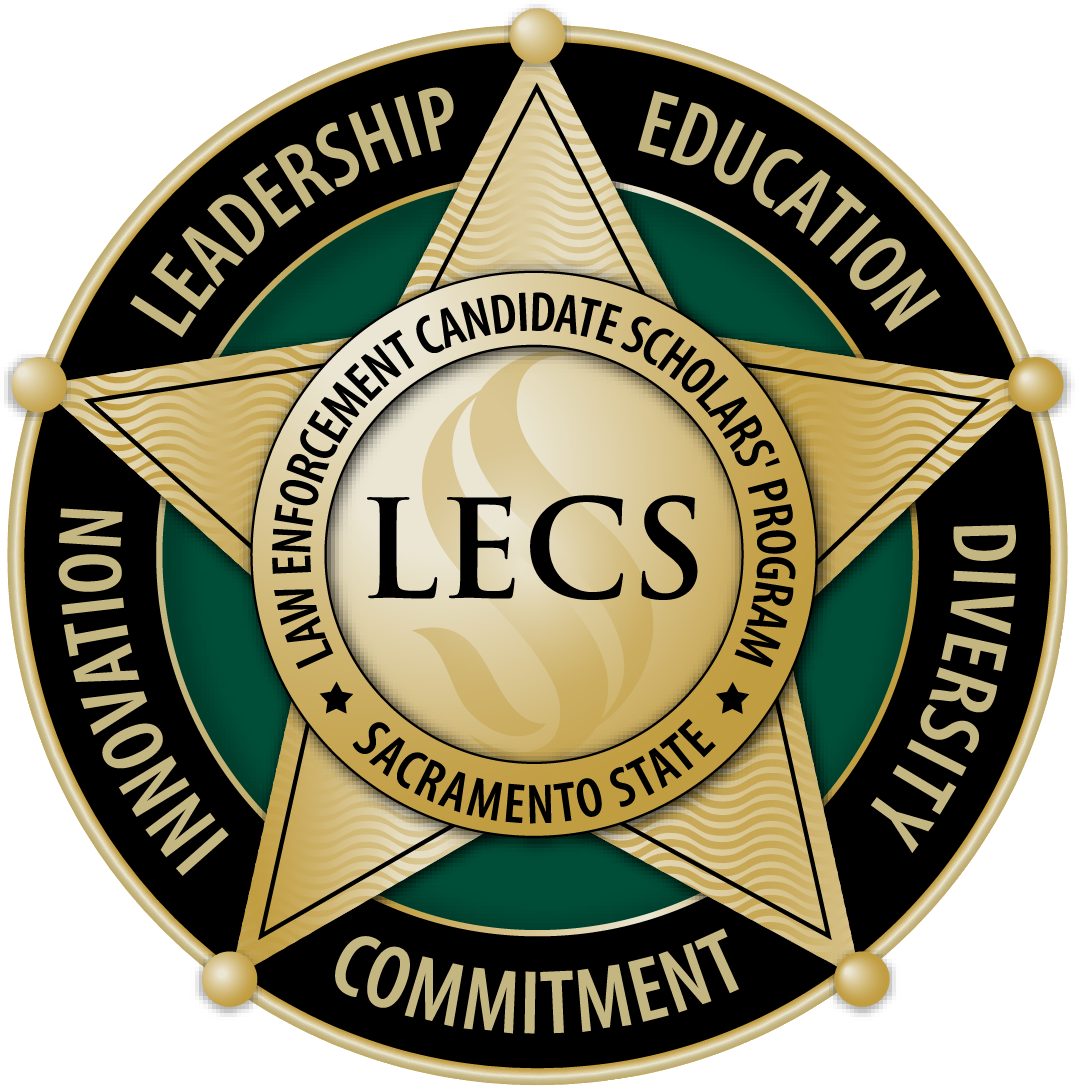 Welcome to the LECS Program
Law Enforcement Candidate Scholars' (LECS) Program
The LECS program is an exciting opportunity for Sacramento State students who are interested in pursuing a career in law enforcement. The program partners with the Sacramento Police Department, Sacramento Sheriff Department, Elk Grove Police Department, and the Sacramento State Police Department, to help create pathways to paid law enforcement positions within the community. In addition, we will be affording the opportunity to students who desire to work for other agencies throughout the state of California if they wish to participate in the LECS program. The LECS program is also supported by Associated Students, Inc., Instructionally Related Activities and other resources.
How to Apply
Prerequisites:
Open to full time Sacramento State undergraduate students from any major (freshmen over 18 years of age, sophomores, juniors and seniors are welcome)
Overall GPA of 2.5 or higher
Must be a U.S. Citizen or Permanent Resident (by the time of entering sworn academy)
Must pass the LECS application screening process and meet the minimum requirements for California Peace Officer certification
Must pass a background check
Must pass LECS program and sponsoring agency interview process
Requires at least a two semester commitment starting in the fall
Note: We are also accepting a LIMITED number of exceptional graduating seniors with only two semesters left who strongly desire and meet the criteria to be a law enforcement cadet.
Application
The application link below includes multiple survey questions and three short answer essay questions. The application also requires candidates to upload an unofficial copy of all college transcripts with the application below.
Law enforcement agencies will conduct an extensive background investigation for all candidates. Please answer the questions honestly and to the best of your knowledge. The application will take approximately thirty minutes to one hour to complete.
Law Enforcement Candidate Scholars Program Application
Application Helpful Hints:
Please limit your essay question answers to 400 words maximum each question.
It is highly recommended that you type a draft in a word processing program (e.g. Microsoft Word) and then copy and paste the text into the online form.
Make sure to save your application as you are completing it if you need to come back and complete information. (The application uses cookies to save a respondent's progress, it will only work as long as the respondent returns to the survey on the same internet browser on the same computer to finish the survey).