Two-day CARmencement will be a celebration on wheels
May 19, 2021
Sacramento State's event celebrating graduates who endured throughout all or parts of three semesters disrupted by the COVID-19 pandemic will be nontraditional.
That calls for some unconventional approaches by participants in what the University has named "CARmencement," a vehicle procession honoring the classes of 2020 and 2021 that will wind through campus May 21-22.
The event is the University's alternative – necessitated by safety concerns and guidelines established during the pandemic – to Commencement ceremonies usually held in downtown Sacramento at the Golden 1 Center.
Between 8 a.m. and 5 p.m. Friday, May 21, and Saturday, May 22, Sac State will celebrate the 3,746 graduates who registered to participate in CARmencement. They represent a significant portion of the Class of 2020's 8,563 graduates and Class of 2021's 9,047 graduates.
The grads are encouraged to wear caps and gowns and to decorate their vehicles.
Max Connor,  outgoing editor-in-chief of the State Hornet student newspaper, rented a Mercedes-Benz Sprinter van and plans to have his wife, three children, mom and stepdad, dad and stepmom, in-laws, and his sister and her husband along for the ride.
"I will definitely be decorating the van with the State Hornet logo and probably some phrases about the ethics of journalism that mean something to me and my family," Connor said.
Karenna Pullen will be driven by her mom, Christine Miller, Sac State's interim vice provost for Strategic Services.
"I think I'll wear my Commencement regalia and open the sunroof," Miller said.
Two graduates – Haley Roeder and Mariah Palomo – won a Student Affairs social media drawing for a limousine to carry them during the procession.
Sarahanne Mora, the Dean's Award winner for the College of Engineering and Computer Science, and her husband, Jon Peter Mora, are graduating from different colleges. Ordinarily, they would walk across the Golden 1 Center stage during separate Commencement ceremonies.
With CARmencement, though, they will graduate together with their two young children looking on from the back seat.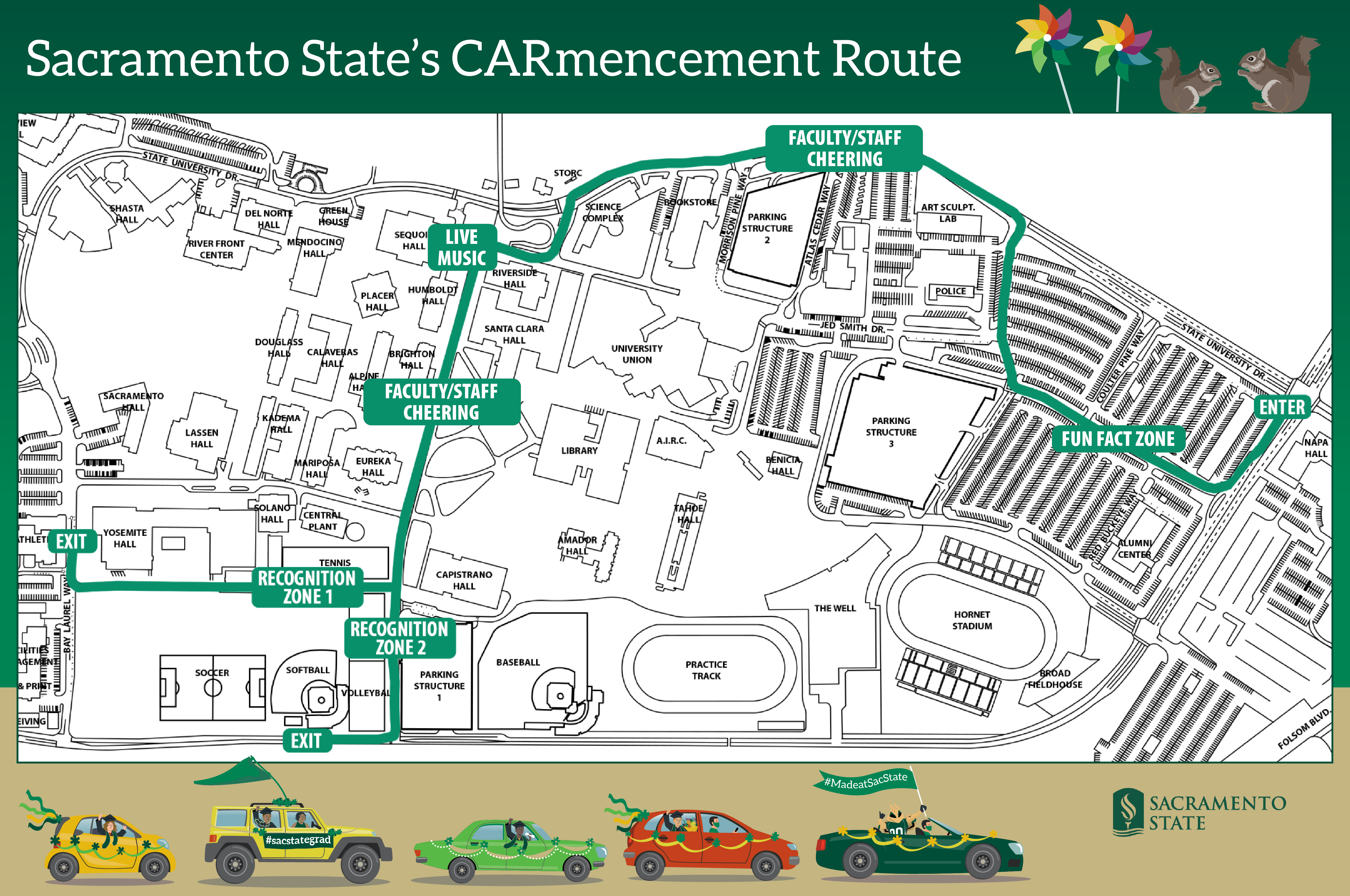 At 8 a.m. both days, the Sac State Marching Band's drum line will perform along the route, officially kicking off the processions. University President Robert S. Nelsen, wearing his traditional Commencement robes, will follow in a convertible.
"It's going to be fun," Nelsen said. "We'll have the faculty lined up along the way, waving to the graduates. It will be a day for all of us to remember."
Then come the graduates, driving themselves or being driven by family or friends from the starting point on the south end of campus, near the intersection of College Town and State University drives.
The route will follow State University Drive alongside the American River levee and circle behind the Hornet Bookstore and Ernest E. Tschannen Science Complex before merging onto Sinclair Road.
Along the way, University faculty and staff will provide cheers and support, part of what organizers foresee as a noisy, festive scene.
Vehicles will pass through the music-filled "Rave Tunnel" and roll by "Celebration Circle" at Guy West Plaza, where entertainment will include a KSSU Radio DJ, the Sac State marching and pep bands, and the Hornet Athletics spirit team.
The CARmencement route will then split at Moraga Way, where Nelsen will greet the graduates from his perch aboard the 19th-century carriage that has been a fixture at Causeway Classic football games and homecoming parades for decades.
Graduates will proceed to one of two "recognition zones," where they will be announced individually, receive a special Hornet Grad Gift containing Commencement programs and Sac State memorabilia, and be photographed in their vehicle before exiting campus onto J Street.
The CARmencement route will take about 50 minutes to complete, and organizers expect about 250 vehicles will complete the route each hour.
When it was clear COVID-19 safety restrictions would not allow Sac State to have its traditional Commencement this spring – after also forcing cancellation of the event in 2020 – the University presented graduates with several special celebration options.
Of the 3,746 who signed up for CARmencement, 451 also chose to participate in this year's virtual celebration. Another 449 graduates are taking part solely in the virtual celebration, and 1,382 graduates asked only to receive the Hornet Grad Gift.
Sac State's plan for CARmencement even caught the attention of Forbes magazine, which included it in a roundup of the innovative ways colleges and universities are handling commencement during the COVID-19 pandemic.
2021 Deans' Award winners
Students honored with the annual Dean's Awards represent the best of Sacramento State. They are students who excel not only in the classroom but beyond it, making a difference in their families, the campus community, and beyond.
Representing each of Sacramento State's seven colleges, they are chosen by professors and administrators each year as the University's top graduates.
The President's Medal is awarded to one of the seven Dean's Award winners, presented annually by President Robert S. Nelsen.
This year's Deans' Award winners are:
Media Resources
Faculty/Staff Resources