Sac State to honor six exceptional alumni for contributions to campus and community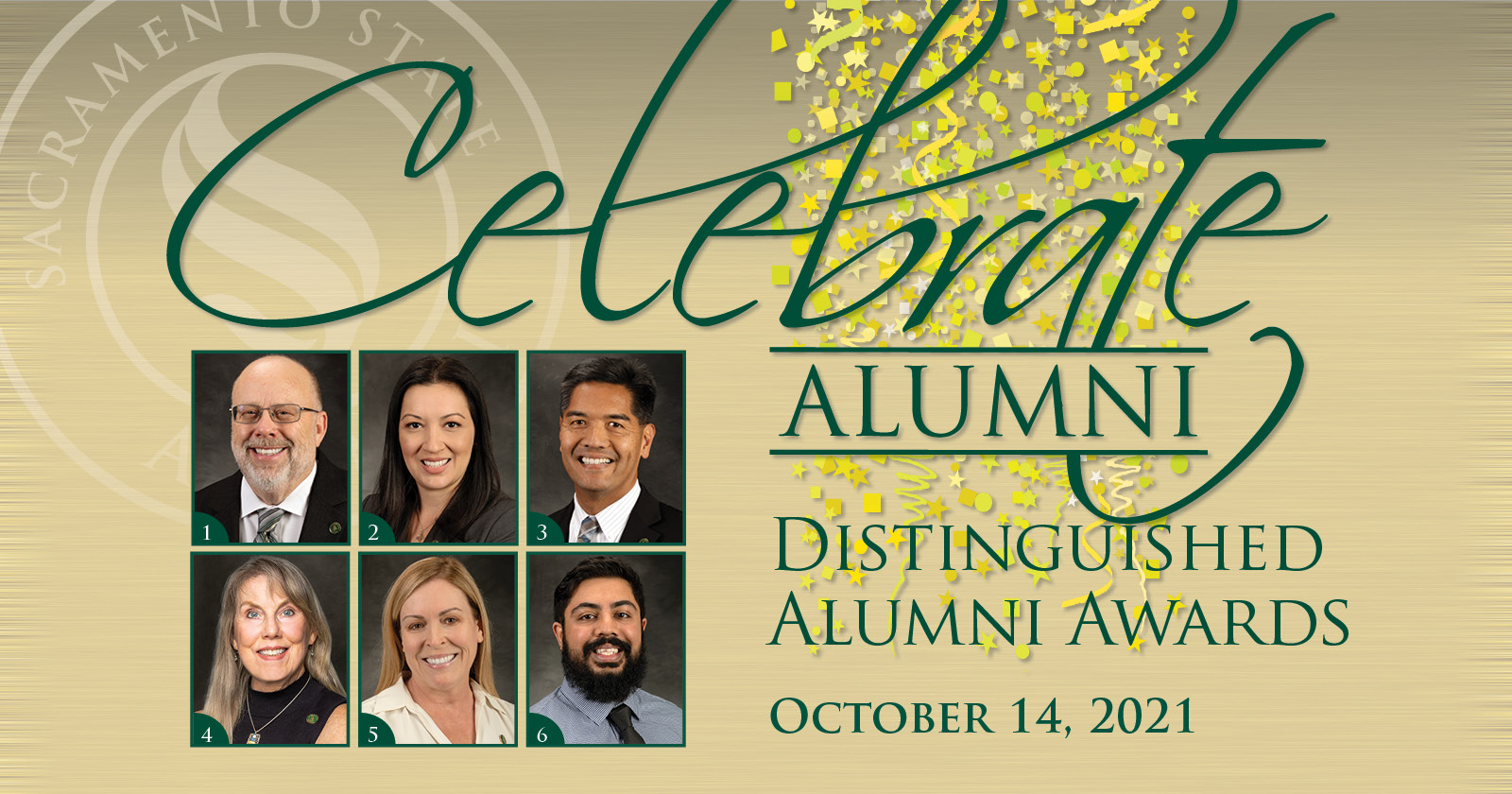 September 10, 2021
Each year, Sacramento State honors alumni and friends who exemplify its educational values who have contributed in exceptional ways to the University and their communities.
The Sacramento State Alumni Association has bestowed the Distinguished Alumni Awards on these outstanding individuals every year since 1972.
This year, the Alumni Association is honoring five people with Distinguished Service Awards, which recognize professional achievements and community service, and one with the Rising Star Award, given to recent alumni.
In past years, the University also has presented Honorary Alumni Awards to friends of the University, as well as Lifetime Achievement Awards.
This year's honorees will be recognized during a ceremony Thursday, Oct. 14.
Distinguished Service Awards
Dr. Fred Baldini '82, MA '95 (Kinesiology)
The former dean of the College of Health and Human Services and now-provost of Samuel Merritt University, Baldini made a substantial impact during his 31 years at Sacramento State, including through the creation of new academic programs and the establishment of Folsom Hall as a hub for the health sciences.
Dr. Josefina Dominguez '08 (Biological Sciences)
A first-generation college student and child of a single mother, Josefina Dominguez set her sights high despite having little guidance for navigating the path to and through college. As one of the few women in her field, she now is a vascular surgeon at Sutter Medical Center in Sacramento, treating patients with dangerous and deadly diseases of the blood vessels.
Dr. Ed Manansala '92 (Business/HR), MSW '98, Credential '01, '04:
Ed Manansala's experience working as a mentor and coach in Sacramento's Oak Park Neighborhood inspired him to earn his master's degree in Social Work and help bring long-term, positive, systemic changes to the neighborhood and others like it. He serves as El Dorado County's superintendent of schools, where his passion for education and serving his community is helping change lives.
Col. Patricia Webb MA '89 (International Affairs)
When a young Patricia Webb said she wanted to be an astronaut, her mother suggested being a flight attendant instead. Webb, however, stuck to her dream of taking to the skies, earning her pilot's license at age 21 and embarking on a groundbreaking career as an Air Force navigator. Since retiring as a colonel in 2011, she has worked in counterterrorism, and advising presidential Cabinet members and members of Congress while also teaching at the National Intelligence University.
Kristin Wright '07 (Sociology), Credential '09, MA '12 (Special Education)
Kristin Wright was buoyed by her personal experience as the mother of a child with disabilities as well as the culture of inclusion embedded into Sacramento State's Special Education Credential Program. Now the Sacramento County Office of Education's director of Equity, Prevention, and Intervention, Wright works to bring equity to thousands of students with disabilities.
Rising Star Award
Born in a refugee camp in Pakistan, Jamil Kochai immigrated to the United States as an infant. At age 12, he made a trip back to Afghanistan, his family's homeland, and it was that experience – combined with his large, multigenerational family – that inspired his highly acclaimed debut novel, 99 Nights in Logar. He credits Sac State faculty with encouraging him to pursue his interest in writing and helping launch his career.
For more information about this year's Distinguished Alumni Awards ceremony, visit the Sacramento State Alumni Association web page.