Midterm election panelists warn of threat to democracy, encourage students to vote
November 03, 2022
Jack Ohman, the Pulitzer-winning political cartoonist for the Sacramento Bee, is used to finding humor in any situation. But on Wednesday, discussing the upcoming midterm election, he was downright dour.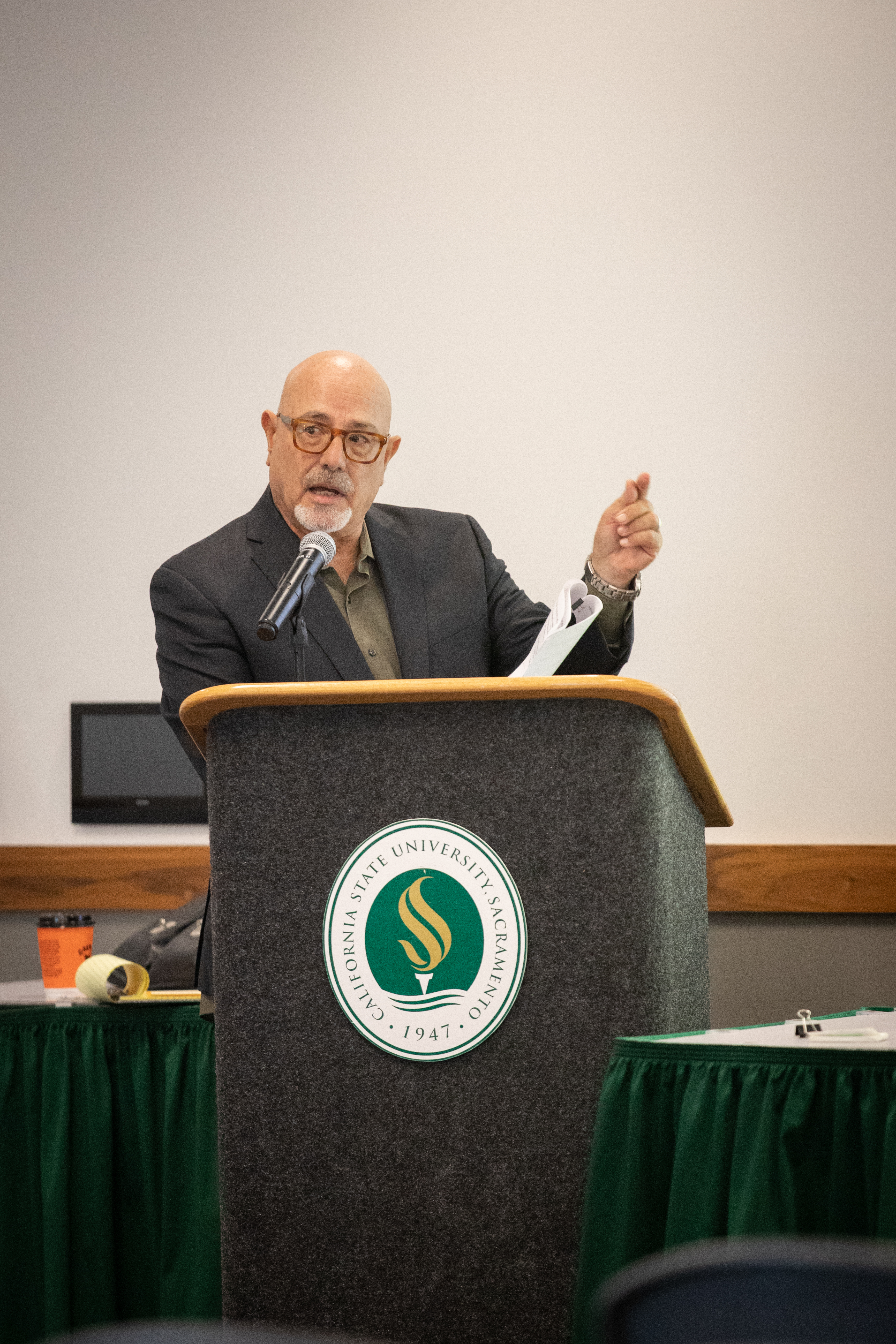 "I wish I could be funnier," Ohman told an audience of Sacramento State students and faculty in the University Union. "I'd love to give a funny speech. But it's disturbing."
During a panel discussion entitled "Midterms 2022: Referendum of Democracy," Ohman, Sacramento State Professor of History Joe Palermo, and state Assemblymember Kevin McCarty outlined in sometimes-dire terms the stakes of next week's election.
"On the ballot next week are not just propositions and local measures," Palermo said, noting candidates in many states who continue to delegitimize the 2020 election results. "It's also respect for our governing institutions, the sanctity of elections, the peaceful transfer of power."
The panel, to be sure, had a decidedly partisan tilt. McCarty is a Democratic legislator who referred to himself as a progressive, and Ohman and Palermo made it clear they sit on the same side of the political spectrum.
But the event was also an opportunity to frame the election through a historical lens, as well as remind Sac State students about the power of their vote.
Palermo opened the discussion by recapping the 2020 election and the Jan. 6, 2021, insurrection at the U.S. Capitol, noting that having sitting senators objecting to an election and a president refusing to concede are historical outliers.
"The next week's midterms are an opportunity for people to express themselves politically at a national level for the first time since these events, and how one views Jan. 6 tells you a lot about how they view the Constitution of the United States, the rule of law, and the world," he said.
Following Palermo's presentation, McCarty spoke about the daily updates he receives telling him how many people in Sacramento County have cast their ballot so far. Of the county's 60,000 voters older than 65, he said, a third have returned a ballot. Just 6%, however, of the county's 75,000 voters between the ages of 18-34 have done so.
That gap has an impact on statewide policy, he said, noting that during the 1980s and 1990s, California built significantly more prisons than public universities.
"I'm sure the voter turnout here at Sac State is dramatically higher than young people 18-34 as a whole," McCarty said. "But it has a major, major impact on the policies we enact at the State Capitol."
Sac State students do, in fact, vote at high rates. Two years ago, the University received a Gold Seal rating in the ALL IN Campus Democracy Challenge, which empowers colleges and universities to achieve excellence in student democratic engagement. The rating is given to campuses with a 70-79% voter participation rate.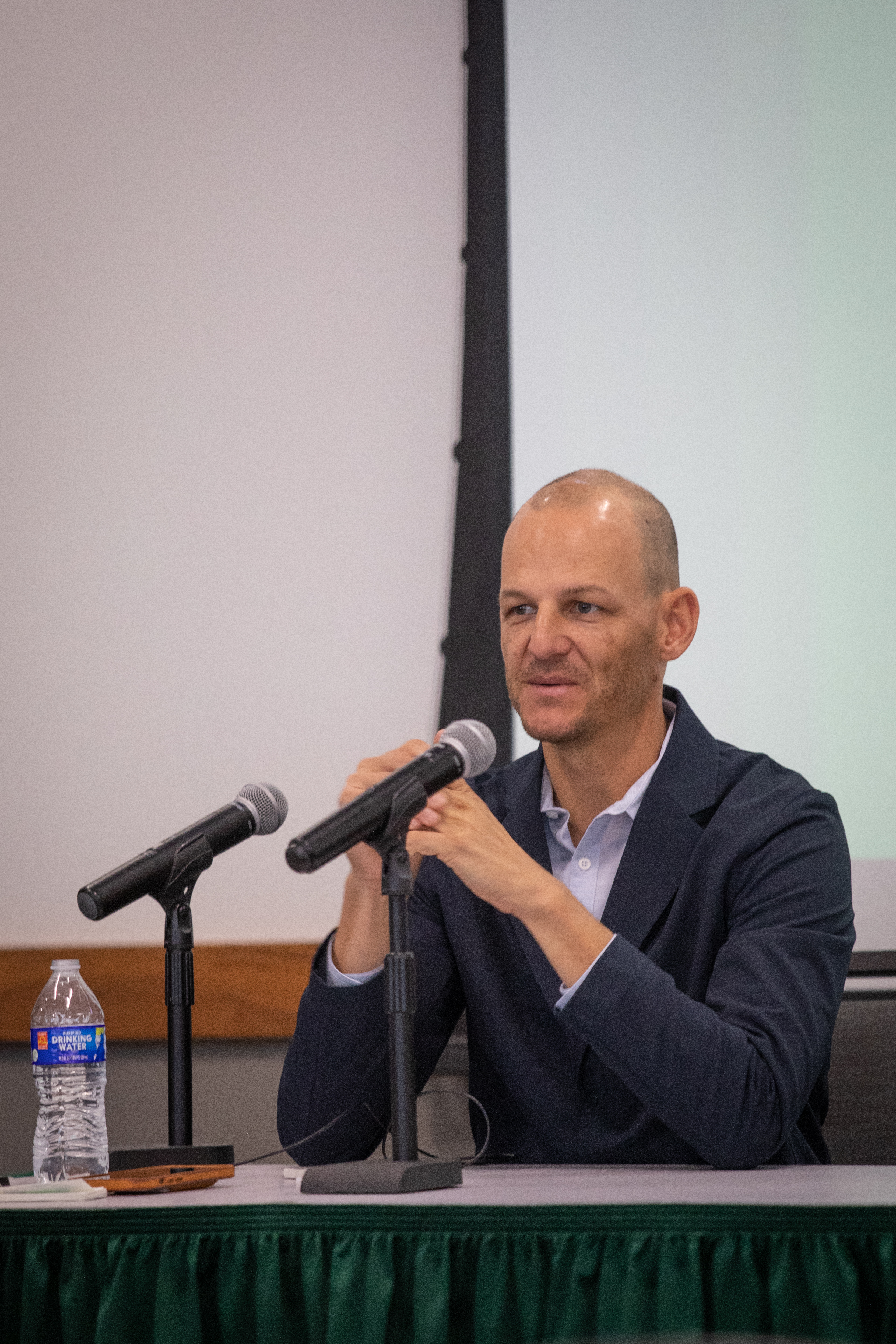 During next week's election, the University will again host a Vote Center on campus, where county residents can drop off completed ballots or vote in person. Sac State was, in 2018, the first California university to host such a center.
But why, a 21-year-old Sac State student asked McCarty, should she and her peers continue to vote when it feels like doing so has little impact on either the candidates who win or their day-to-day lives?
"As someone who lost an election by 202 votes, every vote does matter," McCarty replied, adding that young people can affect state issues like rent control or college affordability. He said he is working on legislation addressing the latter, and "if we had all young people in this cohort participate in something like that, it would make a difference."
Ohman framed the election through his experience as someone who in the past has worked for Democratic candidates but has also voted for Republicans.
"It used to be a somewhat ecumenical political environment where you would have people who were reasonable people who believed in the Constitution of the United States, and now you have people who are literally insurrectionists running for governorships of major states and U.S. senate seats," he said. "I cannot tell you how troubling this is."
It's important, he added, for young people to vote even in elections where the candidates or issues aren't exciting or inspirational.
"I call myself an Eisenhower Democrat. Is it exciting? Not really. But I like boring. I like a stable environment," he said. "Every vote in every election, water board, sewer board, dog catcher – whatever it is, they all matter."
The panel discussion was sponsored by the Department of History as part of its "Historical Perspectives on America in Crisis" series.
Media Resources
Faculty/Staff Resources