KSSU celebrates 30 years as a forum for diverse voices and music
April 07, 2022
On a recent Friday, the volunteer DJs at KSSU were spinning tunes by emerging rockers, dishing about the Academy Awards, and discussing mental health issues from their University Union studio.
It was a fairly typical day at the free-spirited, student-run station, which is celebrating its 30th year of broadcasting to the Sacramento State community and beyond.
On Friday, April 8, KSSU alumni will visit campus and relive their DJ days. Members of the campus community and public are invited to visit the studio from 8 a.m. to 5 p.m. in University Union room 1240. A panel discussion about the station's history will take place 3:30-5 p.m. in the Union's Orchard Suite.
"This is our audio sandbox," said KSSU advisor Aaron Wall, student services coordinator for Associated Students Inc. and one of three paid staff members at the station. "Students play music that they love, and talk about topics that interest them."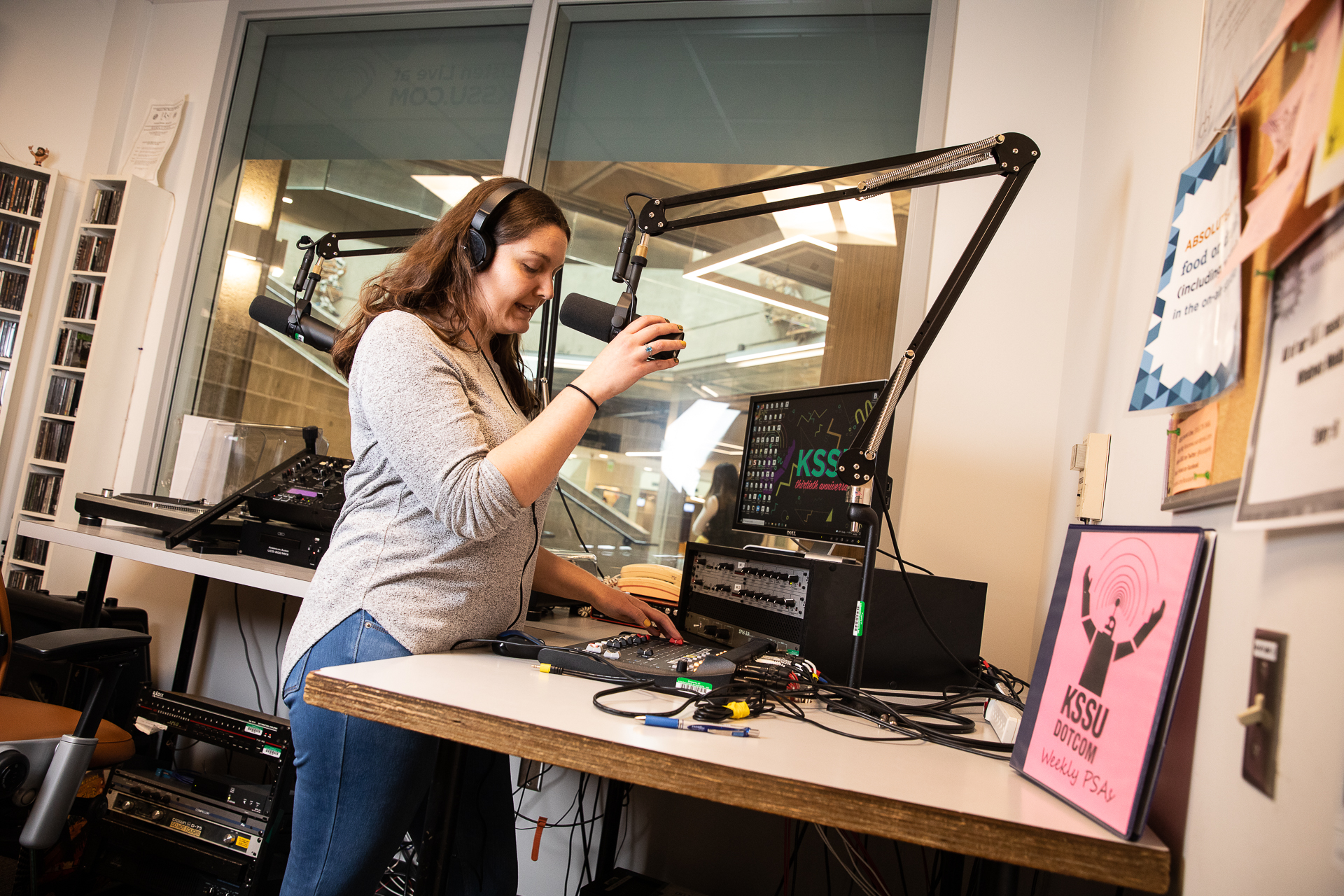 Not all KSSU volunteers, numbering about 40 students each semester, will pursue broadcasting careers. While there, though, they learn a wide range of skills relative to broadcasting, advertising, engineering, programming, journalism, and other fields.
Some, such as Odin Rasco, are Journalism majors, but others are studying Computer Science or Anthropology, and participants represent the University's diverse student population.
"It's one of the station's greatest virtues," Rasco said. "Every voice adds to the identity of KSSU."
It all began more than three decades ago, when two students decided the campus needed a radio station that would reflect their voices and passions. It took Communications majors Jim Bolt and Chris Prosio more than two years to launch the project. The station originally operated as KEDG, and its signal was so weak that it barely reached the fringes of campus.
"This is our audio sandbox," - KSSU advisor Aaron Wall.
Today, KSSU broadcasts online and has thousands of listeners across the country and beyond. The station hosts events, such as its recent Silent Disco dance, to encourage involvement in campus life. Its DJs are familiar presences at gatherings on the Library Quad and elsewhere, and regularly promote important University programs and services.
On any given day, KSSU offers news, talk shows, music, and interviews, and Wall said the station is an important outlet for new and rising artists.
A recent playlist included selections from electronic pop singer Waldo Witt, vocalist Orlando Weeks, indie garage punk quartet Shannon and the Clams, and indie songstress Squirrel Flower. Discussion topics that day ranged from one student's journey to finding her spiritual identity, to the "Slap Heard Around the World" – actor Will Smith's assault on comedian Chris Rock – during the Academy Awards television broadcast.
At KSSU's heart, however, are the student DJs, each working on-air about an hour a week. When not at the microphone, they write blog posts, review music, help with engineering, stock CD shelves, and perform other tasks.
Rasco, the station's program coordinator, called himself "a performer by nature" who was naturally drawn to KSSU.
"I've wanted to have a radio show since I was a child," he said. Until he came to Sac State and started working at the station, however, "I had no real means of breaking into that world."
Rasco said he hopes to parlay his experience into a professional radio career.
Another DJ, Economics major Senna Kim, said she joined the crew with an eye toward "getting more engaged" with the campus culture. It also helped her confront her social anxiety by "pushing me out of my comfort zone," Kim said.
Charlotte Barna, an Anthropology major known on the air as DJ Char-Bar, stood at the station's master mixer on a recent day and reflected on her time at KSSU.
"It's definitely one of the highlights of my week," she said.
"Music is probably my biggest passion in life," Barna said. "This is an amazing creative outlet, and a really great community."
The station never missed a beat during the COVID-19 pandemic, which forced most students, faculty, and staff off campus. DJs working from makeshift home studios helped KSSU maintain its connection with the Sac State community.
"We didn't have a single pause," said Wall, a 2020 graduate who began his career at KSSU as a volunteer DJ.
On Friday, the station will celebrate its rich background, with alums taking over the microphones in the small studio near one of the University Union's main entrances and mingling with the new guard.
Student radio "is as relevant as ever," Wall said.
"It's always been a platform for students to play music, express different viewpoints, and learn new skills," he said. "It's just the format that has changed."