$1.4 million state budget earmark includes funding to improve Children's Center playground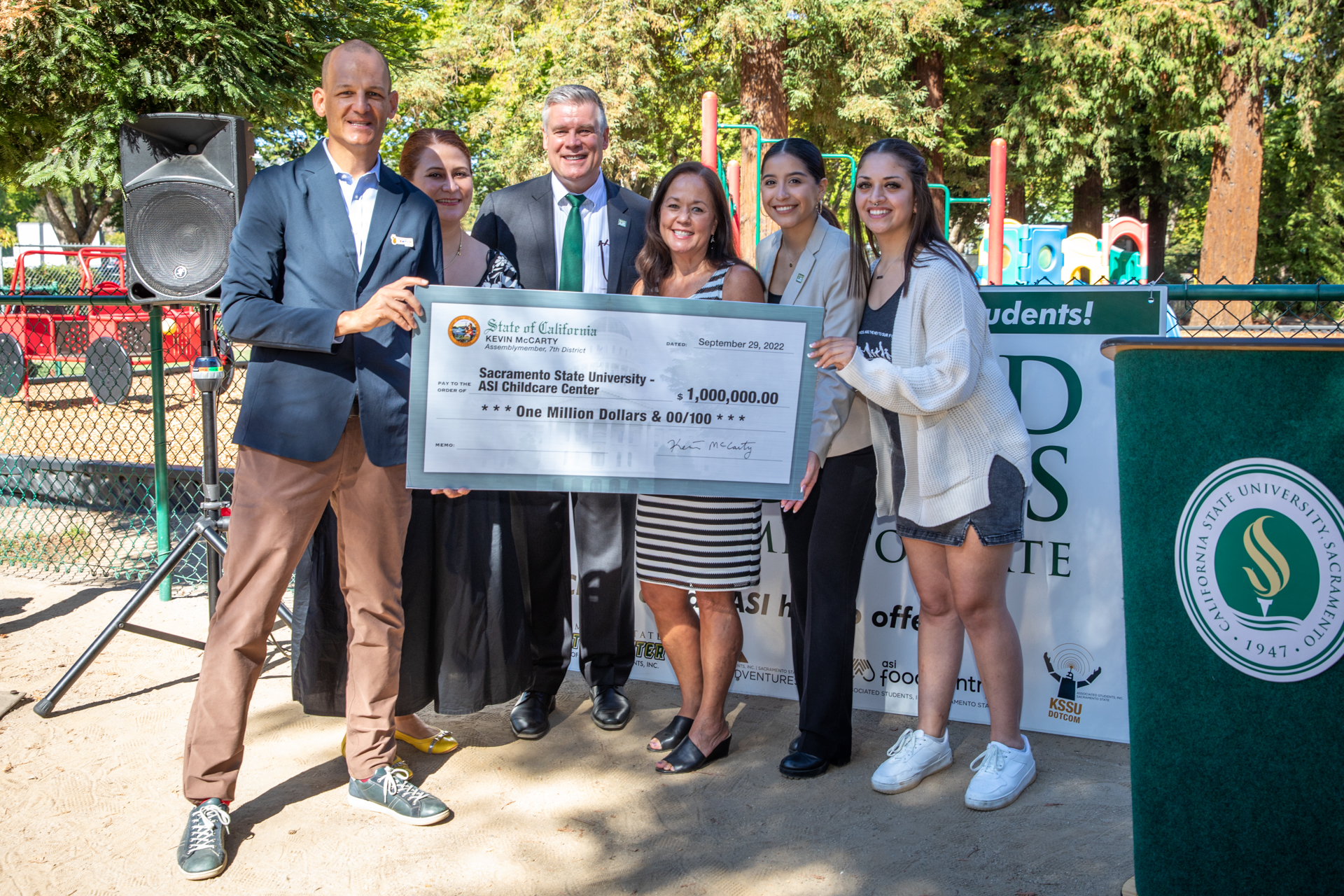 September 29, 2022
Kids taking a tumble at the ASI Children's Center playground will have a softer landing thanks to a $1 million earmark in the state budget.
Assemblymember Kevin McCarty announced the funding at a Sept. 29 press conference at Sacramento State, outside the center.
"I had the opportunity to put together a list of $25 million to reinvest in a dozen or so projects around Sacramento, and this was certainly one that rose to the top of my list," McCarty said.
"I'm a big believer in early education … That's why I'm super excited to have this one-time check here today."
Associated Students Inc. operates the Children's Center, which is celebrating its 50th anniversary this year. More than 150 children ages 6 months through kindergarten are enrolled at the facility, which primarily serves student-parents such as Gabby McCartney.
"This is my first experience on campus as well as my first time apart from my daughter," McCartney said. "I was very nervous about leaving her at a facility I trusted. The Children's Center has done an amazing job. She has grown to love every teacher, every student and, of course, the chickens that are in the coup here.
"Each day she comes here, I'm blown away by the teachers and how much she's progressing. I know she's in a place where she's loved and taken care of … I'm so grateful to the assemblyman for his generosity and support."
This year's state budget included funding for programs at multiple CSU campuses.
McCarty, who is chair of the Assembly Budget Subcommittee on Education, secured more than $1.4 million for Sac State programs including:
$300,000 to create an artificial intelligence/mixed reality classroom for three-dimensional data analytics.
$100,000 to increase Sacramento Semester housing stipends and scholarships to help visiting students enrolled in the immersive internship program in policymaking.
A 10% pay increase for students participating in Capital Fellows, a nationally recognized fellowship program that offers unique experiences in policymaking and development in each branch of the government. The funding will raise fellows' monthly salary to $3,253.
McCarty's mother, Barbara J. McCarty, was a single mom who raised four children and worked while attending community college before graduating from Sac State.
"The assemblyman knows firsthand the challenges many of our students face finding affordable child care," Vice President of Student Affairs Ed Mills said. "These funds will help improve the playground, update the facility, and keep the rates low."
About a third of Sac State's 31,000 students have dependents, according to Mills.
"Sac State is a caring and welcoming campus. We want all of our students, including ones with children, to be able to study here, thrive here, and earn their degree here," Mills said.
Much of the money for the Children's Center will go toward resurfacing the playground areas and subsidizing the cost of child care for low-income Sac State students.
Construction on the main building of the ASI Children's Center was completed in 1988. The playground, which consists of three separate areas for infants and toddlers, 2-3 year old children, and preschoolers, was built on top of cement and asphalt, according to Director Sherry Velte.
"Over the years, all of the sand and topsoil have eroded and just washed away from the rains," Velte said. "Our yards have been flagged as 'unsafe' every time they are assessed, and that is because we don't have the proper surfacing."
Without funds to replace the surfacing, Velte would enlist the help of teachers, parents, and ASI students to cut and layout artificial turf she'd purchased at the local home improvement store.
"But it doesn't meet regulations and it wears out," Velte said.
That's why she jumped at the chance to make her case for additional funding.
"I just prayed the stars would align and the funding would come through for us, and it did," Velte said. "I immediately started calling playground companies to get people over here to tell me what we're looking at."
Money allocated for the Children's Center will also pay for office improvements and furniture for the front entry area.
Media Resources
Faculty/Staff Resources