ABA GREEN NEWS
Sac State Celebrates Earth Day!
On April 17th, Sac State celebrated Earth Day with a wide range of activities, festivities and community outreach. Facilities Services Sustainability team helped lead the campus-wide event, but it took a full campus effort to make it as successful as it was. "We had help from many different entities on campus to bring this day together in such a successful way, and are extremely grateful for that," said Sustainability & Operations Analyst/Coordinator Kristina Cullen.
The day's activities attracted all ages to engage and learn about sustainable practices. A recycling themed dunk-tank was set up, which required participants to bring five cans, glass, or plastic bottles to receive one throw. The Inter-fraternity Council coordinated this activity, which had Greek members on the receiving end of the dunking! This dunk-tank drive alone brought in more than 7,000 pounds of recyclable material!
Education was a key component of the day's festivities. Facilities Services' Nat Martin led a tour of Sac State's Central Plant, an area not often seen by students, to highlight the sustainable aspects of our campus' heating and cooling systems.
In addition, visitors were encouraged to participate in a scavenger hunt, which required them to visit the many information booths on sustainable practices.

Other events and activities for earth day included:
An electric vehicle showcased courtesy of SMUD
"The Sustainability Games," including potato sack races, relay races and recycled bottle painting
A "Green Kids Zone" featuring sustainable arts and crafts, seed paintings and a bounce house
A campus cigarette butt clean up, sponsored by Keep California Beautiful
Educational tree planting, led by The Sacramento Tree Foundation and The National Pan-Hellenic Council. Nine trees were planted along the University's western bike trail on State University Drive East.
UTAPS Adds New Shuttle to Fleet
As their website states "The Hornet Express Shuttle is your free campus transit system...We hope the Hornet Express Shuttle service helps make your commute more convenient."
Adding to the convenience and commitment to quality transportation services, UTAPS has added a new shuttle bus to their fleet.
A compressed natural gas vehicle, the shuttle emits 20 to 45 percent fewer smog-producing pollutants, and 94 percent of all natural gas used in CNG vehicles in the U. S. is domestically produced.
In addition, the new shuttle will soon be modified to be fully ADA compliant, accommodating two disabled persons in wheelchairs, as well as three bicycles at one time. Seating up to 27 passengers, this new shuttle has begun its rounds on the Hornet Green Line. If you have additional questions, visit the Hornet Shuttle Webpage!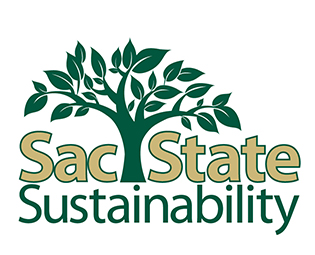 Sustainability Team Causes Mania!
Facilities Services' sustainability team has become the recipient of high praise recently, both for sustainable programs and outreach.
In February, Sacramento State participated in the national Recyclemania event, scheduled to coincide with a men's basketball game. Recycling Coordinator Joey Martinez and Sustainability & Operations Analyst/Coordinator Kristina Cullen, as well as other volunteers, were on hand to help promote and get students involved in recycling on campus. Volunteers helped collect recyclable materials such as plastic bottles during and after the game.
Getting students engaged is just one of the sustainability team's goals. "Revitalizing and improving campus
recycling practices, including implementing a more streamlined recycling process at Hornet Athletic events, is a big short-term goal for the sustainability team," said Cullen.
The event was such a success that Recyclemaniacs recognized Sac State's efforts in their most recent newsletter, available here. Receiving such high praise helps validate the Sustainability team's efforts. "[We are] extremely proud of our efforts. There's a real sense of a burgeoning sustainability scene here, and it's awesome that Sac State is getting that kind of notoriety!" said Cullen.
But it doesn't stop at recycling. Early in the month of March, the sustainability team held another event: "Mulching Mania." With student volunteers, representatives from The Sacramento Tree Foundation, and Herky himself, the sustainability team set out to improve the health of campus trees, as well as beautify area landscaping. Volunteers received helpful advice from tree specialists, as well as Facilities Services Manager of Grounds & Landscaping Robert Anchor.
Volunteers spread tree mulch around young saplings in order to protect the tree and ensure a sufficient water supply. In addition, volunteers spread compost to ensure proper moisture and to beautify designated areas, including the bed of roses across from Douglas Hall.
The initiative was such a success that local news outlet KCRA Channel 3 covered the event. Kristina Cullen and her team understand the importance of this coverage:
"It is important to share progress and efforts so people know what's going on. By receiving notoriety like this, it helps Sac State sustainability reach a broader audience. Half of the success of an event is the event itself, but the other half of our success comes from getting the word out about what we're doing, which raises awareness and encourages more support and participation by all."
Recycling Coordinator Joey Martinez agrees: "We've been very appreciative of all the attention given to our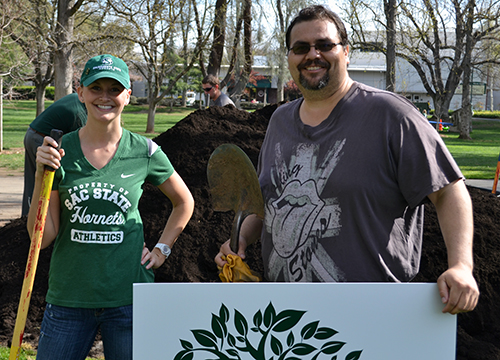 sustainability team lately and especially to all of our efforts. Getting the word out is always key and we're thankful for the opportunity to do so."
To help promote the program, Sac State sustainability has published a new logo. Appearing at all of their events, this new logo helps cement brand recognition with their sustainability projects and programs. "We were looking for something organic and a symbol that encompassed the essence of Sac State.  The tree seemed like the best symbol, especially with our recent Tree Campus USA designation," said Cullen.
The goal, ultimately with this new logo, is to create a culture to "support the campus' mission to cultivate sustainable practices that will contribute to greenhouse emissions reduction, energy conservation, and an overall awareness of sustainability," said Cullen. "We believe there is power in numbers. Our main priority is fostering a sustainability program that attracts the student population and encourages them to get involved."
Mission accomplished! Let's hear it for our Sustainability team!
If you would like to get involved in future sustainability programs, contact Joey Martinez at jm29@csus.edu, or Kristina Cullen at kristina.cullen@csus.edu.
Recycling Audit Informs and Engages Student Volunteers
In December, Facilities Services held its first recycling audit, intended to inform students about ideal recycling habits and the types of materials Sac State can recycle. The audit helps resolve an ongoing problem that Recycling Coordinator Joey Martinez needed to address in order to reduce Sac State's total waste.
"In our case, we audited many of the external trash cans throughout campus to check for how much recyclable content was making its way into the trash stream. From our audit samples, we learned that 18.6 percent of the content in our trash stream was materials that could be recycled. We learned which recyclable materials people were in the habit of throwing away so that we could then begin to create educational opportunities to instruct the campus community how to recycle more effectively," said Martinez.
Student volunteers got their hands dirty (using gloves!) as they sorted and organized sample material that is often discarded as trash. Volunteers separated each type of material into different piles. By sorting with this method, student volunteers and Facilities Services employees were able to visually see how much materials could, in fact, be recycled.
Events like this help engage students in programs they might not otherwise have opportunities to participate in. Facilities Services planned their audit in partnership with Professor Christine Flowers of the Environmental Studies Department. Martinez added, "(Given) that they were mostly Environmental Studies students, they seemed to have a thorough knowledge on the subject. The big opportunity came in terms of educating them on how Sac State's recycling programs operate. For instance, while most paper products are recyclable, once those same paper materials become contaminated with food, they need to be composted instead."
"The only thing that equals the support of students is support from our faculty and staff. Sustainability is one of those things that everyone can rally around, and it's amazing to see the Sac State community come together in such a wonderful way." Well said, Martinez!