ABA Websites Redesign Nearing Completion
ABA'S Websites "Going Monet"
Started in late 2011, ABA began a redesign process of all of its webpages to adopt the new "Monet" style seen on the Sacramento State homepage. With design help from Strategic Planning & Quality Improvement, and technical support from Information Resources & Technology, significant progress has been made toward completion of the project.
Since we last updated you, several major websites, both internal and public facing, have received major redesigns and improved organization.
The Strategic Planning & Quality Improvement (SPQI) office launched its new site in January 2013, available here.
The function of the site is integral to ABA, as it will function as the major resource for all goal setting efforts in ABA, including those aligned with the University's Redefine the Possible initiative.
In addition, programs related to ABA's strategic initiatives, such as the recognition program and LEAN process improvement will be featured.
One of ABA's most public facing websites, University Transportation & Parking Services (UTAPS), launched a redesign in September 2012.
It was very important to strengthen the page's organization and ease of use, as UTAPS and its related services were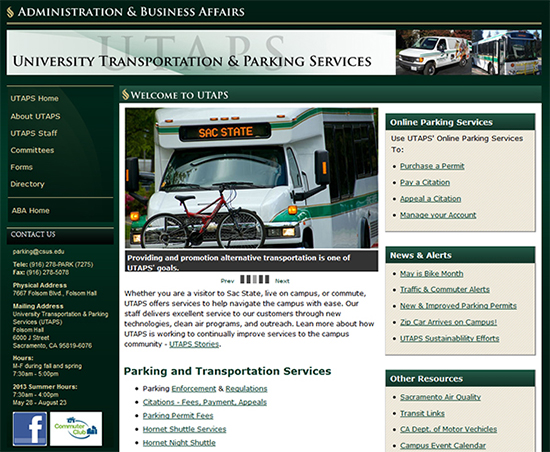 regularly listed in the top 40 search results for the campus, data captured and provided by IRT.
Their page, available here, includes information for online parking services, visitor information, and other general parking services.
Both the SPQI and UTAPS pages utilize an image carousel as a centerpiece for their pages. This carousel allows these units to draw attention to new or existing services.
With an eye toward simplicity, all of ABA's pages in the 'Monet' template are managed within the WCM. Many ABA staff professionals are trained and proficient in its use.
The WCM and new template allows offices to have more creative control over their pages and includes more interactive elements that will drive visitors of those sites to find the information they are looking for easier and more quickly.
Facilities Services launch a new page in December 2012. An integral page for ABA, the redesign has simplified their page to direct visitors to several key areas, 1). Customer Service 2). Campus Master Planning and 3). Sustainability efforts.
Despite the significant progress, there is still more work to be done. Other public facing and important internal sites that are still to be redesigned include the Student Financial Services Center, Accounting, Accounts Payable & Travel, Risk Management Services, and the University Ticket Office. Templates have been designed for each of these remaining pages, and review and development is underway.
To follow our progress as we launch new ABA pages, visit our ABA Web Resources page.___________________________________________________________________________________________