Professor Brendan Lindsay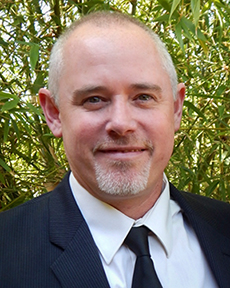 Professor Jamie Kneitel
Plus: Photo album from April 18 awards ceremony
---
Preview story: Sacramento State will honor 19 distinguished professors during two events in April.
The Faculty Senate's Research and Creative Activity Subcommittee and the Office of Research Affairs have announced Sac State's most prestigious faculty awards:
The 2017 University Award for Research, Scholarship, and Creative Activity for Early-Career Faculty goes to Brendan Lindsay, assistant professor of history, who joined the faculty in 2013.
The 2017 University Award for Research, Scholarship, and Creative Activity for Senior Faculty goes to Jamie Kneitel, a professor of biological sciences since 2004.
The two honorees will discuss their recent research at 4 p.m. Wednesday, April 26, in the University Union, Hinde Auditorium. A reception will follow at 6 p.m. at Epicure Restaurant in the University Union.
Lindsay specializes in California and Native American history and is a leading contributor to worldwide comparative genocide studies. He is the author of the groundbreaking monograph Murder State: California's Native American Genocide, 1846-1873, published by the University of Nebraska Press.
Kneitel is a leading specialist in California vernal pool ecology and conservation. He received research funding from the National Science Foundation and the U.S. Fish and Wildlife Service for his internationally recognized work on the biological diversity of ecological systems. In addition, he recently was awarded a Fulbright Fellowship to work on his project, the synthesis of seasonal wetland ecology in Mediterranean climate regions, in Israel.
The University Awards include a $2,500 professional development grant and three units of release time from Sacramento State.
In addition, the Faculty Senate will honor 17 faculty for their commitment to teaching, service to the University, scholarly and creative activity, and service to the community during an awards ceremony and reception at 3 p.m. Tuesday, April 18, in the University Union Ballroom.
The 17 individuals were chosen for recognition by their peers in the faculty ranks. Along with their contributions as educators and leaders, the honorees are committed to student success, and display consistent and engaging collegiality on the Sacramento State campus.
"The peer nomination and selection process makes these awards some of the highest honors faculty can receive on our campus," says Julian Heather, Faculty Senate chair and professor of English. "The awards reflect the enormous respect that faculty have for each other's work across the different areas that comprise an academic's professional life."
The 2016-17 Outstanding Faculty Awards recipients are:
Outstanding Teaching Awards
Al Levin, Graduate and Professional Studies in Education, College of Education
Amy Mickel, Management, College of Business Administration
Darla Hagge, Communication Sciences and Disorders, College of Health and Human Services
James DeShaw Rae, Government, College of Social Sciences and Interdisciplinary Studies
Kevin Cornwell, Geology, College of Natural Sciences and Mathematics
Michele Foss-Snowden, Communication Studies, College of Arts and Letters
Outstanding University Service Awards
Brian Baldus, Marketing and Supply Chain Management, College of Business Administration
Kristen Tudor, Communication Studies, College of Arts and Letters
Ron Coleman, Biological Sciences, College of Natural Sciences and Mathematics
Outstanding Scholarly and Creative Activity Awards
Andras Domokos, Mathematics and Statistics, College of Natural Sciences and Mathematics
Andrey Mikhailitchenko, Marketing and Supply Chain Management, College of Business Administration
Mark Williams, Communication Studies, College of Arts and Letters
Porfirio Loeza, Graduate and Professional Studies in Education, College of Education
Smile Dube, Economics, College of Social Sciences and Interdisciplinary Studies
Outstanding Community Service Awards
Ernest Uwazie, Criminal Justice, College of Health and Human Services
Judi Kusnick, Geology, College of Natural Sciences and Mathematics
Michelle Stevens, Environmental Studies, College of Social Sciences and Interdisciplinary Studies
– Dixie Reid