Educational Equity Program
Karina Figueroa-Ramírez | figueroaramirez@csus.edu
Dr. Harold Murai | murai@csus.edu
Eureka Hall 437 | Located in the Student Success Center
Office Hours: M-F 8:00 am-12:00 pm and 1:00 pm- 5:00 pm
To reach us, please email Karina Figueroa-Ramirez for an advising appointment or contact the Ed Equity Peer Mentors at EdEq@csus.edu
Request an advising appointment
Mission: Contribute to the region and state's public schools in recruiting, retaining and graduating multilingual/multicultural exceptional teachers and teacher leaders to be agents of change, committed to equity and inclusion in culturally and linguistically diverse schools and communities.
Vision: Our vision is to be the regional leader in preparing and developing excellent teachers. In collaboration with LOCAL schools and communities, teachers prepared at Sacramento State create and sustain equitable inclusive educational environments which are designed to optimize access and student success.
Values: We value a student-centered approach, academic, scholarship, research and professional success, critical pedagogy and critical race theory, black feminism, community and collectiveness, creativity and innovation, access and opportunities, a social justice framework.
About Us
Welcome! The Educational Equity Program (EdEq) in the College of Education is dedicated to providing students with the knowledge, services and resources to achieve their academic and professional goals. Our efforts are closely aligned with Sacramento State's Strategic Goals. We provide advising and support resources for student groups interested in careers in education. Among these are financial aid and work study candidates, Cal-grant recipients, students that are first in their family to attend college/university and multilingual/multicultural students.

Advising is available in Spanish.
Meet our Faculty Advisors
Dr. Juan José Bueno Holle
I am a Lecturer in the College of Education, where I work mostly with pre-service teachers and bilingual teacher candidates in the Multiple Subjects credential program. I hold an M.A. in Applied Linguistics from the UNAM in Mexico City and a PhD in Linguistics from the University of Chicago. I am especially interested in multilingualism, endangered languages and language justice, and have teaching experience at elementary, middle school, high school, and university levels.
Advising is available in Spanish.
Dr. Margarita Berta-Avila
Dr. Berta-Avila has served as Professor in the College of Education for over 20 years. As critical pedagogue, she specializes in bilingual and multicultural education, K-12 teacher preparation, ethnic studies, teacher education, and California Faculty Association, Associate Vice President, north region, President. She may be reached at bamargie@csus.edu

Advising is available in Spanish.
Peer Mentors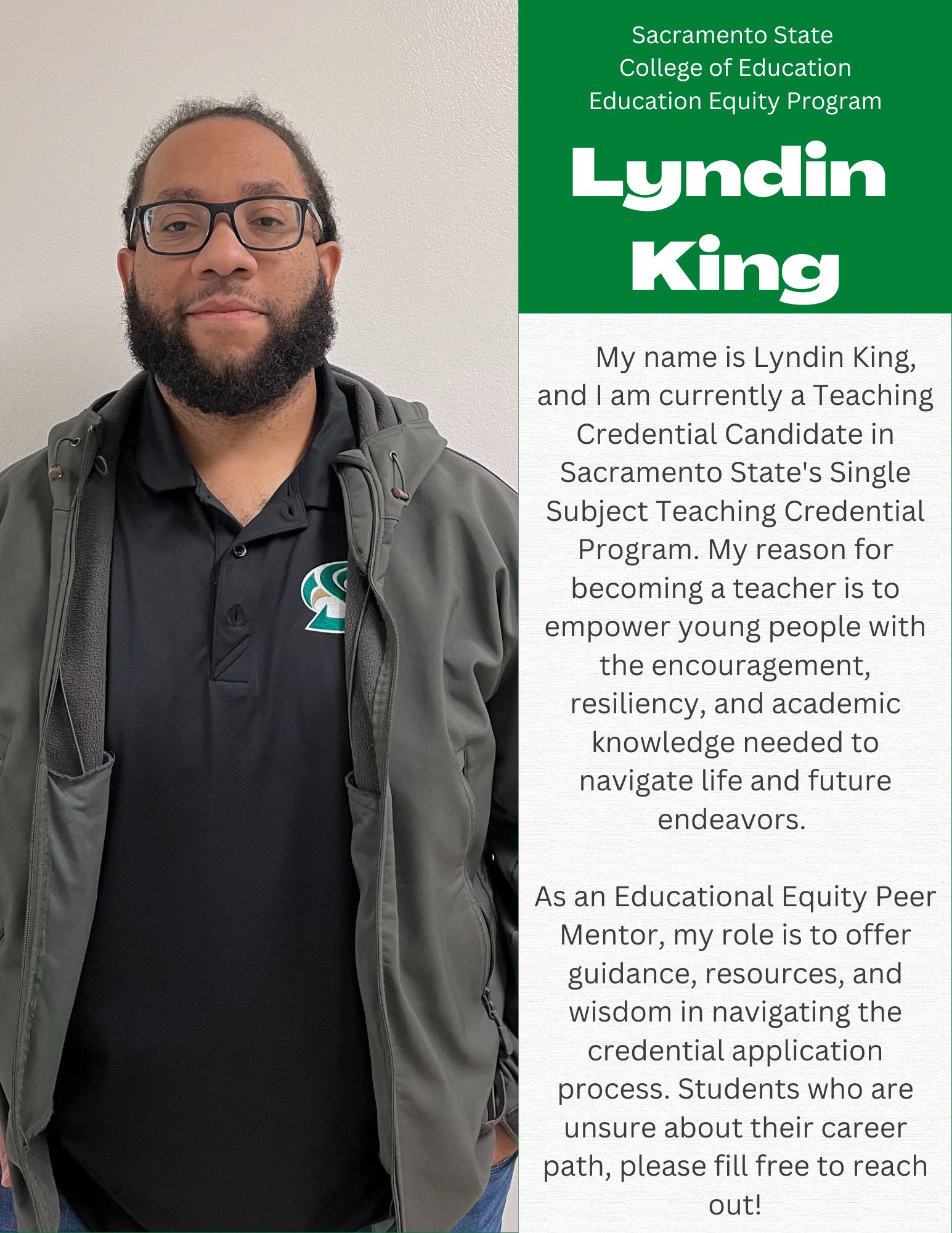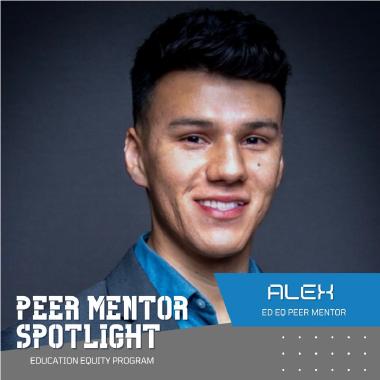 "Hi Everyone! My name is Alejandro Rodriguez, I'm a transfer student from Delta College and I'll be graduating Spring 2021! I'm an English Major and am pursuing a Single Subject Credential to become a high school English teacher. Through this profession, I hope to make a lasting impact to the future generations, especially those from migrant parents and low-income backgrounds. After teaching high school, I plan to earn my Master's degree in English or Education.I work as a Peer Mentor through the College of Education – Ed Equity and tutor for the Reading and Writing sections of the CBEST as well as the written responses for the Multiple Subject CSET. If you have any questions about transferring, the English major, or tutoring, please feel free to reach out to arodriguez19@csus.edu or edeq@csus.edu Stay safe!"
"My name is Isaac Quezada. I am a 1st generation Hispanic college student. I transferred over from Modesto Jr College with an A.A. in History. I am currently pursuing a B.A. in History and intend to become a high school History teacher; though I hope to return to Sac State to gain a B.A. in Political Science. My mission is to help and inspire people with physical disabilities, as I have a few and understand how difficult that could be even in an academic setting.
I am a Social Sciences tutor for Ed Equity."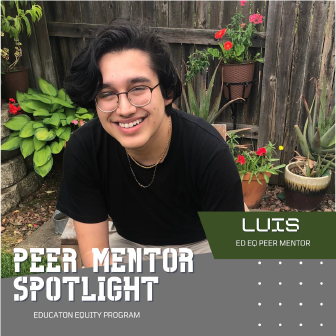 "Hey everyone!
My name is Luis Moya. I am finishing up my last year as a Spanish Major at Sac State. With my Spanish B.A., I want to work in the Education field, but am still trying to figure out my career choice. My mission is to assist the Spanish-speaking population in the United States and provide guidance to them and low-income families on how they or their children can obtain a college education. My academic goals are to receive my Spanish B.A. in Fall 2021 and earn a Master's degree in one of the programs in the College of Education at Sac State.
Currently, I am a Peer Mentor for the Education Equity Program."
Services
Academic advising for undergraduate majors in Child Development and all pre-admission criteria for all teaching credentialing programs
Career options in education, exploring a major and selecting a major
Evaluations for the Hmong and Spanish Bilingual Authorization
Evaluations for Supplemental Authorizations and Introductory Subject Matter Authorizations
Referrals for candidates in need of further field work experiences
Assistance with scholarship applications
Peer Mentors available for CBEST, CSET preparation and tutoring
Assistance with the CSU Apply application
Series of "Conversations with Black Leaders in K-12"
The purpose of this space is to provide a safe space for future and current Black teachers and educators to dialogue, reflect and plan for transformative action on their personal, educational and professional experiences. Many of us are first in our families to graduate with a higher ed degree, or the first to pursue a teaching career or the first to even consider a career in education. Ed Equity's goal is to create a space for us to connect with an educator ecosystem in the region, to unpack conversations around topics relevant to us all and critically reflect on ways to increase our capacity and potential. Together we hope to build one another to continue to eradicate systems that are not serving our students and build effective solutions that will allow our students to thrive and reach their full potential.
Join us for the next discussions of our series "Conversations with Black Leaders"
Watch Now: Fall 2022 "Conversations with Black Leaders"

"Black Women Teaching/Leading in K-12," Thursday, October 27, 6-7 p.m. https://csus.zoom.us/j/83429239317​
Watch Now: "Black Men Teaching/Leading in K-12," Thursday, November 17, 6-7 p.m. https://csus.zoom.us/j/83429239317
Upcoming Events
Keep up with the latest
For more information about our program, join an Information Session held each semester. You can also view our info session recorded video, visit our Frequently Asked Questions (FAQ) page, contact the College of Education Student Success Center, or contact one of our Peer Mentors.
Virtual CSET Multiple Subjects Workshops I, II, III will be offered separately August 11 and August 19
Stay tuned for details or check our Instagram Page
Ed Equity Instagram for details.
Virtual Information Sessions for Bilingual Candidates (Hmong, Spanish) interested in applying to our teacher credentialing programs for fall 2023.
Re-occurring Zoom link: https://csus.zoom.us/j/86959824575
October 6, 2022
3 - 4:30 p.m.

November 10, 2022
3 - 4:30 p.m.

December 6, 2022
3 - 4:30 p.m.
Virtual Drop-ins for Assistance with our Application (Q&A)
Re-occuring Zoom link: https://csus.zoom.us/j/86959824575
January 19, 2023
3 - 4:30 p.m.

January 24, 2023
3 - 4:30 p.m.
Financial Aid, Grants, Scholarships
For DACA and Undocu- students, complete the CA Dream Act application. DACA and Undocu- students are not eligible for federal aid, but ARE eligible for CA state aid. Students are eligible for the AB 540 CA Grant. Indicate you are a 5th year undergraduate student. If you have resided in CA for over 1 year and 1 day, you may indicate you are CA resident. FAFSA vs CA Dream Act apply to the correct financial aid in CA

Complete your FAFSA. Teacher credentialing candidates should indicate they are 5th year undergraduate students on their FAFSA. Consider applying for the TEACH grant.

Apply for College of Education Scholarships

Apply for Math and Science scholarships MSTI and Noyce.

Apply for CA Golden State Teacher Grant

Apply for other Educator and Teacher Grants
Bilingual Authorization Program
A message from the College of Education, Teacher Credentials Branch:
Sacramento State recognizes that it has a major responsibility to California and the nation to encourage educators who have high ethical and intellectual standards to enter the teaching profession. The university values and seeks teacher candidates who demonstrate a commitment to equity, problem solving, and lifelong learning which are essential for professional competency.
We believe that the core competence required of all educators upon entry to the profession is the capacity to help all children and young adults to participate successfully in our democratic and diverse society as thoughtful, knowledgeable, and ethical individuals who can make their own lives and the lives of others better. A solid academic background forms the foundation for those planning to enter the Teacher Preparation Programs.
Our bilingual authorization program has been a consistent leader in preparing bilingual teachers to work actively to reverse the inequitable educational and life outcomes for English learners in our region, as detailed above. We seek to address the historic marginalization of English learners in our public schools by preparing high quality bilingual educators and by working with our program completers to make structural and programmatic changes in local settings.
Our mission and program design principles build on research literature for high quality teacher preparation programs that incorporate best practices as illuminated in the research and professional literature, that specifically focuses on preparing teachers for work in bilingual or dual-language programs and in low income and culturally and linguistically diverse communities.
Anyone pursuing a teaching credential at Sacramento State who is fluent and proficient in Hmong and/or Spanish is eligible to also earn a Bilingual Authorization in these languages. This would authorize you to teach in either Hmong or Spanish in your subject area (credentialed area) making content accessible to English learners. Schedule an advising appointment figueroaramirez@csus.edu to learn more.
Resources:
CA Association for Bilingual Education (CABE)
CA Commission on Teacher Credentialing
Program Requirements
Candidates who are fully bilingual and biliterate in Spanish or Hmong may pursue a bilingual authorization at Sacramento State. This authorization is earned concurrently with the preliminary credential or after that credential has been issued.
Our program is committed to developing bilingual teacher candidates with a knowledge and skill base that will allow them to:
use and further develop [their own and students'] bilingualism, biliteracy, and cultural funds of knowledge;
promote student achievement at academically high standards across the core curriculum; and,
encourage our credential and graduate students to use languages and language varieties other than English across university and classroom settings.
For those interested in the Bilingual Authorization, the following criteria must be met:
Successful completion of specific courses focused on the target population (6 units total)
Language examination in Hmong or Spanish
- Hmong CSET – Subtest II
- Spanish CSET – Subtest III
- CSET Spanish III Preparation
Pre-requisite Course Requirements
- EDUC 170 Introduction to Educating English Language Learners
(Lecture & 10 hours tutoring an EL student)
- EDUC 100A/B Education of Students w/ Disabilities in Inclusive
Settings (Lecture & 30 hours fieldwork students with special needs)
- HLSC 136 School Health Ed
- KINS 172 Elementary PE Methods *Required for Multiple Subjects candidates only (Workshop can be completed during the program)
Competency in Linguistic Bilingual Methodology
- EDUC 175 Pedagogy and Academic Language Skills in Spanish for Bilingual Educators (Must be taken during credentialing program) or
- EDUC 172 Introduction to Hmong Literacy
Competency in English Language Development/Specially Designed Academic Instruction in English (ELD/SDAIE) (Can be taken before credentialing program)
For further information, please visit Bilingual Authorization Requirements or watch an information session providing an overview on program admission criteria to our programs.
CBEST and CSET
Sac State is now an authorized test center for Pearson Vue and now offer several tests for teaching candidates such as the CBEST, CSET, CTEL, and RICA. Please visit the Testing Center to register.

Basic Skills Requirement. If you need CBEST, here's how to start:
Take the practice test CBEST for reading, writing, and math
Determine which sections and areas you need more support in, if any
Create an action plan to identify a time frame for each section
Seek tutoring, study materials, mentoring by contacting the Ed Equity Peer Mentors at edeq@csus.edu
June 23,2021 CBEST/CSET Information Session PPT


Access our CBEST and CSET information and workshops lead by our Peer Mentors:

Subject Matter Competency. If you need CSET, check back for our Multiple Subjects CSET Review Sessions (TBD)
CBEST Reading, Writing, & Math

Take the practice test CBEST reading, writing, and math ( here) and bring your results.
To schedule an appointment, please email: edeq@csus.edu

CSET

CSET - Multiple Subjects I, II, III
CSET - English I, II, III, IV
CSET - Mathematics I, II, III
CSET - Science I, II, III

To RSVP for an upcoming workshop, please fill out the following form: Click here

Take the practice test CSET I, II, & III ( here) and bring your results.
DACA and Undocu- Applicants
Sacramento State is pleased to consider all eligible applicants for admission into an educator preparation program.

Accepted applicants who complete all educator preparation program requirements can be recommended for state licensure (e.g., a teaching credential, a school counselor credential) & work.

If you are a DACA recipient in an educator preparation program or applying to an educator preparation program and have questions please contact the Dreamer Resource Center (drc@csus.edu; 916-278-7241) to schedule a free consultation with an immigration attorney to discuss your individual case.
Individual Tax Payer Identification Number (ITIN)
In CA, a person cannot be denied a professional license due to immigration status.
ITIN is a 9 digit number to pay taxes. It is not a work permit.
If you are undocu- and not eligible for DACA, you may use an ITIN for your livescan and obtain a teaching credential.
Please contact Kimberly Gomez, Program Coordinator, at the Dreamer Resource Center (drc@csus.edu; 916-278-7241) to schedule a free consultation with an immigration attorney to discuss your individual case. Services are for students, their immediate family members, staff members and our alumni (two years after they have already graduated). Legal services are available via zoom. Information current as of 1/6/2023.
Resources for Students
CA Mini Corps, Tutoring Program

Have a background working in farm labor/ag? Consider applying to the California Mini-Corps Program for paid tutor positions working in rural local schools. College Students with a rural migrant background work as tutors to serve as role models that raise the educational and career aspirations of migrant students in local rural schools. Contact Juanita Lupercio-Ortega

Career Center at Sacramento State

Explore career opportunities in education.

Comprometid@s

Our goal is to increase the number of culturally and linguistically competent teachers by creating a clear and coordinated path to recruit, support, and advance Latinx and bilingual teachers from high school, through Sacramento State's undergraduate program, to completion of the post- baccalaureate teaching credential program.

Interested in establishing a Future Teacher Club and/or Pathway, please contact:

Director: Dr. Margarita Berta-Ávila: bamargie@csus.edu
Co-Director: Karina Figueroa-Ramírez: figueroaramirez@csus.edu

EduCorps: Celebration of Teaching

EduCorps is for high school, community college and undergraduate students, credential students, and career changers, offering resources and support for every step of your journey to become a teacher.
What is EduCorps



Faculty Student Mentor Program

Contact our Peer Mentors at edeq@csus.edu for assistance in completing and submitting all credentials program applications.

*When coming to see a mentor, please bring your personal laptop if you have one.

Bilingual Teachers Club at Sacramento State

FAQ
Math and Science Teacher Initiative

The Math and Science Teacher Initiative (MSTI) provides support for students and in-service teachers to network in the math and science teaching community, and also offers great opportunities to attend conferences and professional development. MSTI is part of a CSU system-wide project to increase math and science teachers, and will play a big role in addressing an acute math and science teacher shortage (30,000 in the next 10 years).
Employment Opportunities
edjoin.org

Folsom Cordova Unified School District

916-294-9000 extension 104400

cpelz@fcusd.org
Contact: Charity Pelz
Higher Learning Academy
Contact: Dr. Erin Marston
Pronouns (she, her, hers)
Rancho Del Paso Director
Higher Learning Academy (HLA) & Futures High School
Gateway Community Charters
Lincoln Elementary School, Vallejo, CA
Contact: Leah Dubinsky, Principal
https://www.edjoin.org/Home/DistrictJobPosting/1607459
ldubinsky@vcusd.org

Mini-Corps
Contact: Juanita Lupercio Ortega
PAVE for current enrolled Sac State students
Contact: pave@csus.edu
Woodland Prairie Elementary, Woodland, CA
Contact: Alejandro Delgadillo, Dual Immersion Program
Alejandro.Delgadillo@wjusd.org