The new Golden 1 Center in downtown Sacramento boasts an exclusive exhibit of multimedia video art, created for the arena by students from the art classes of Sac State Professor Rachel Clarke.
It's just part of the public art contribution being made to the center by Sac State students, faculty, and alumni.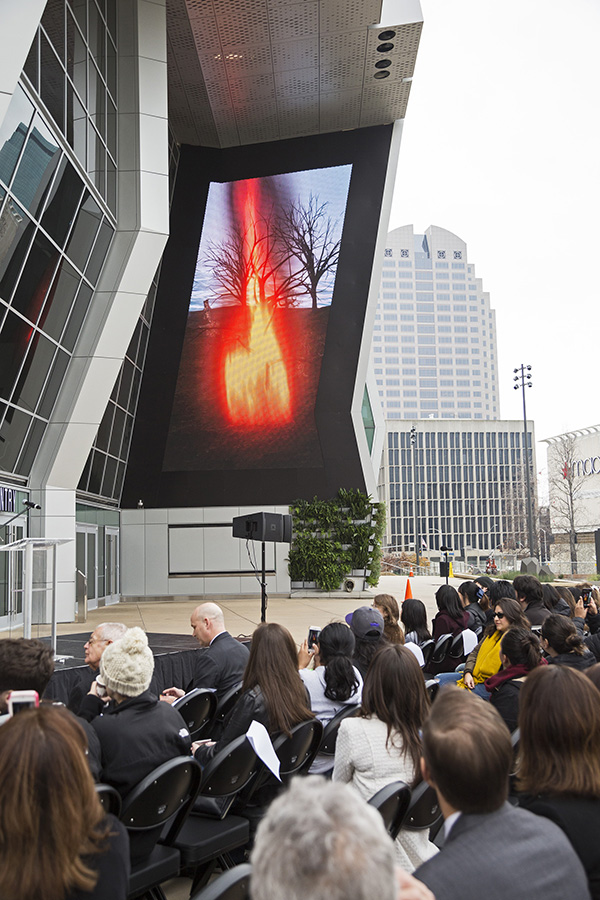 The Sacramento skyline was the perfect backdrop for the giant – animated – artwork. (Sacramento State/Craig Koscho)
More photos
Professor Rachel Clarke, kneeling, with the students of the Golden 1 public art project. (Sacramento State/Craig Koscho)
Clarke and Shelly Willis, executive director of the Sacramento Metropolitan Arts Commission (SMAC), welcomed the crowd at the unveiling of the video art exhibit on Wednesday, Dec. 14, and nearly all the participating students were on hand to witness the first screening of their works.
The students worked all summer on animated art for the center, the new home of the Sacramento Kings. Twenty of their works were selected to rotate on the 25-foot-tall video screens flanking the arena's six-story glass hangar door, creating a continuous movement of animated art.
The screens were installed primarily for advertising, but became a focus for public art for Willis, who served as manager of the arena public art program in addition to her duties with SMAC. She approached Professor Clarke, who teaches New Media Art and had worked with SMAC on the popular Broadway Augmented virtual-art project in 2014.
"The LED screen venue will be an ongoing site for future commissioned and borrowed artworks," Willis says. "It's a very large and very rare site, and I'm proud that we launched this program in partnership with Sacramento State, Rachel Clarke, and her students."
Clarke was eager to take on the new challenge. "Art on urban screens is an emerging area within public art, due to the proliferation of these screens," Clarke says. "It's a great way to reach audiences outside of an art gallery or museum."
About 60 students from Clarke's classes took part in the project, submitting works that cover a wide range of styles and themes.
Third-year student Marinna Hill created an interpretive representation of Sacramento. The animation begins with a barren landscape that is slowly overtaken by foliage and eventually becomes a figure that reaches upward.
A Sacramento native, Hill based the work on her changing interpretations of the city. "I have gone through the belief that Sacramento is just a barren, boring place to live," Hill says. "Having gotten older, I have realized what a great city it is, and how much it has grown and continues to grow."
Clarke herself created a piece that started with imagery captured at Nimbus Dam. "It's a visual exploration of water as the source of life – something we've become very aware of in these drought-ridden times," she says.
Her colleague in New Media Art, instructor Mikko Lautamo, also has a piece in the exhibit, a generative animation called "Divide." " 'Divide' is about polarizing points of view and how decisions are made in a community," Lautamo says.
A special panel selected 20 of the works, which were then confirmed by the city's art commission.
"These students delivered very strong work under Rachel's direction," Willis says. "It illustrates the caliber of artists enrolled in the University's art programs."
The new exhibit joins many other Sac State-related art projects at the Golden 1 Center.
They include a large-scale work by Sac State alumnus Bryan Valenzuela. (See our earlier story.) His "Multitudes Converge" is a large suspended glass sculpture that presents an abstract interpretation of the confluence of the Sacramento and American rivers.
About 400 hand-blown glass spheres are mixed to create a 50-foot-long cascading effect.
And three artists from the Royal Chicano Air Force (RCAF) artists collective are working on "Flight," a large-scale piece that eventually will cover a 35-foot-high wall at the arena's east entrance on K Street. The work by Juanishi Orosco, Stan Padilla, and Esteban Villa is designed to inspire interpretations of flight, whatever the perspective of the viewer.
The RCAF was founded by Sac State students 40 years ago and has been creating works of public art all that time.
Clarke and her students greatly appreciate the opportunity to present their works in this forum.
"The project has been a unique class assignment that gave us the opportunity to talk about new-media art in a public context," Clarke says. "It's definitely an honor to be part of this historical project."
"It means a lot to be involved in a project of this scope," Hill says. "To give the rest of Sacramento a glimpse of what this city means to me is an amazing opportunity that I will never forget."
For more information on Sacramento State's Art Department and programs, visit al.csus.edu/art or call (916) 278-6166. More information on SMAC's Public Arts program can be found at sacmetroarts.org. – Craig Koscho
---
In the media:
"Here's the newest public art at Golden 1 Center," Sacramento Business Journal