Ann Weber's "After Ellsworth Red."
Two diverse and intriguing exhibits are coming to Sacramento State's University Library (al.csus.edu/sota/ulg).
Ann Weber's monumental sculptures of reclaimed cardboard will be displayed in "Beyond Material," running Sept. 6-Dec. 16 in the Library Gallery. And Professor Emeritus Frank LaPena connects the earth with the spiritual in "We Are All Sacred," a retrospective of his works from the 1960s to the present running Sept. 6-Oct. 22 in the Library Gallery Annex.
A reception for both shows will be held from 5 to 8 p.m. Thursday, Sept. 8.
Weber has used cardboard as her primary medium for more than 25 years, searching through alleys and refuse bins for material. In her hands, the disposed debris becomes large sculptures taking on an organic quality that has been described as "biomorphic abstractions."
"She has a primal connection to her material," says gallery Director Phil Hitchcock. "Her sculptures are magical and soulful."
Weber's recent activities include an exhibit at the Los Angeles Municipal Art Gallery and the Museum of Art and History in Lancaster. She also has had residencies at the American Academy in Rome and the International School of Beijing.
She will give a lecture at 1 p.m. Wednesday, Sept. 14, in the gallery.
LaPena was at Sacramento State from 1971 to 2000 teaching art and ethnic studies, and serving as director of Native American Studies. A Nomtipom Wintu, LaPena attended federal Indian boarding school in Stewart, Nev. He has a deep interest in and appreciation of that heritage, which is reflected in his art.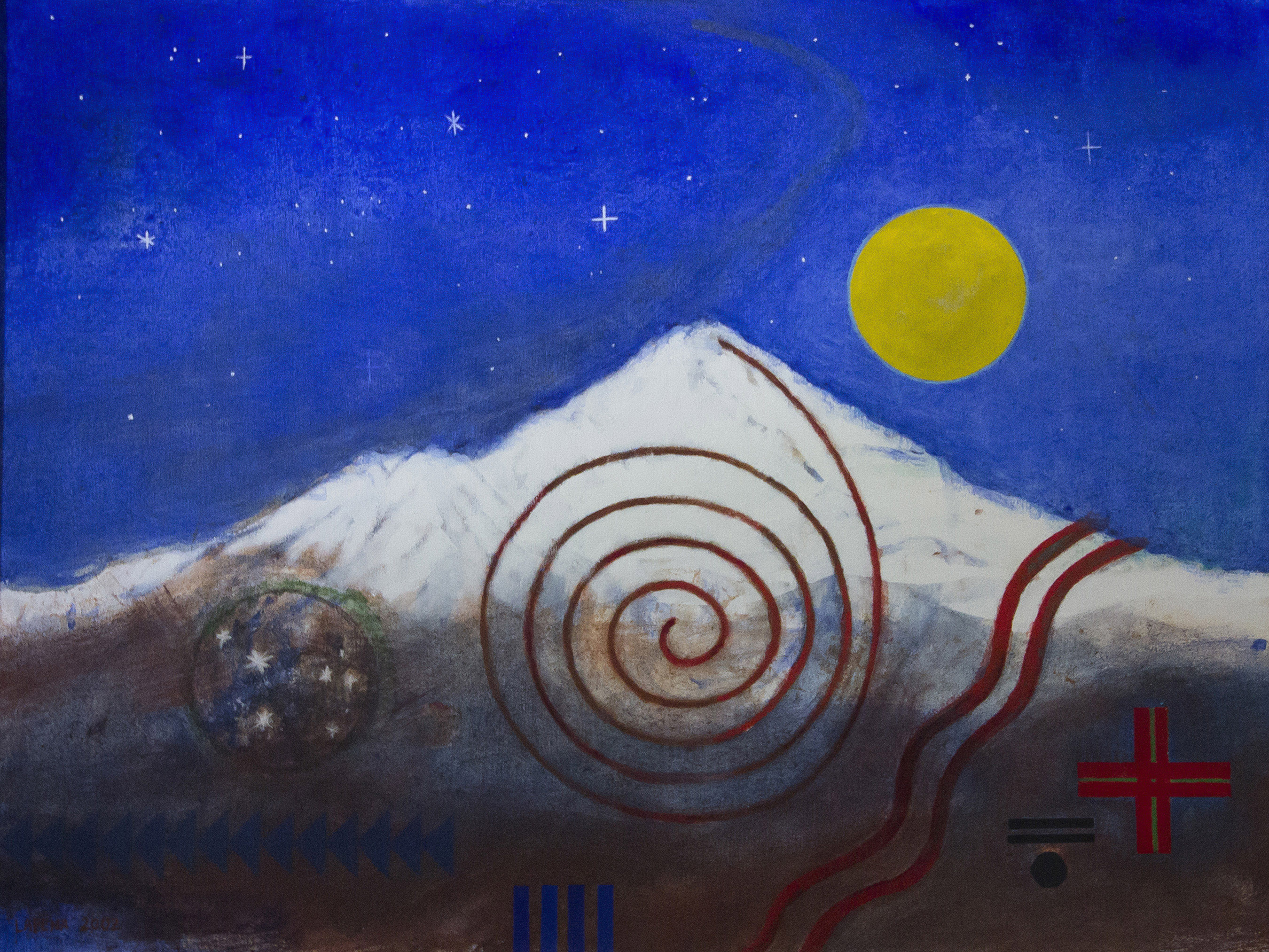 Frank LaPena's "Sacred Mountain."
A founding member of the Maidu Dancers and Traditionalists, LaPena has exhibited at galleries and shows across the United States, as well as in Europe, Central and South America, Cuba, and Australia. In addition to his artwork, LaPena has published several volumes of poetry and remains active in ceremonial life as a singer and dance leader.
LaPena will present a lecture from 6 to 7 p.m. Thursday, Sept. 15, at the gallery.
For more information on the exhibits, visit the galleries' website at al.csus.edu/sota/ulg or call (916) 278-4189. For media assistance, call Sacramento State's Public Affairs office at (916) 278-6156. – Craig Koscho