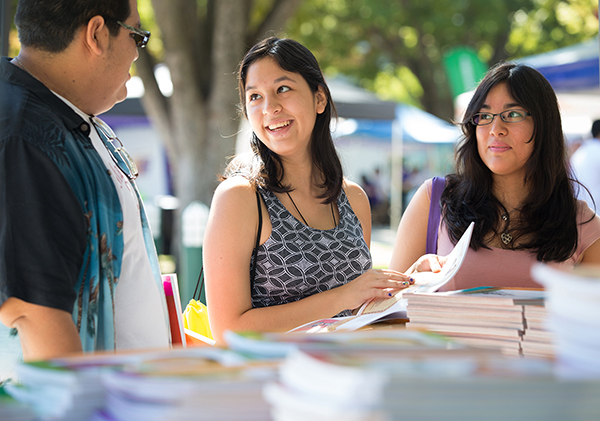 The fourth annual Feria de Educación will be held Saturday, Oct. 1, in the University Union. (2015 photo: Sacramento State/Jessica Vernone)
Dinner on the Guy West Bridge for a good cause. Writers discussing their published work. "America's most exciting black scholar" coming home to Sacramento. Men's basketball playing the first collegiate game at the Golden 1 Center.
And more: Phlagleblast at the University Union – back for the 17th time. Heat maps on the Sac State mobile app with real-time parking availability (csus.edu/mobile). Students designing and building a sustainable tiny house on wheels – and taking it to competition. And a national conference coming on our campus to address the mental health of college students.
Fall 2016 at Sacramento State promises to be educational, exciting, thought-provoking, challenging, rewarding – and even historic, as the new Sacramento State downtown location welcomes its first occupants.
The tree-shaded building at 304 S St., near the Capitol, will house two classes later this fall: one in the Masters of Public Affairs & Policy program, the other an advanced research design and data class from the Division of Criminal Justice. The downtown campus will be up to full occupancy by spring 2017, when a gala ribbon-cutting is planned.
Coffee is big news on campus this fall. Sac State has the nation's first Grumpy Mule "coffee eatery," which has replaced Java City in the University Library breezeway. Grumpy Mule is owned by Bewley's, the Irish company that bought Java City (co-founded by Sacramento State alum Tom Weborg).
Meanwhile, the remodeled servery in the Dining Commons debuts in September. Construction continues on Student Housing II, a residence hall set to open this time next year. And everyone will be reading The Other Wes Moore: One Name, Two Fates, Sac State's compelling One Book selection for 2016-17.
All events listed below are free and open to the public unless otherwise noted. (For the fall 2016 arts lineup, see our story: bit.ly/2aP5PvA.)
---
September
Phlagleblast 17, 8 a.m. to 2 p.m. Wednesday, Sept. 7, University Union. "A Burst of Color" is the theme of the 17th annual open house and welcome celebration for students, who visit 28 locations to complete a game card and submit it for a prize drawing. http://bit.ly/2b7bdMp
Author Lecture Series, 3 p.m. Tuesday, Sept. 13, University Library Gallery. Former journalist Jeff Raimundo, who was #MadeAtSacState, kicks off the 2016-17 Friends of the Library series talking about Game Changers: Twelve Elections That Transformed California, the book he co-wrote with Steve Swatt, Suzie Swatt, and Rebecca LaVally, a lecturer in the Department of Communication Studies.
Sacramento State's Farm-to-Fork Festival and Dinner on the Guy West Bridge, Wednesday, Sept. 14. Two events are free and open to the public: The festival, with cooking demonstrations and vendors, is noon to 3 p.m. in the Library Quad. The keynote address by world food systems expert Raj Patel is 6 p.m. on the Guy West Plaza. The sold-out bridge dinner for 150 guests, a fundraiser for the Associated Students Inc. (ASI) Food Pantry, features sustainable, locally sourced ingredients prepared and served by Family and Consumer Sciences students.csus.edu/aba/hornettickets/store.html
Cornel West, 7:30 p.m. Thursday, Sept. 29, University Union Ballroom. The Sacramento native, author, activist, and academic once described as "America's most exciting black scholar" will lecture on "Race, Democracy, Justice and Love." SacStateUNIQUE.com
---
October
4th annual Feria de Educación,10 a.m. to 3 p.m. Saturday, Oct. 1, University Union. Sac State, a Hispanic-Serving Institution, helps students from the Spanish-speaking community realize their college dreams. The event includes workshops on college admission, financial aid, scholarships, and career options, along with exhibits, food, music, and campus tours. csus.edu/excellence/feria
2016 Criminal Justice Convocation, 1:30 to 4:30 p.m. Tuesday, Oct. 4, University Union Ballroom. The theme is "Police and Community Relations." Delores Jones-Brown, founding director of the Center for Race and Justice at the John Jay College of Criminal Justice, will deliver the keynote address. csus.edu/hhs/cj/professional%20activity/convocation.html
27th annual Envisioning California Conference, presented by Sacramento State's Center for California Studies, 8 a.m. to 4:30 p.m. Friday, Oct. 7, Tsakopoulos Library Galleria, 828 I St. The theme is "Our Voices: Advancing Civic Engagement in California." Sitting in on the keynote panel will be California Chief Justice Tani Cantil-Sakauye, Secretary of State Alex Padilla, and Assembly Member Susan Eggman. Includes buffet lunch and afternoon reception. Register by Sept. 26: bit.ly/2b9wi87
Homecoming, 6 p.m. kickoff, Saturday, Oct. 8, Hornet Stadium. Sac State takes on North Dakota. Homecoming Week kicks off Monday, Oct. 3. csus.edu/homecoming
SMUD's Tiny House Competition, 9 a.m. to 4 p.m. Saturday, Oct. 15, Cosumnes River College, parking lot E. Sac State students designed and built a 400-square-foot, net-zero house on wheels – the build site is at STORC on the Sac State campus – and will go up against nine other collegiate teams in the sustainability competition modeled after the U.S. Energy Department's Solar Decathlon. smud.org/tinyhouse
Gil Herdt, 4:30 to 5:30 p.m. Thursday, Oct. 13, Leslie and Anita Harper Alumni Center. The cultural anthropologist who was #MadeAtSacState will lecture on "From Ritual Sex to Sexual Individuality: The Disinheritance of Sambia Sexual Culture, 1974-2013." He spent 38 years studying the sexual initiation rites of a tribe in Papua New Guinea. A reception follows his talk.
A Place for All People, noon to 3 p.m. Tuesday through Friday, from Sept. 23 through Oct. 28, and 2 to 4 p.m. Saturday, Oct. 22, Anthropology Museum, Mendocino Hall 1000. A Place for All People will include 19 limited-edition posters from the Smithsonian's new National Museum of African American History & Culture in Washington, D.C., and artifacts on loan from members of the local African American community.
Shirley Ann Wilson Moore, 4 p.m. Saturday, Oct. 22, Del Norte Hall 1004. Moore, professor emeritus of history at Sacramento State, is the author of the just-published Sweet Freedom's Plains: African Americans on the Overland Trails, 1841-1869. She'll talk about her groundbreaking research and sign copies of her book. The Sac State Anthropology Museum will be open from 2 to 4 p.m. for those who want to see the A Place for All People exhibit.
Sonia Nazario, 2 to 5 p.m. Friday, Oct. 28, Del Norte Hall 1004. A talk by the former Los Angeles Times reporter whose series "Enrique's Journey," the story of a Honduran boy's struggle to find his mother in the United States, won the Pulitzer Prize for feature writing in 2003. Her appearance is a part of Sac State's Hispanic Heritage Month celebration.
---
November
Active Minds 13th National "Mental Health on Campus" Conference, Saturday-Sunday, Nov. 5-6, University Union. It's the only major conference in the country that addresses the mental health of college students and advocates for young adults. Early-bird registration ends Oct. 4. Tickets are $55 for Active Minds chapter members and $90 for non-members. bit.ly/1wlPstQ
Author Lecture Series, 3 p.m. Wednesday, Nov. 16, University Library Gallery. Eleni Kounalakis, a Sacramento native and the first Greek American woman to serve as a U.S. ambassador, discusses her book, Madam Ambassador: Three Years of Diplomacy, Dinner Parties, and Democracy in Budapest, as a part of the Friends of the Library's Author Lecture Series.
Hornets vs. UC Davis Aggies, time and ticket prices to be announced, Monday, Nov. 21, Golden 1 Center, 547 L St., Sacramento. Sac State men's basketball takes on UC Davis in the first collegiate game to be played at Golden 1. Cal will face San Diego State in the second game of the doubleheader. Announcement story from Hornet Sports: bit.ly/2bCrYPa. – Dixie Reid