By the time Dr. Martin Luther King Jr. spoke at then-Sacramento State College 50 years ago, his opposition to the war in Vietnam had cost him the support of President Lyndon Johnson, Southern black church leaders, and other civil rights allies. And he was getting death threats.
"But on Oct. 16, 1967, a little college in Sacramento, California, had the good sense, had the nerve, had the courage, to invite that Negro to this campus," MLK biographer and PBS talk-show host Tavis Smiley said during Sacramento State's 50th anniversary celebration of King's visit on Monday, Oct. 16.
"Thank you, Sac State, for allowing that brother to speak his truth," Smiley said. "Those moments were few and far between for Martin. Hell was coming at him every day."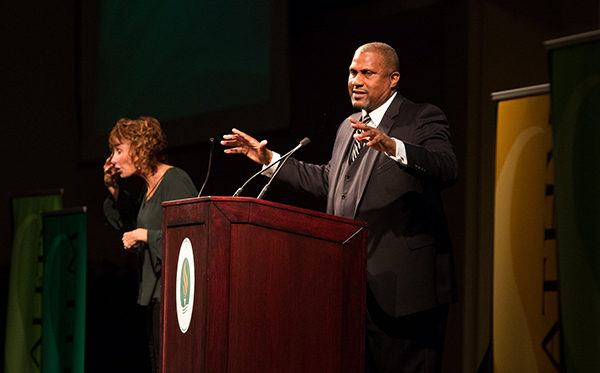 Top:
PBS host Tavis Smiley delivers the first of two keynote addresses on Dr. Martin Luther King Jr. during Sacramento State's anniversary celebration of King's visit to campus.
Bottom:
Sacramento City Councilman Eric Guerra, Mayor Darrell Steinberg and President Robert S. Nelsen join in the Unity March. (Sacramento State/Jessica Vernone)
More photos
King would be assassinated less than six months later.
Smiley made his remarks during the first of his two keynote addresses Monday in the University Union Ballroom, each drawing more than 1,600 people.
Sac State's daylong celebration of King's visit also included a Unity March to Hornet Stadium, where on that day in 1967 the civil rights leader was met by a supportive crowd of nearly 7,000. King's stirring words played on stadium loudspeakers as the trail of several hundred Sac State students, faculty, staff, and friends of the University passed by.
Among those leading the march were President Robert S. Nelsen and his wife, Jody Nelsen, Mayor Darrell Steinberg, City Councilman Eric Guerra, and Sac State's mascot, Herky, wearing a suit and tie. The MLK Community Choir led the singing of the civil rights anthem "We Shall Overcome" along the way.
The Unity March ended at the Broad Fieldhouse lawn, where campus and community leaders dedicated a dogwood tree and plaque commemorating King's only visit to a campus in the California State University (CSU) system.
The inscription reads, in part: "… this tree symbolizes our institutional commitment to creating avenues of understanding, equity, and inclusion. With our diverse strengths as a University, we embrace the ideas of belonging and equality for all through acts of social justice and expressions of empathy."
The hope is that all who see the dogwood will "be inspired by Dr. King's vision of hope and community."
"The MLK 50th Anniversary Celebration" also included a standing-room-only screening of the 1964 documentary "The March," about the 1963 March on Washington for Jobs and Freedom. King delivered his famous "I Have a Dream" speech to more than 200,000 supporters who came from throughout the country.
Richard Blue, brother of the late filmmaker James Blue, said his brother had just six days to edit 59,000 linear feet of film for the documentary financed by the Motion Picture Service unit of the U.S. Information Agency.
Clayborne Carson, professor of history at Stanford University and director of the Martin Luther King Jr. Research and Education Institute, was the featured panelist for a discussion about the civil rights movement in the University Union, Redwood Room. He said that "the civil rights struggle is far from over," nearly 50 years after King's assassination.
Carson talked about having taken students on a civil rights tour of Southern states, with a stop in Selma, Ala. A statue of Nathan Bedford Forrest, a Confederate general and early Ku Klux Klan leader, stands in the city's Old Live Oak Cemetery. "That statue was erected in 2001," Carson said.
Rounding out the day's festivities were student engagement workshops, a gospel concert featuring JJ Hairston, and Smiley's evening keynote address, "Death of a King: A Life of Empathy that Created a Movement."
At the time King came to Sac State to speak at what was then called Campus Stadium, he was planning another march on Washington, this time to demand better jobs, homes, and education for all low-income Americans. He was constantly traveling, taking his message of civil rights to college campuses across the country.
He flew in from San Francisco on the morning of Oct. 16, 1967, and was met at the old Sacramento Airport by Dean Dorn, a young professor of sociology who was active in the civil rights movement on campus.
"(King) was shorter, smaller than I expected," Dorn says now. "In the car, he sat in the front seat. He had the opportunity to see a bit of Sacramento on the way. I told him I taught courses in race and ethnicity. I told him there was some activism on the campus over the struggle for civil rights and the Vietnam War. That changed the conversation to what he called 'the struggle.' I think it was a difficult time for him."
Dorn, now 80 and an emeritus professor of sociology, was 30 years old when he drove King, who was then 38. He remembers King saying, during the eight-mile ride to campus: "We have to keep up our hope, our struggle, and our determination to continue even when we may never reach our destination."
Sacramento State will continue to celebrate King's 1967 visit with the exhibit "Civil Rights Sacramento," on display through March 2, 2018, in the University Library's Special Collections and University Archives. Paula Austin, professor of government, curated the exhibit of original letters, telegrams, newspaper clippings, and other documents that tell the story of Sacramento's role in the civil rights movement 50 years ago.
"It's very symbolic and important that we commemorate the leaders who came before," says DeWayne Ewing Jr., a sociology major from Oakland who participated in the 50th anniversary celebration. "Every citizen has the obligation to make the world a better place, and we must use our voices to continue the legacy of Dr. King." – Dixie Reid
---
In the media:
"Fifty years ago, Sacramento State 'cut against the grain' by inviting MLK to speak," Sacramento Bee
"Sac State honors Dr. King on 50th anniversary of campus visit," KCRA 3