Sacramento State's new athletics director considered what he'd say to the Hornets football team in the preseason.
He hoped to inspire the players, rally them, get them fired up and impress on them the magnitude of the college football experience – because he knows firsthand it will be with them forever. So, Mark Orr focused on one moment in a long-ago game.
His Cal Bears were on the road against Arizona State. He was a junior, playing defensive back.
"It's 100 degrees," Orr said, pacing in front of the Sac State players as if some championship was on the line. "We're sucking wind. We've got to get off the field. We can't depend on our coaches. We can barely hear them on the sideline. We're down. We're looking each other. We know that somebody has to make a play.
"They're looking at me. I'm fortunate to break up a pass, and we end up winning the game."
No longer pacing, he said: "It's funny the things you remember. When I see old teammates, we don't talk about bowl game celebrations. We talk about that drive at Arizona State.
"There's something about being there for your teammate, your brother, being in the huddle, in the foxhole. You will always have that bond."
Animated and energetic, Orr, 41, took over as Sac State's athletics director in April 2017, ending a 16-year career at St. Mary's College of California where, in 2006 at age 29, he was the youngest Division I athletics director in the country.
Mark Orr, left, Sacramento State athletics director, speaks with Hornets defensive back Mister Harriel during a summer practice session. (Sacramento State/Jessica Vernone)
His decision to leave St. Mary's brought him home to Sacramento, where he was raised, and back to football, his first love and something he had missed since St. Mary's disbanded its football program in 2004, while Orr was the school's associate AD.
"I wanted to be back near family and to raise my sons in Sacramento, but one of the main reasons I'm here is you guys," Orr told the Sac State players during that preseason talk. "The opportunity to be back with a football program, back competing at this level, I can't tell you how excited I am.
"There isn't a day that goes by that I don't wish I could play again. That will never leave me. It will never leave you. We have 21 sports at Sac State, but there is nothing like football."
Orr was a gridiron standout for Christian Brothers High in the early 1990s, both as a running back and defensive back. A Sacramento Bee sportswriter once characterized him as "a terror" on the field. He was the first Falcons running back in 10 years to gain at least 1,000 yards in a single season, rushing for 1,582 yards and 15 touchdowns. On defense, he had 39 tackles and four interceptions. Orr also excelled at basketball, baseball and track, as well as in the classroom.
He was familiar with Hornet Stadium before arriving for work at Sac State. As a kid, Orr helped his buddies sneak into football games. Orr often was in the stands for the Causeway Classic, the annual Sac State-UC Davis grudge match, and while at Christian Brothers, he played in the Holy Bowl against rival Jesuit and in front of 18,000 fans.
After graduating from high school in 1994, Orr accepted a football scholarship to UC Berkeley. Three reconstructive knee surgeries in four seasons eventually sidelined him as a player but put him on the road to his current role at Sacramento State.
"There's that moment when your playing career is done, and you wonder, what do I do with my life?" Orr says. "I wanted to stay involved with sports, but I didn't have the passion for coaching."
His academic advisor recommended that he intern in Cal's athletics department during his senior year. Orr later became the university's fulltime NCAA compliance specialist.
He earned his bachelor's degree in social welfare in 1999 and master's in education in 2000. He soon was hired by St. Mary's College as assistant athletics director for student services and compliance and, in 2006, he made history by becoming the country's youngest college athletics director.
Orr managed St. Mary's 17-team intercollegiate program. Under his leadership, the Gaels qualified for the NCAA postseason 17 times, and seven teams won conference titles. The college also broke ground on a $30 million athletics and recreation facility.
As happy as Orr was at St. Mary's, the opportunity to lead Sac State's 21-team Division I athletics program proved irresistible.
"We are thrilled to welcome Mark Orr and his family back to Sacramento where they belong," Sac State President Robert S. Nelsen said during a March 2017 news conference at The WELL. "His experiences on the football field at Christian Brothers and Cal, plus his experience as a successful, established director of athletics at Saint Mary's, make him the perfect candidate to lead the Hornets to preeminence in the Big Sky Conference and the nation."
Orr and his wife, April, a schoolteacher, have two sons: Tyson Mark, 10, and Jacob William, 8. The boys already are making their mark on the Sacramento youth sports scene, playing soccer, baseball, basketball, and football.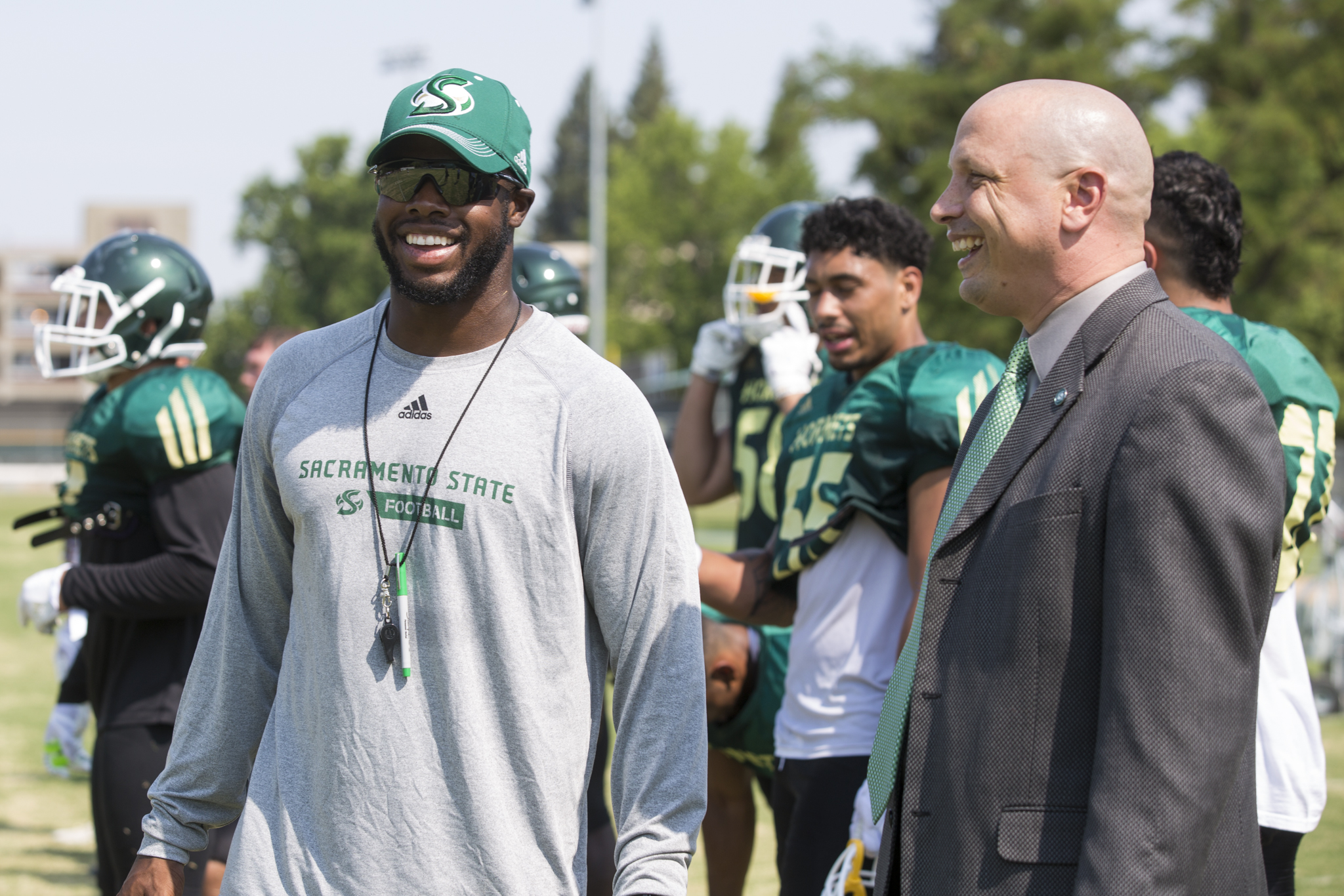 Athletics Director Mark Orr, right, talks football with Sac State cornerbacks coach C.J. Cox. (Sacramento State/Jessica Vernone)
Orr's parents, Cynthia and Greg Orr, reared their three children in south Sacramento. Mark and sister Tia graduated from Christian Brothers, where their brother, Chris, is principal. Tia was a high school softball star and went on to play at UC Davis. She and Mark wore the No. 11, a tradition started by their grandfather Clarence "Tiger" Orr, who played football for C.K. McClatchy High in the 1940s.
Cynthia Orr spent 35 years working for the state Department of Insurance while bringing up her children. Greg Orr played football (quarterback) and baseball (outfield) for Sacramento's John F. Kennedy High in the late 1960s. He later was a part of Sacramento City College's powerful baseball program. The elder Orr has worked as a Major League Baseball scout for more than 40 years, primarily for the New York Yankees and now the Minnesota Twins. He was inducted into the Sacramento Baseball Hall of Fame in 2015.
It's no surprise that athleticism and a competitive fire are a part of Mark Orr's DNA. He said he hopes his leadership will inspire many wins for Sac State's student athletes.
"I love competition," he said in an interview after his pep talk to the football team. "There's no reason to settle for mediocrity. We have talented student athletes in all of our programs. Winning is a priority, and there are a lot of ways you can build a winning program."
It starts, he says, with "recruiting the right student athletes, hiring the right coaches, and having the right people in place to do that. We need resources to support those individuals. An events center is a big part of it. We have to get that project done for the future of not just our athletics programs but for all of our students. We also need to continue to improve the existing athletic facilities.
"And, we have tell our story," he says. "Sacramento State has always been so humble. That's a good quality, but it's OK to have a little swagger, to boast about the achievements happening on this campus."
As he told the football players:
"You have an opportunity to do something very, very, very, very, very special, and trust me, you will remember this for the rest of your lives. Embrace it, have fun with it, go to battle, and play hard and physical. That's the fun part. And do it with some swagger and confidence.
"I'm going to do everything I can to give you everything you need to be successful. I'm committed to it. I want to win. I'm a competitor. I've never lost that." – Dixie Reid