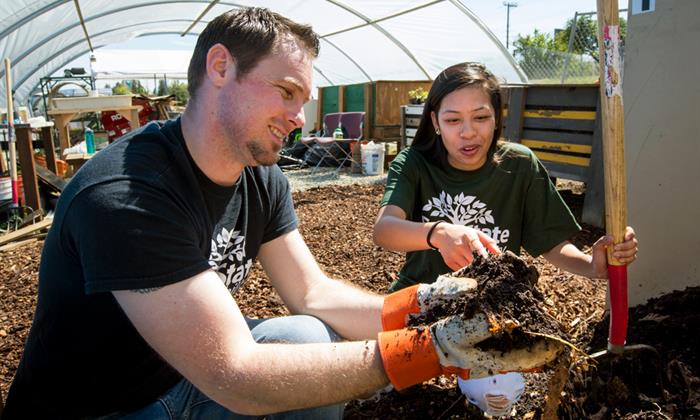 Environmental studies student Nicolette Garces points out an earthworm in Ryan Todd's handful of compost. The compost facility functions as a "living lab" in which students can work and practice innovative sustainability research. (Sacramento State/Jessica Vernone)
Sacramento State has been named one of the world's most sustainable campuses for the second consecutive year.
The Association for the Advancement of Sustainability in Higher Education (AASHE), a national nonprofit that empowers higher education institutions worldwide to lead the sustainability movement, called Sac State a "top performer" in its just-published 2017 Sustainable Campus Index.
The index highlights top-performing colleges and universities in 17 categories, as measured by the AASHE program STARS (the Sustainability Tracking, Assessment and Rating System), a transparent, self-reporting framework for institutions to track their sustainability success.
Sacramento State earned a Gold rating and was ranked fifth overall in the Master's category, which includes colleges and universities that annually award least 50 master's degrees and fewer than 20 doctoral degrees. Only three other California schools made the Master's top 10: Santa Clara University (No. 2) and Cal State Northridge and Humboldt State (a two-way tie for No. 10).
In addition, Sac State finished in a three-way tie for third in the Buildings category. AASHE recognized the University's ongoing maintenance and operations of existing structures, many dating to the 1950s and '60s, and the design of new buildings (including American River Courtyard and The WELL.) Buildings generally are the biggest energy consumer and the largest source of greenhouse gas emissions on campuses, and they use significant amounts of potable water.
"Earning a spot on the AASHE's Top 10 list two years in a row is a testament to Sacramento State's continued commitment to sustainability, and we are just getting started," says Ryan Todd, the University's sustainability manager. "Now that we have established ourselves as a permanent fixture in the world of higher education sustainability, we can begin to push the envelope and truly become leaders in the field."
Sac State Sustainability is planning an open house at the BAC Yard (formally known as the Bio-conversion and Agricultural Collaborative Yard) in Lot 10, from 11 a.m. to 1 p.m. Tuesday, Nov. 14. The event is free. Attendees will receive a bag of "Made at Sac State" compost, and refreshments will be served.
The open house coincides with the United Nations climate talks in Bonn, Germany, and other sustainability events across the United States in support of the Paris Agreement.
In July 2017, Sacramento State President Robert S. Nelsen signed the "We Are Still In" statement, opposing President Donald Trump's decision to withdraw the United States from the Paris Climate Agreement. More than 2,500 leadersd in government, business, and higher education signed the declaration as a show of unity and demonstration that the United States remains an ally in reducing emissions and fighting climate change causerd by human actions and activity.
Go here to learn more about Sac State Sustainability. – Dixie Reid