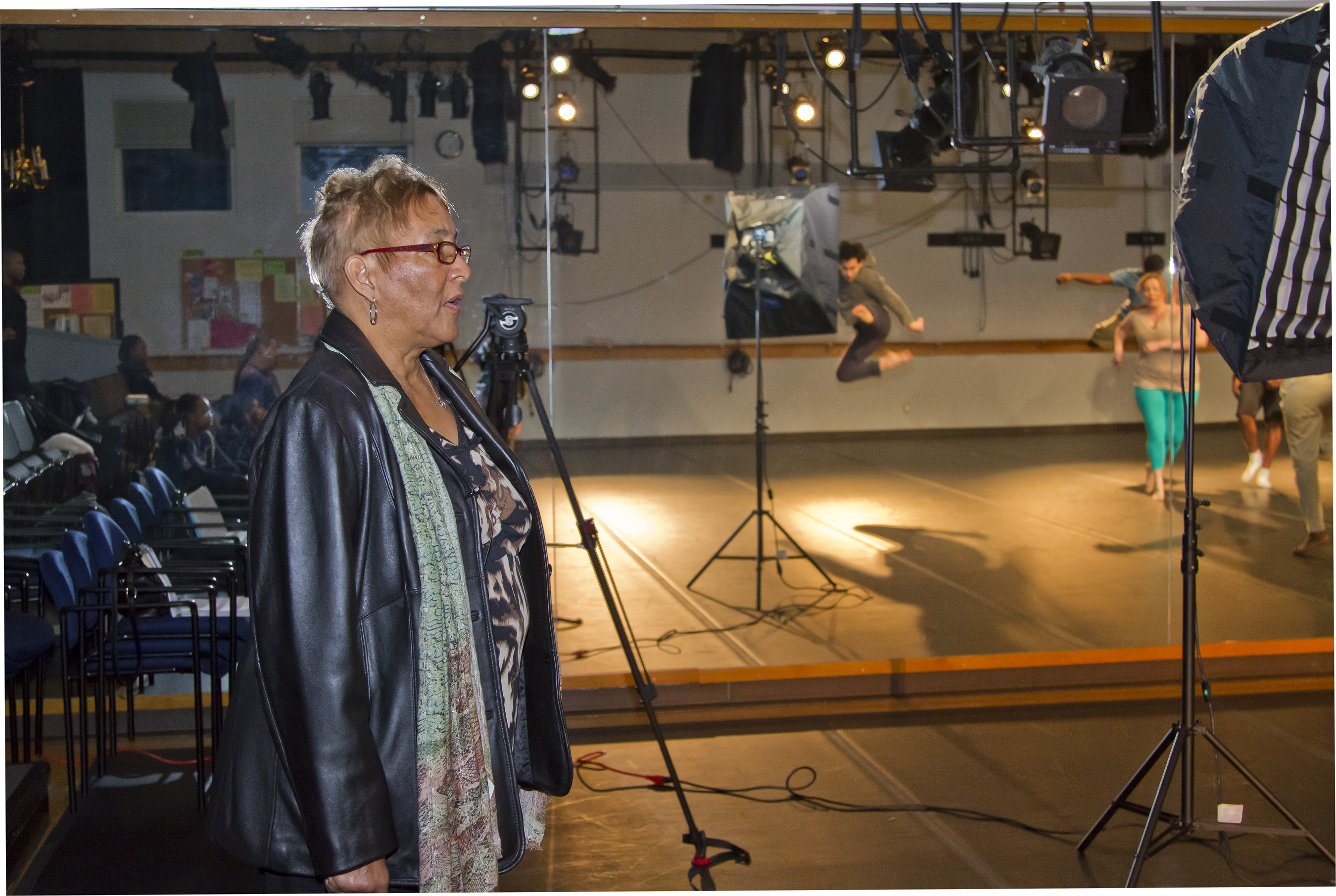 This year marks the last dance – at least where S/BAD is concerned – for Professor Linda Goodrich, who has steered the company for all of its 25 years. She's retiring at the end of the school year. (Sacramento State/Craig Koscho)
Sacramento/Black Art of Dance, the Sacramento State company that explores the tradition of Black Concert Dance pioneered by legendary dancer, dance educator, anthropologist, and choreographer Katherine Dunham, is observing a milestone, but one with a bittersweet overtone.
S/BAD, part of the University's Theatre and Dance Department, is celebrating its silver anniversary, and for all those 25 years, its dancers have been nurtured and directed by S/BAD''s founder, Professor Linda Goodrich. But this is Goodrich's last year as the troupe's artistic director – she's retiring after a dance career that spans more than 50 years.
"It's exciting but sad at the same time, because I won't be as involved as I was before," Goodrich says of her last concert and last year at Sac State. "And it's going by pretty quickly."
Performances for S/BAD 25 are at 6:30 p.m. Feb. 22-23, 8 p.m. Feb. 24-25, and 2 p.m. Feb. 25-26. Tickets for the 6:30 p.m. performances are $8 general admission and $5 for children. All other performances are $12 general admission, $10 for seniors and students, and $8 for children. Tickets are available at the University Ticket Office, (916) 278-4323, or csus.edu/hornettickets.
Goodrich and her dancers promise to make her last concert one to remember. Usually in the smaller Dancespace of Solano Hall, S/BAD shifts for this event to the University Theatre's main stage in Shasta Hall. More than 50 dancers will perform in eight pieces with music ranging from jazz to hip-hop to gospel, and a tribute to Prince featuring his "Rainbow Children."
There's also a guest group: Ebo Okokan, a Sacramento-based company, will perform Afro-Cuban music and dance.
For her own piece, Goodrich chose to merge an original work with one she has re-created from Leon Jackson, whom she danced with in Oakland. "Lost But not Forgotten" begins with Goodrich's piece, set to Donald Byrd's "Cristo Redentor." The second half is Jackson's choreography to the Commodores' "Jesus Is Love." Together they tell a story of people fighting their addictions, eventually being resurrected in a place of peace and serenity.
Brianna James, a recent Sac State graduate who returned to be in S/BAD 25, is one of two dancers in "Lost But Not Forgotten." In the piece, James' character goes through relationships searching for her sexuality while her partner, danced by Jeremy Garrett, is a drug addict. Together they eventually find themselves, realize they can shake their addictions, and eventually find peace within themselves.
And James points out that many issues such as alcoholism, drug abuse, and violence can be viewed as addictions. "We have these inner demons that we fight every day," she says.
Goodrich's dance experience began in Columbus, Ohio, with ballet. She was born with feet that were turned out, and when she was 4, doctors broke her ankles to reset them. The doctors recommended dance as part of the rehabilitation process, so her parents took her to a nearby ballet studio.
"I fell in love with it right then and there, and I knew that's what I wanted to do for the rest of my life," Goodrich says.
In college, she became involved with modern dance. "I wanted to explore that because it really dealt with the movement and the psychology of the mind and combining them," Goodrich says.
She created her own dance company, the Dunbar Dance Company, in Columbus, and later went to New York to study with companies such as the Alvin Ailey School, Fred Benjamin, and Dianne McIntire. Along the way, she discovered Katherine Dunham, an anthropologist and dancer who studied dance moves throughout the Caribbean. "She brought those forms back to the United States and fused them with modern dance," Goodrich says. "She created her own technique combining ballet, modern, and African-derived dance forms."
Goodrich came to Sacramento State in 1990 and formed S/BAD two years later.
During the ensuing years, she watched her students come and go, many of them succeeding on their own terms – teaching in venues around the globe, dancing professionally, and forming their own companies.
James has been a company member for five years and cherishes the experience. "I find that I am challenged every year," she says. "Professor Goodrich has found a way to keep me on my toes and keep pushing me as a dancer and artist."
And she notes that S/BAD is about more than just dance. "It's been such a welcoming part of the community," James says. "You don't have to be African American to participate, and we love that because people are able to learn what we're about."
The future of S/BAD still is being worked out, but Goodrich says there still will be some configuration of it at Sac State. As for herself, she and her husband plan to travel to enjoy art around the world, and she's contemplating a sixth trip to Cuba for more study of dance.
"Dance is a language," Goodrich says. "It's more than just entertainment, it's how one's soul speaks to someone else."
For more information on S/BAD and other programs and offerings in the Theatre and Dance Department, visit csus.edu/dram or call (916) 278-6368. – Craig Koscho
---
In the media:
"Good Day Sacramento" visits the S/BAD rehearsal