Satire, comedy, tragedy, music, and dance blend to tell four tales in Stories to be Told, Osvaldo Dragun's acclaimed play running March 8-19 at Sacramento State's Playwrights' Theatre.
Directed by Professor Roberto Dario Pomo and instructor Lisa Carmen Ross, Stories to be Told has performances at 8 p.m. March 8-11 and 17-18, 6:30 p.m. March 15-16, and 2 p.m. March 12 and 19.
Stories to be Told began as a collection of three short plays completed in 1956. Dragun, an Argentine playwright, added a fourth tale in the 1990s. Despite the time period in which the short plays were written, they are all too familiar, dealing with issues such as health insurance, immigration, and unemployment.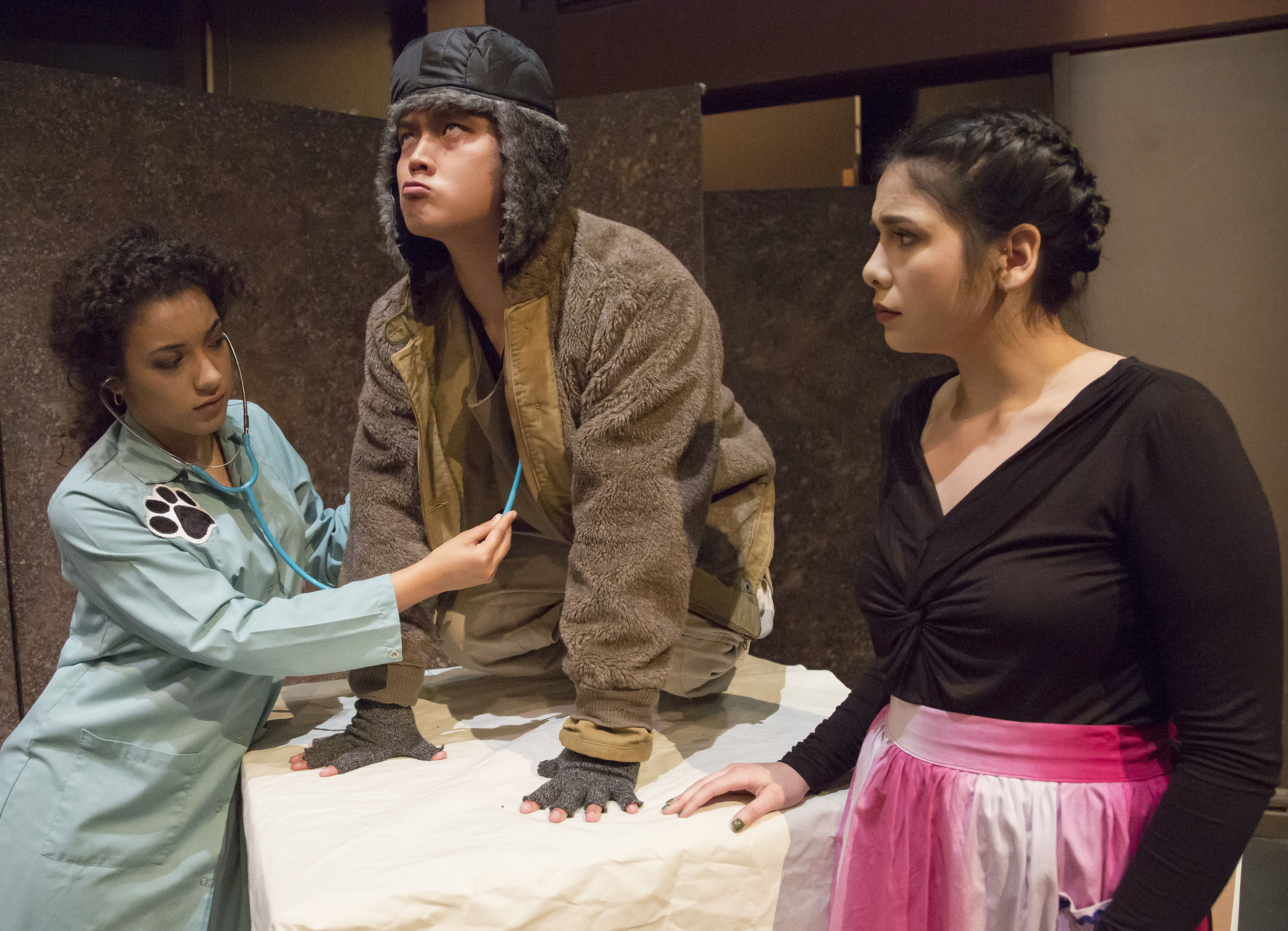 Monique Crawford, left, and McKenzie Lopez tend to Jasen Fong, who slowly is turning into a dog in
Stories to be Told
.
One story is about a person with an abscessed tooth who doesn't have enough money for the dentist. Another is an updated adaptation of a story developed by student dramaturge and assistant director Simi Singh that reflects the situation in Flint, Mich., where the water has been contaminated.
"Ultimately, the message of the play is about the oppression of human beings by other human beings," Pomo says. "That's the common thread."
"It's very relevant to what's happening in America today," Ross says. "And while it's very serious material, it's done in such an interesting and absurd way that it's comical."
One of the play's more well-known tales is "The Story of the Man Who Turned into a Dog." The main character is unemployed, married to an illegal immigrant, and desperate to find work. But the only offer he gets is to replace a night watchman's guard dog that has died. The man must act like a dog and stay in a doghouse to keep the job.
"It doesn't work out well," says Jasen Fong, who plays the character. "He becomes too involved in the role and comes to believe he is a dog."
In preparing for the part, Fong discovered the lengths people will go to provide for their families – doing anything, taking any job. "It's the risk they take. It's the sacrifice they make. Because it's for a greater cause," he says.
The production includes recorded music, such as Creedence Clearwater's "Susie Q" and Elvis Presley's "Hound Dog." There also is original music, written and performed by recent Sac State graduate Nick Micheels, plus original dance choreographed by Ross.
The play is presented by 11 actors, all on stage for the production's entirety and portraying four or five characters each. There also is some interplay with the audience as actors ask them questions and go out into the crowd.
This is the second collaboration for Pomo and Ross. Pomo generally works with the actors and sketches out stage movement. Ross then arranges for the music and dance. "But once the whole think is blocked, then we sit down together and that's when the fun begins," Pomo says.
The two work hand-in-hand to create a special experience that melds theater and dance.
"It's a wonderful process. We look at each other's stuff," Ross says. "There's a real honest conversation that happens about pushing each other to do better."
Fong notes that the stories have an even greater effect because it is live theater. "This is something you can't experience in a movie theater or on YouTube or social media," he says. "It's a live performance, and you get a greater sense of the realness behind the stories."
Tickets for the 6:30 p.m. performances are $8 general admission and $5 for children. All other performances are $12 general, $10 for students and seniors, and $8 children. Tickets are available at the University Ticket Office, (916) 278-4323 or csus.edu/hornettickets.
For more information about the Theatre and Dance Department, visit csus.edu/dram or call (916) 278-6368. – Craig Koscho