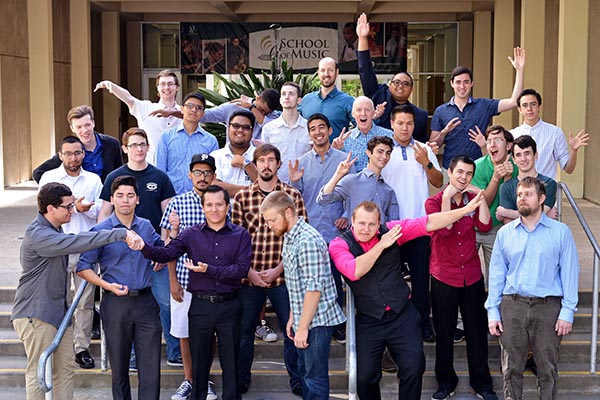 Sacramento State's three choirs, under the direction of Donald Kendrick, will present The Music Makers, a choral concert, at 8 p.m. Saturday, March 11, in the grand acoustics of Sacred Heart Church, 39th and J streets.
The evening will feature the Sac State Women's Chorus, the Men's Chorus, and the University Chorus in a program saluting music from the New World. The program includes works by American composers Stephen Caracciolo and Nicholas Omiccioli, along with choral music from Finland, Wales, Australia, Norway, Russia, Germany, and Greece.
Two contrasting settings of Arthur O'Shaughnessy's revered poem The Music Makers will be featured by composers Eric Nelson and Donald Kendrick. Graduate Choral Conducting students Ashley Arroyo, Melanie Huber, Shawn Spiess, and David Vanderbout will also conduct on the program.
Tickets are $10 general admission, $7 seniors, and $5 students, available at the University Ticket Office, (916) 278-4323 or csus.edu/hornettickets. For more information about the choral program, visit csus.edu/music/choral/. – Craig Koscho