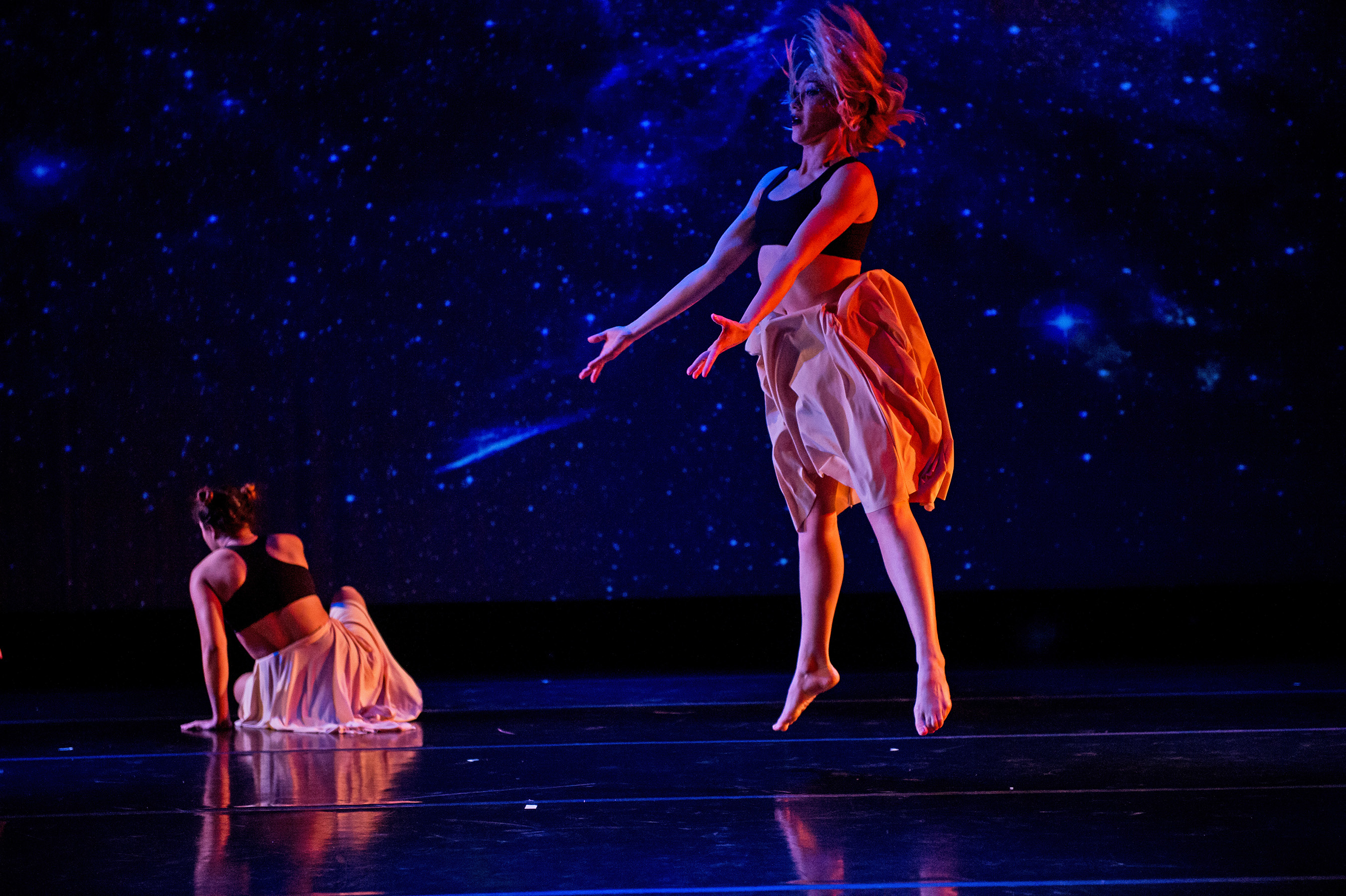 The Senior Dance Concert represents the final project of graduating dance majors. (Photo by Tony Nguyen)
For most graduating college seniors, taking a final means sitting in a classroom and staring down a long list of questions. For Sacramento State dance students, it means putting your passion on a stage for all to see.
Directed by Professors Lorelei Bayne and Philip Flickinger, Senior Dance Concert 2017 – Escaping Sentiments represents the culminating work for dance majors in the University's Theatre and Dance Department. Each graduating senior not only choreographs an individual piece; he or she creates the piece, casts it, designs the stage and lighting, and then guides the dancers through the process.
Because there are so many choreographers this year – 14, with a total of 56 dancers – the performances have been divided into two programs. Program A will be performed at 6:30 p.m. Thursday, May 4; 2 p.m. Saturday, May 6; and 8 p.m. May 12-13. Program B will be performed at 6:30 p.m. Thursday, May 11; 2 p.m. Saturday, May 13; and 8 p.m. May 5-6. All performances are in Solano Hall Dancespace 1010.
Music and sound choices for the pieces encompass a wide range, including composers such as Ludovico Enaudi, Erik Satie, and Kiasmos, and an excerpt from the Burlesque movie soundtrack.
"The choreographers are challenged to develop their original choreographic voice," Bayne says. "They also incorporate areas of personal research such as Asian, African-Caribbean, ballet, jazz, and contemporary dance forms."
This year's concert also features a special guest choreographer. Iu-Hui Chua is a well-known Bay Area choreographer, theater director, and principal dancer with Anna Halprin's Sea Ranch Collective. Her piece will include 13 student choreographers as dancers and will be presented at all eight performances.
For Bayne and Flickinger, the concert also represents a moment of pride. "As directors and mentors, it is extremely satisfying for us to see the seniors complete this capstone," Flickinger says. "Their growth with regard to artistry, choreography, and as citizens of the world is evident throughout this process."
Tickets for the 6:30 p.m. performances of Senior Dance Concert 2017 are $8 general admission and $5 for children. All other performances are $12 general admission, $10 for students and seniors, and $8 for children. Tickets are available at the University Ticket Office, (916) 278-4323 or csus.edu/hornettickets.
For more information about the Sacramento State's Theatre and Dance Department and its programs, visit csus.edu/dram or call (916) 278-6368. – Craig Koscho