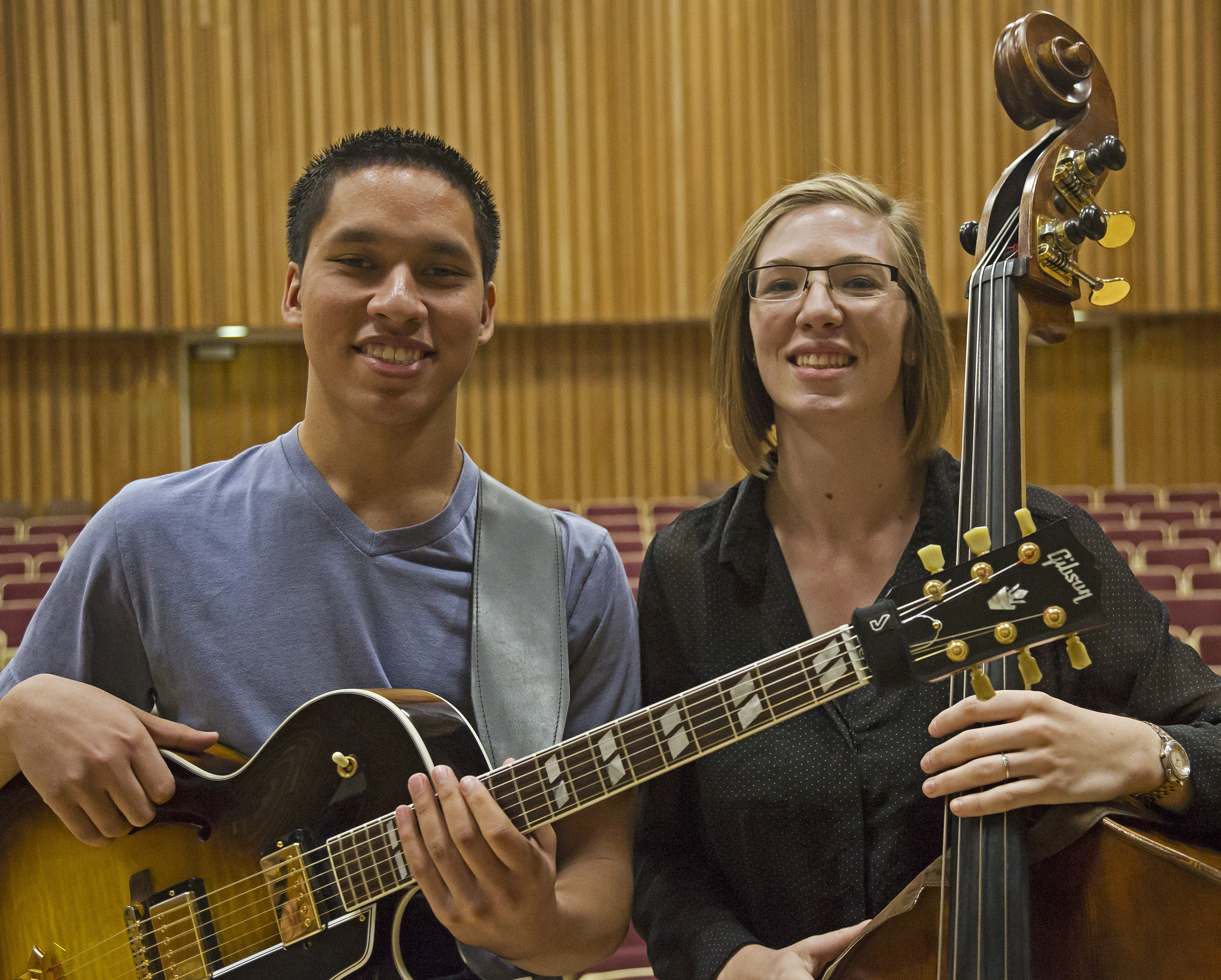 Elias Lucero and Molly Redfield won soloist awards for their work with Jazz Ensemble I. (Sacramento State/Craig Koscho)
Sacramento State's jazz vocalists and musicians have done it again, taking top honors for the second year in a row at the Monterey Next Generation Jazz Festival held March 31 through April 2.
Festival judges gave the vocal jazz ensemble Vox Now first place, basically declaring it one of the best college jazz vocal groups in the nation. Another of the University's groups, the Sac State Jazz Singers, placed second.
On the instrumental side, Sacramento State's Jazz Ensemble I took third place in the College Big Band division.
In addition, three Sac State students won Outstanding Soloist awards. Julian Cunningham took one for his work with Vox Now. The Jazz Ensemble scored two – one for Molly Redfield on bass and the other for guitarist Elias Lucero.
As part of Vox Now's honor, the group will return to perform at the prestigious Monterey Jazz Festival, Sept. 15-17, joining such jazz luminaries as Herbie Hancock, Branford Marsalis, Dee Dee Bridgewater, and Chick Corea.
Julian Cunningham won an Outstanding Soloist Award for his work with Vox Now. (Sacramento State/Craig Koscho)
Jazz Program Director Steve Roach and Vocal Jazz Director Gaw Vang Williams were pleased with the groups' performances.
"It's never about winning, but it is always good for the students to be recognized for the hard work and time they dedicate toward their performance," says Vang Williams.
"Being selected as one of the six collegiate jazz ensembles to perform and compete at the Monterey Next Generation Jazz Festival is a true honor," Roach says. "The (Sac State) ensemble is in the company of collegiate programs that have a long tradition of jazz studies, and it is a thrill to perform alongside them."
He and Vang Williams note that Sac State succeeds despite the greater financial resources available to the other schools.
"Considering that our jazz program operates with little to no scholarship funding, it is pretty amazing we are able to compete on their artistic level," Roach says.
"The fact that these students can still stay competitive against some of the top schools that have proper funding speaks volumes about what our music faculty are doing and how dedicated and talented our students are," Vang Williams says.
The Sacramento community has a couple of chances left to hear these groups in concert. All three of the University's jazz vocal groups will perform at 7 p.m. Friday, April 7, and Friday, May 12. The jazz ensembles' next concert is at 8 p.m. Thursday, April 20. All concerts are at the Capistrano Concert Hall. Tickets are $10 general admission, $7 for seniors, and $5 students, available at the University Ticket Office, (916) 278-4323 or csus.edu/hornettickets.
For more information on all programs at Sacramento State's School of Music, visit csus.edu/music or call (916) 278-5155. – Craig Koscho