For nine years, Feria de Educación has helped expand access to higher education to a traditionally underrepresented demographic.
This year's event at Sacramento State's University Union and the adjacent Serna Plaza and University Library Quad might have been the most timely to date. Presented as emotions and political tensions run high, the Feria struck positive chords while addressing real needs and answering critical questions.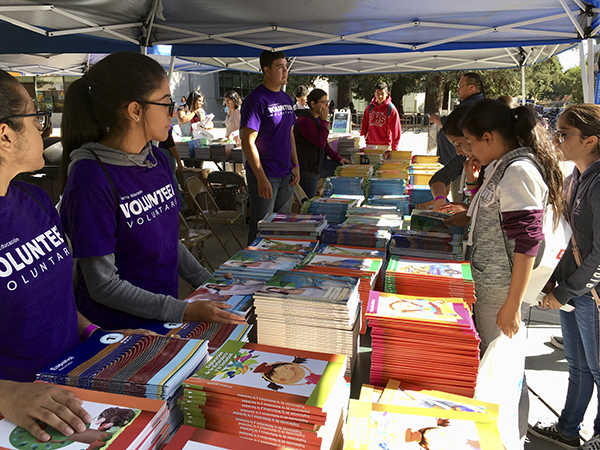 Feria 2017 attracted an estimated 3,000 participants. (Sacramento State/Jessica Vernone)
More photos
New this year was a beefed-up outreach effort. Feria organizers, partnering with the California Department of Education, conducted outreach to about 20 school districts across the region. Results of that effort sparkled.
Luis Kischmischian, marketing/communications lead for the Division of Student Affairs, said Feria 2017 attracted an estimated 3,000 participants – making it what is thought to be the best-attended of the five hosted by the University.
The significance of the already-vital Feria continues to rise, said Viridiana Diaz, director of Sacramento State's College Assistance Migrant Program, especially considering the Trump administration's aggressive stance on undocumented immigrants, who in many cases are children born in the United States to undocumented parents.
"The societal climate requires our families to seek out support and information in a setting that is trustworthy to them, where they feel safe (and) where they feel comfortable," Diaz said before the event. "Our messaging as a university has made it clear that this place is a safe space for our families to come and get resources and get information and get acquainted with how to navigate your education."
The Feria featured helpful workshops such as one on Services for Undocumented Students, including an overview of DACA and the California Dream Act. It covered policies, program eligibility requirements, and the application process. One new workshop offered students assistance in filling out college applications at CSU's online portal. Students were encouraged to bring transcripts and submit applications on site. Laptops were set up in the Redwood Room, and a team of volunteers helped students complete the applications as well as the Free Application for Federal Student Aid (FAFSA). The FAFSA application period opened Sunday.
It's that sort of "very hands-on support" that sets Feria apart from typical workshops, Diaz said. Adding to the sense of place for many participants is that the workshops were conducted in Spanish.
That connected with attendees.
"I really like the atmosphere, as well as the help and services they provide to students that are going to be freshmen, especially the ones who are kind of lost and don't really know what to do after high school," said Irlanda Vela, a high school senior who aspires to work in either the media or nutrition.
This year's event featured a welcoming address by University President Robert S. Nelsen, as well as the return of the popular Dreamer Clinic; campus tours; and a "visualization photo booth" that allows children to dress in career attire (think police officer, CEO, doctor, etc.), take and create a picture of their potential future professional self – or in a cap and gown as a college grad.
"La Féria de Educación is important to me and important to Sacramento State," Nelsen said before the event. "Students from around the state visit our campus and begin to dream of going to college, dreams that become reality and change lives. Seeing these students with their parents is a beautiful experience."
Feria is part of the CSU's Latino Initiative, designed to strengthen community partnerships that help increase the number of Latino students who attend and graduate from college. More than 40 percent of the CSU's 479,000 students are Latino, and more than 30,000 Latino students graduated from the CSU in 2016-17, according to the system's website.
CSU Dominguez Hills hosted the first Feria in 2008. The program since has expanded to include locations in Northern California.
"It's a very timely event, and I think Sacramento State has positioned itself very well in the Spanish-speaking community, especially as a Hispanic-Serving Institution," Diaz said. "And I think our (University) president has done a really good job in promoting the commitment we have to be inclusive and to be a welcoming campus." – Ahmed V. Ortiz
---
In the media:
"Sac State hosts education fair," KCRA 3