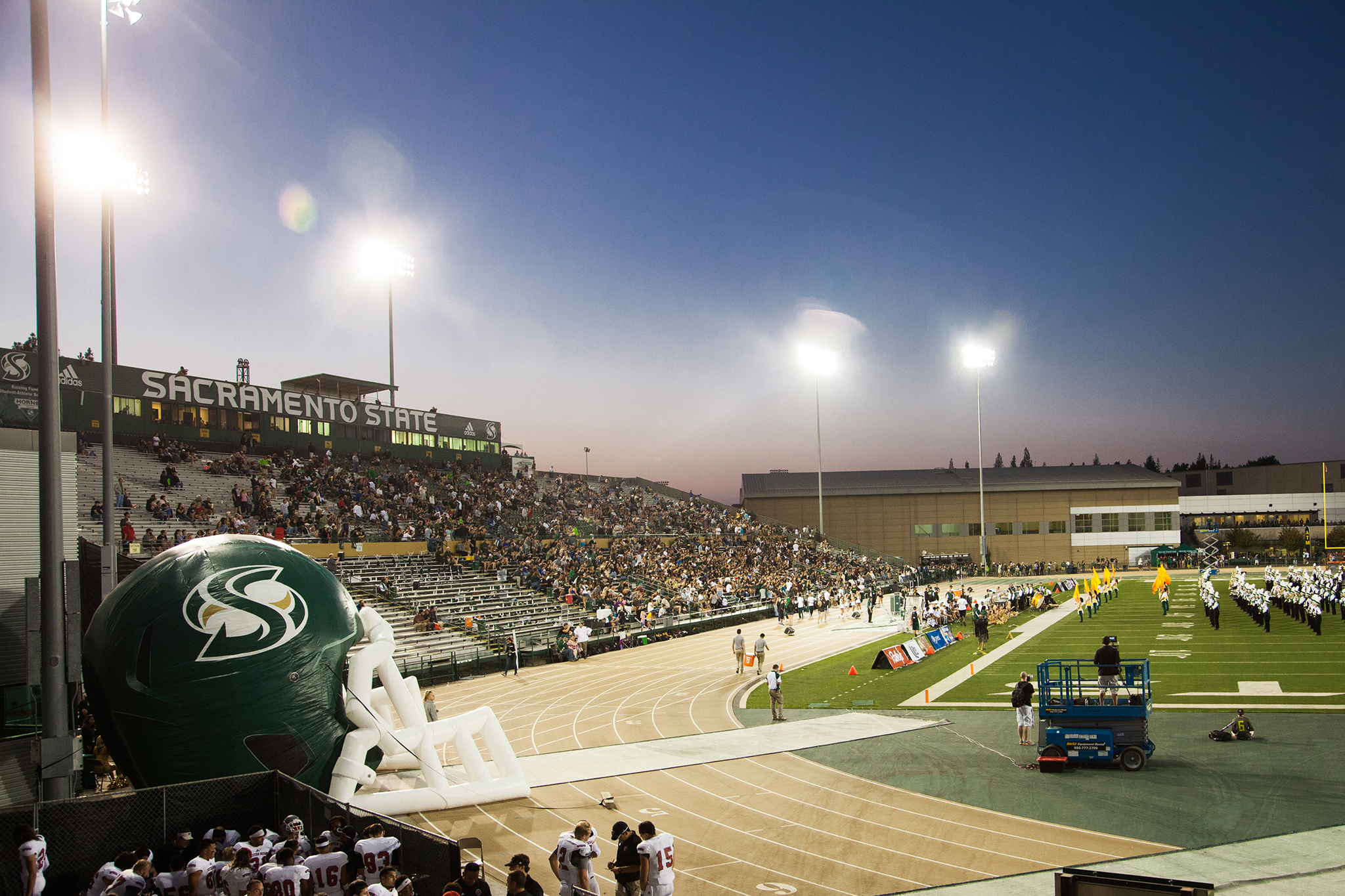 For fans attending Sac State games at Hornet Stadium, the list of available beverages has just gotten longer – if they are 21 or older. (Sacramento State/Andrea Price)
A beer and a football game? A lot of people find that a winning combination, and at Sacramento State home games this year it's definitely on tap.
Following a policy change that came out of the CSU Chancellor's Office in June, Sac State President Robert S. Nelsen announced on Sept. 7 that the sale of beer will be allowed at Hornet Stadium during football games this fall. The first brew was to be poured at the Hornets' game with Incarnate Word on Saturday, Sept. 9.
In a statement, Nelsen said beer will be available to anyone 21 and older - ID required - in accordance with state Department of Alcoholic Beverage Control regulations.
"We are committed to creating a safe and healthy environment during our games," Nelsen said, "and we will be working closely with our game security and the Sacramento State Police Department to ensure a positive experience for all who attend our Hornet Athletics events."
The University will work with concessionaire University Enterprises, Inc., to provide vendors. There will be three local craft beers available each game as well as aluminum bottles of Coors, Coors Light, Heineken and Blue Moon. Regular domestic beer will cost $7, and premium/craft beer will sell for $8.
Sales will be limited to two beers per order.
The beer garden will be near Gate 4 in the southeast area of Hornet Stadium.
Athletic Director Mark Orr called the policy change the "next step" in enhancing the fan experience at Hornet games.
"We encourage everyone to have fun and remain responsible while supporting the Hornets throughout the year," Orr said.
The move was made possible by Executive Order 1109, from CSU Chancellor Timothy White. The order gave all 23 CSU campuses freedom to choose if they want to sell beer at athletic events. The order erased strictures from a December 2005 order that prohibited sale and advertising of alcoholic beverages on CSU campuses.
The new policy reads, in part: "An examination of more recent trends and practices at numerous comparable higher education institutions, as well as an evaluation of existing practices involving the sale and service of alcoholic beverages at athletic events held at third-party venues or facilities owned or operated by CSU auxiliaries, has demonstrated that alcoholic beverages can be safely and responsibly served if certain precautions and guidelines are followed."
The new Sacramento State policy allowing beer sales has been added to the University's Policy Manual.
Nelsen said in his statement that some revenue from the sale of alcoholic beverages will be used to provide appropriate security at events and may be used to support alcohol education and sexual assault education programming through Student Affairs. – Brian Blomster