Athletic Director Mark Orr, left, and new head coach Troy Taylor display a Hornet jersey indicating that Taylor is the football program's 11th head coach during a news conference on Tuesday, Dec. 18. (Sacramento State/Andrea Price) | More photos
Troy Taylor's stellar resume, reputation for offensive innovation, and deep roots in the community all were in the spotlight on Tuesday, Dec. 18, when he was introduced as Sacramento State's new head football coach.
Taylor, who built a successful coaching career after attaining greatness as a Sacramento-area high school star and a record-setting college quarterback at Cal, comes to Sac State from Utah of the Pac-12 Conference. He addressed the media at Tuesday's well-attended news conference in the Broad Fieldhouse on campus.
The hiring had been announced the previous day by Athletic Director Mark Orr, who on Tuesday said that expectations are high and that he believes the team under Taylor will be an immediate championship contender.
"We wanted someone who is innovative," Orr said. "Troy is one of the most innovative coaches in the country."
Statistics and outcomes for teams Taylor has served in either a head-coaching or assistant role support that assertion.
"Troy is one of the best quarterbacks to come out of the Sacramento region and has become a nationally respected coach," Orr said. "I am excited to see him help take the program to new heights."
University President Robert S. Nelsen said when the hiring was announced that, in Taylor, Sac State gets a leader who will produce a winning team and "shape players who will be ready for life after football."
"Coach Taylor is the right coach at the right time, and he is here to win on and off the field," Nelsen said.
Taylor, who in replacing Jody Sears becomes Sac State's 11th head coach, said that he was pleased to be "coming back home." He vowed that the football program will "do things the right way."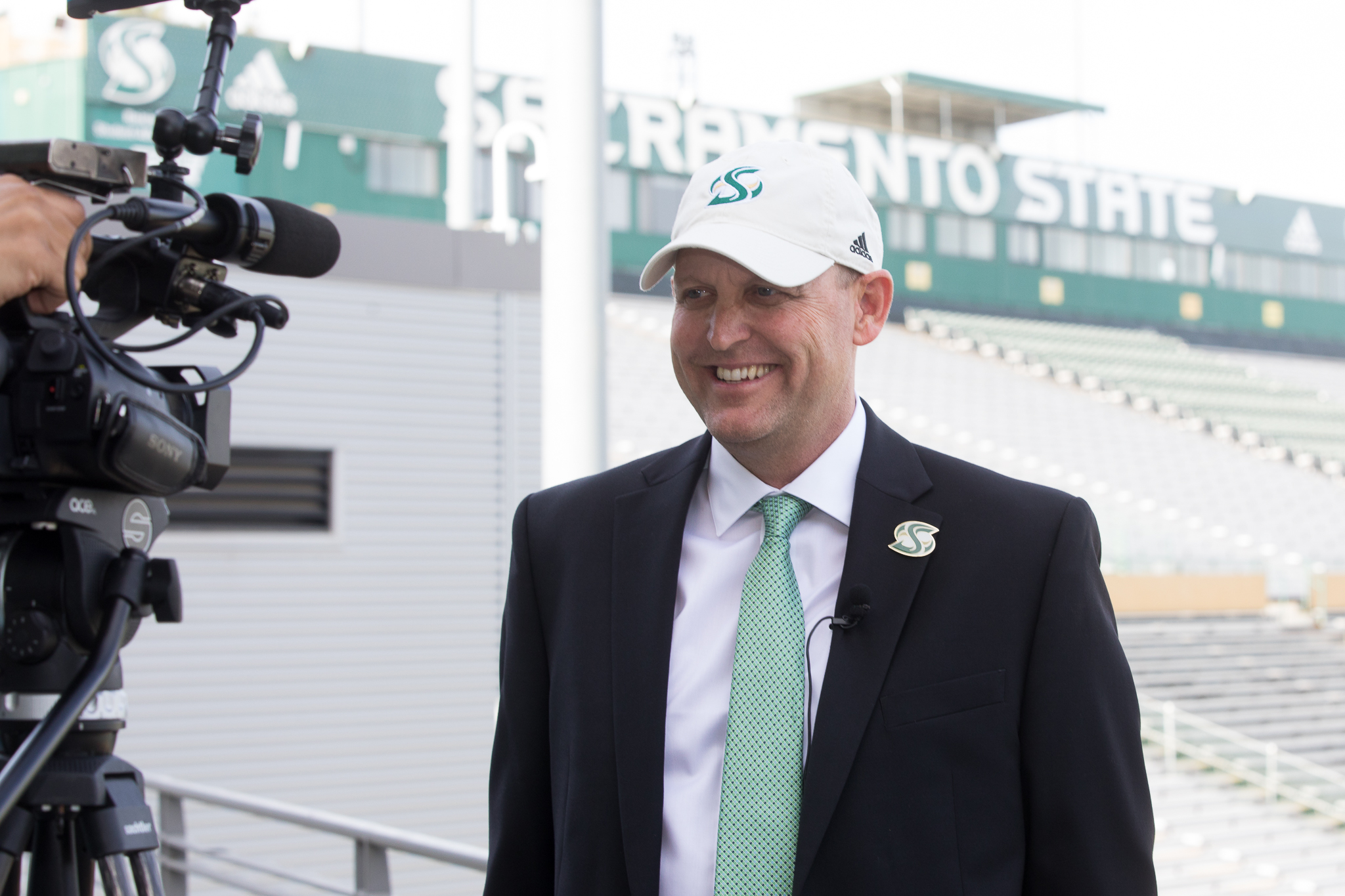 Coach Troy Taylor in the stadium that will be his new football home. (Sacramento State/Andrea Price)
At Utah, Taylor was offensive coordinator and quarterbacks coach during the 2017 and 2018 seasons. This year, his team won the Pac-12 Conference South championship and carried a 9-4 record going into the Dec. 31 Holiday Bowl, where the Utes will play Northwestern. Taylor is to coach in that game and return to Sacramento in January.
Taylor's move to Sac State returns him to a region where he excelled as a player and coach. He was one of the top quarterbacks in the nation while leading Cordova High School to a 14-0 record and section championship, and was named Northern California Player of the Year in 1985. He then went to UC Berkeley and established passing records that were only recently broken.
"I am really excited and thrilled to see so many friendly faces that I know," Taylor said, emphasizing his joy at moving back to Northern California with his wife, Tracey, sons Noah and Aaron, and daughter Ella.
That factor also met another of Orr's hiring goals. "We wanted someone who is rooted in the community," he said.
Some of Taylor's most significant coaching accomplishments came while he was co-head coach of Folsom High School from 2012 through 2015. In those four seasons, Taylor led the Bulldogs to a 58-3 record and the 2014 state Div. I championship, making a name for himself as an offensive innovator and as a coach skilled at recognizing and developing talent. Jake Browning, who shattered prep passing records while playing under Taylor, went to Washington, where he has been among the top collegiate quarterbacks during his four seasons leading the Huskies.
Nelsen referred to Taylor as an "offensive guru," and many questions posed by reporters at the Tuesday news conference focused on how the Hornets might be expected to move the ball under their new coach. His record suggests reasons for optimism.
Utah averaged 28.7 points per game in 2018 and averaged 396 yards per game in a balanced attack that featured 186.8 yards rushing and 209.2 yards passing per game. His offense featured two quarterbacks who combined to complete 61.9 percent of their passes with 15 touchdowns. Seventeen players caught a pass, with eight hauling in at least 10. Running back Zack Moss rushed for 1,096 rushing yards and 11 touchdowns.
During his first season with the Utes (2017), Taylor's offense featured a second-team all-Pac-12 receiver (Darren Carrington II) and a 1,000-yard rusher (Moss). Taylor's offense spread the ball around with 16 players catching passes and 11 players rushing from scrimmage. That season, Utah amassed 413.4 total yards per game and posted a 30-14 win over West Virginia in the Heart of Dallas Bowl.
In 2016, Taylor served as the co-offensive coordinator and quarterbacks coach for an Eastern Washington team that went 12-2 and advanced to the semifinals in the Football Championship Subdivision (FCS) playoffs. That season, he directed a passing offense that led the FCS and set numerous national and school records. The Eagles averaged an FCS-best 401.0 passing yards per game, ranked second nationally with 529.6 yards per game, and was third in scoring offense with 42.4 points per game.
Under Taylor, sophomore Gage Gubrud set an NCAA FCS single-season record by passing for 5,160 yards while throwing 48 touchdown passes. Gubrud averaged 368.6 passing yards per game, which also led the nation. One of his favorite targets was All-American Cooper Kupp, who caught 117 passes for 1,700 yards and 17 touchdowns before being selected by the Los Angeles Rams in the third round of the NFL Draft.
Taylor's success at Eastern Washington followed his great run at Folsom, which put an exclamation point on his association with Browning, whom he began mentoring when Browning was in the fifth grade. Under Taylor, Browning set national records for touchdowns in a season (91 in 2014, tied) and a career (229, in just three seasons). He set several California state high school records as well, including the single-season (5.790) and career (16,775) standards for passing yards.
"Troy Taylor … I believe, will take the football team to the playoffs and beyond in the passing-minded Big Sky Conference," Nelsen said. "But, much more importantly … (h)e will live up to Sacramento State's mission to 'transform lives by preparing students for leadership, service, and success.' "
As a player, Taylor followed his achievements at Cordova with a stellar run at Cal as the Golden Bears' starting quarterback from 1986 through 1989. Taylor led the Pac-10 in total offense as a senior and left Cal as its all-time passing yardage leader with 8,126 yards. He was picked by the New York Jets in the fourth round of the 1990 NFL Draft and played for the Jets in 1990 and 1991.
Taylor's first coaching job was at Casa Roble High School in Orangevale, Calif., in 1994. The following year, he was a graduate assistant at Colorado, working with wide receivers. He returned to Cal in 1996 and remained there through 2000, variously coaching receivers, quarterbacks and tight ends. Taylor was also Cal's recruiting coordinator in 1999.
Taylor left Cal to become an assistant athletics director at Sacramento's Christian Brothers High School (2000-01), where he also taught and was an assistant football coach for one season (2000). He was co-head coach at Folsom High in 2003-04, then stepped away from coaching to serve as the Cal football radio analyst from 2005 until 2011.