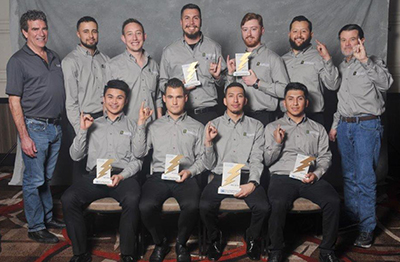 Members of Sacramento State's Electrical Problems team smile after a national competition. (Sacramento State)
Two Construction Management teams brought home to Sacramento State national championships from the Associated Schools of Construction's (ASC) Region 6 & 7 Student Competition, held Feb. 7-10 at the Nugget Casino Resort in Sparks, Nev.
The Concrete Solutions team, coming off an ASC win last fall in Chicago, made its ninth consecutive podium appearance – and celebrated its seventh first-place finish – in just over five years of national competition. ASC member schools throughout the country are eligible to enter the open, or national, contests.
Members of the Concrete Solutions team were: Jordan West, Igor Ubryanov, Jon Henry Hernandez, Brett Snyder, Daniel Vergara Galvez, and Greg Zotalis. Bryan Mendes and Russell Gonzalez served as alternates. They were coached by industry professionals Mike Seegert, Tony Tipton, Brad Dent, and Bill Naramore.
The Electrical Problem team, which placed second at this event last year, also walked away with top honors in open competition. The team members were: Thomas Johnston, Giovanny Anaya, Mike Neumann, Joseph Sokil, Jesus Garcia, and Hieu Nguyen Dao, with Kevin Saenz and Luis E. Zavala as alternates. Their coaches were industry professionals Fran McDermott, Bill Prout, Arturo Marin, Fred Callison, and Robert Clark.
Sac State also had a good showing in Region 7 competitions against teams from California, Hawaii, Oregon, and Washington: Design-Build finished second, and Mixed-Use placed third. In the Alternates Problem competition, with each team made up of alternates from various universities, Sac State's Bryan Mendes claimed first place, and Evan DeFazio finished with a second.
"Our formula for success is the strong industry-Sacramento State partnership," says Henry Meier, project executive with Swinerton Builders and chair of the student activities committee for the nonprofit Sacramento Construction Management Education Foundation (SCMEF).
"Construction Management students learn in the classroom from faculty who have actual industry experience," he says. "At ASC competitions, students are given real-world problems on a construction project via a Request for Proposals. They learn from their coaches, who are local industry professionals, how best to respond." – Dixie Reid