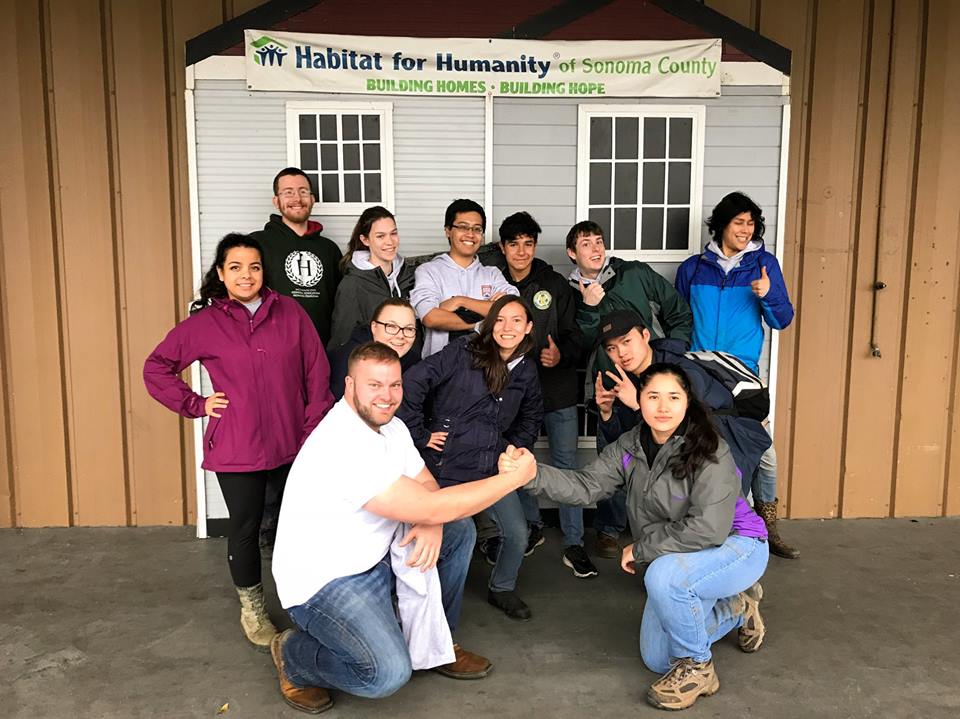 These Sac State students used spring break as an opportunity to provide boots-on-the-ground help to victims of the November fires in Sonoma County. Others participated in useful projects at the University. (Photo courtesy of the Community Engagement Center)
Sacramento State's Alternative Spring Break, a student-volunteer program operated by the campus Community Engagement Center (CEC), took its first-ever field trip this year, to Northern California areas ravaged by last November's wildfires.
A dozen Sac State students spent their week away from textbooks and tests, helping people of Santa Rosa and Sonoma who are recovering from the fires' devastation. All 12 were recruited from the University's General Education Honors Program.
Meanwhile, another 60 student volunteers stayed behind in Sacramento, cleaning up trash along the American River and weeding the campus stormwater-project sites and the BAC Yard (formally known as the Bio-conversion and Agricultural Collaborative Yard.)
"Alternative Spring Break began in 2007, and this year was the first time we took students away from Sacramento to do service work," says Dana Kivel, CEC director and professor of Recreation, Parks & Tourism Administration.
"Experiences like these can be transformative, and I hope that the students felt pride in knowing that what they did – from bagging 5,000 pounds of carrots at the Redwood Empire Food Bank, to serving a meal to people who may not have eaten that day, to taking inventory at the Habitat for Humanity's ReStore – made a difference in lives of hundreds, if not thousands, of people."
CEC partnered with such organizations as the Sonoma Ecology Center, California State Parks, Restorative Resources, Sonoma Avenue Church of Christ, Faith Lutheran Church, and Sonoma Rebound. Monica Ngo, a volunteer specialist with VISTA (Volunteers in Service to America) coordinated the service projects, made possible in part by grants from Associated Students, Inc. (ASI), and University Enterprises, Inc. (UEI).
The biggest challenges for the students were rain and mud, Kivel says.
"At Sugarloaf State Park, students had to hike an hour in the mud to do trail restoration work. And on Friday morning at Sonoma Valley Regional Park, the weather was good, but they were pulling up blackberry roots at least a foot or so deep in mud after the constant rains."
The students were housed in cabins that lacked electricity and heat, but no one complained, Kivel says.
And here's what some of those students had to say about their Alternative Spring Break experience:
"Although the physical work was more demanding than I expected, I was happy to provide relief for the community in Sonoma while also doing something more productive than anything I would've done if I had stayed home during break. If another opportunity to travel with the CEC arises next year, I definitely will consider going." – Daniel Yee
"Being a part of this program was a unique experience. I had great time interacting with the people of Sonoma and Santa Rosa. I believe that the work we did made an impact, and I hope to participate in programs like this in the future." – Kyle Zenarosa
"Alternative Spring Break was an amazing opportunity. Getting to work hands-on in the community and see the change we made was incredible. I loved getting to talk with members of the Sonoma community and to hear how much our help meant to them." – Jen Gross
"This spring break was intense, both physically and mentally. We were hiking through state parks in the rain, seeing severely burned trees during the day, and hearing locals tell heartbreaking stories at night." – AJ Brinser
"This trip was enlightening and satisfying. We got a sense of what it was like to go through those fires. Apart from that, we saw the results of our volunteer work, and people were constantly thanking us for 'the difference' we made." – Octavio Nolasco
"The trip was a great opportunity for personal growth. It was humbling to work in a community where the people are struggling, and it was incredibly rewarding to work with such amazing classmates and to make a difference." – Johnathan Newman
And while 12 fellow Hornets toiled in wildfire burn areas, Juan Pablo Becerra joined the Sac State student volunteers who cleaned up around the campus in partnership with Sac State Sustainability and the American River Parkway Foundation. His assignment? Weeding at the BAC Yard and stormwater-purification beds.
"It was amazing to realize that by doing something so small as taking out some weeds, there is a positive impact on the environment," Becerra says. "It was interesting to learn that Sac State cares so much about the environment and is an example to other universities. The experience made me proud to be a part of Sacramento State." – Dixie Reid