The perceived blandness of suburbia gives way to the surreal, twisted, and even hilarious in John Cariani's series of romantic vignettes LOVE/SICK at Sacramento State.
Directed by Professor Michelle Felten, the play is this year's annual Senior Theatre Showcase, in which Department of Theatre and Dance graduating seniors not only act in the play, but also design the lights, properties, and costumes. It will be staged at Playwrights' Theatre at 6:30 p.m. April 26 and May 3; 8 p.m. April 27 and May 4; and 2 p.m. April 28 and May 5.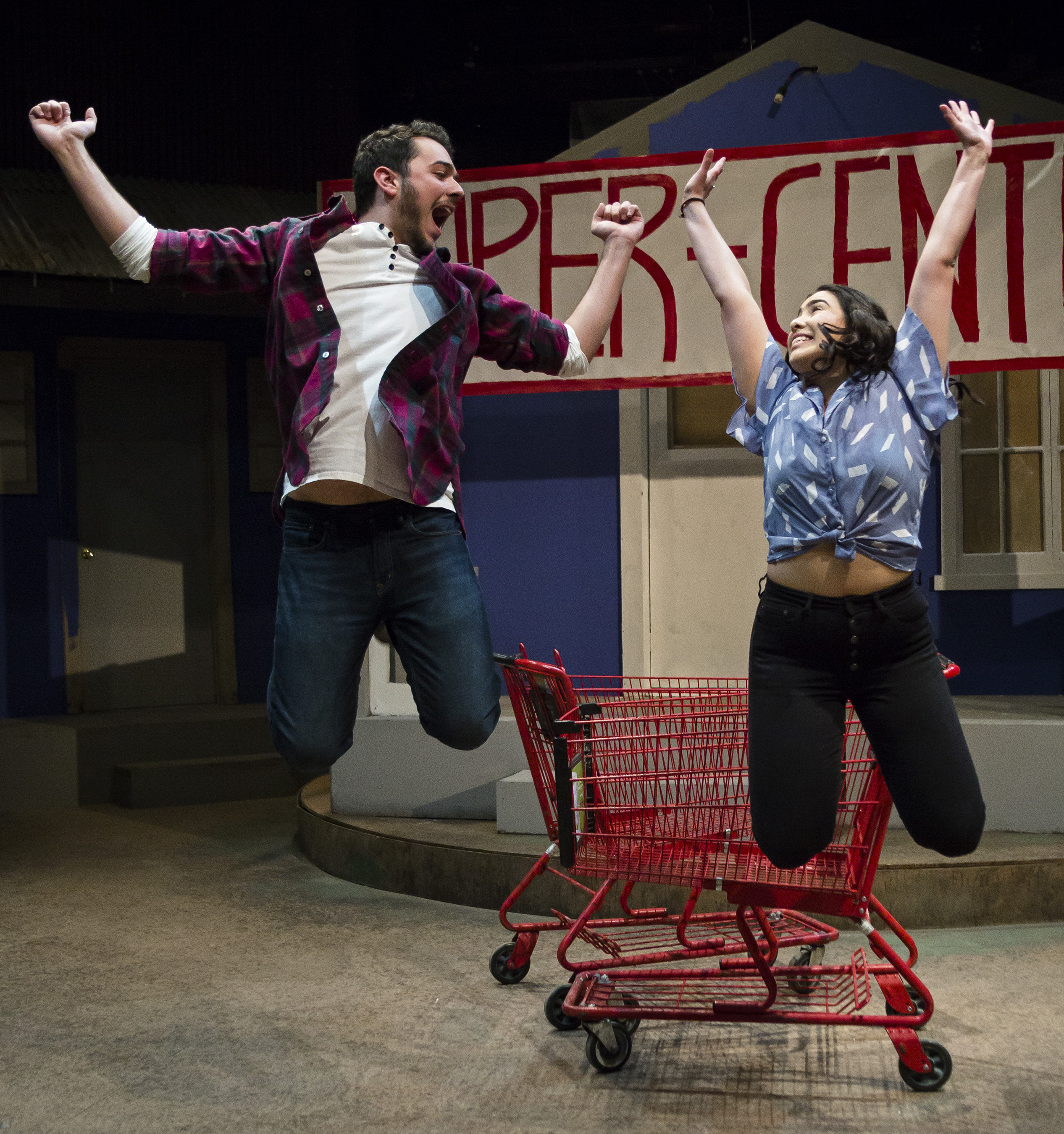 Wade McKenzie-Bahr and McKenzie Lopez find love at the supermarket in
LOVE/SICK.
Eleven actors portray 18 characters in nine intertwined stories taking place on the same night.
"LOVE/SICK presents an 'alternate' version of suburban life – often associated with blandness and uniformity – as a landscape convulsed by bizarre behavior and intense emotion," Felten says. "It is at times extremely funny, but can 'flip the switch' without notice, filling the characters with pathos and confusion."
One story shows what happens when two strangers fall into each other's arms at the supermarket. Is it love at first sight, or their "obsessive-impulsive" disorder?
Another scene switches the common stereotype of the wedding day. This time the groom is the one who gets cold feet and locks himself in the bathroom.
"We hope the audience takes away that everyone goes through absurd things when in a relationship, and that they are not alone," says actress Lindsay Ashton. "Maybe seeing our play will offer anyone going through a difficult time a little levity."
Tickets for 6:30 p.m. performances of LOVE/SICK are $15 general admission, $12 students and seniors, and $10 for children. All other performances are $18 general, $15 students and seniors, and $12 children.
Tickets are available at the University Ticket Office or by calling (916) 278-4323.
For more information on the events and programs of the Department of Theatre and Dance, visit the website or call (916) 278-6368. For media assistance, call Sacramento State's University Communications office at (916) 278-6156. – Craig Koscho