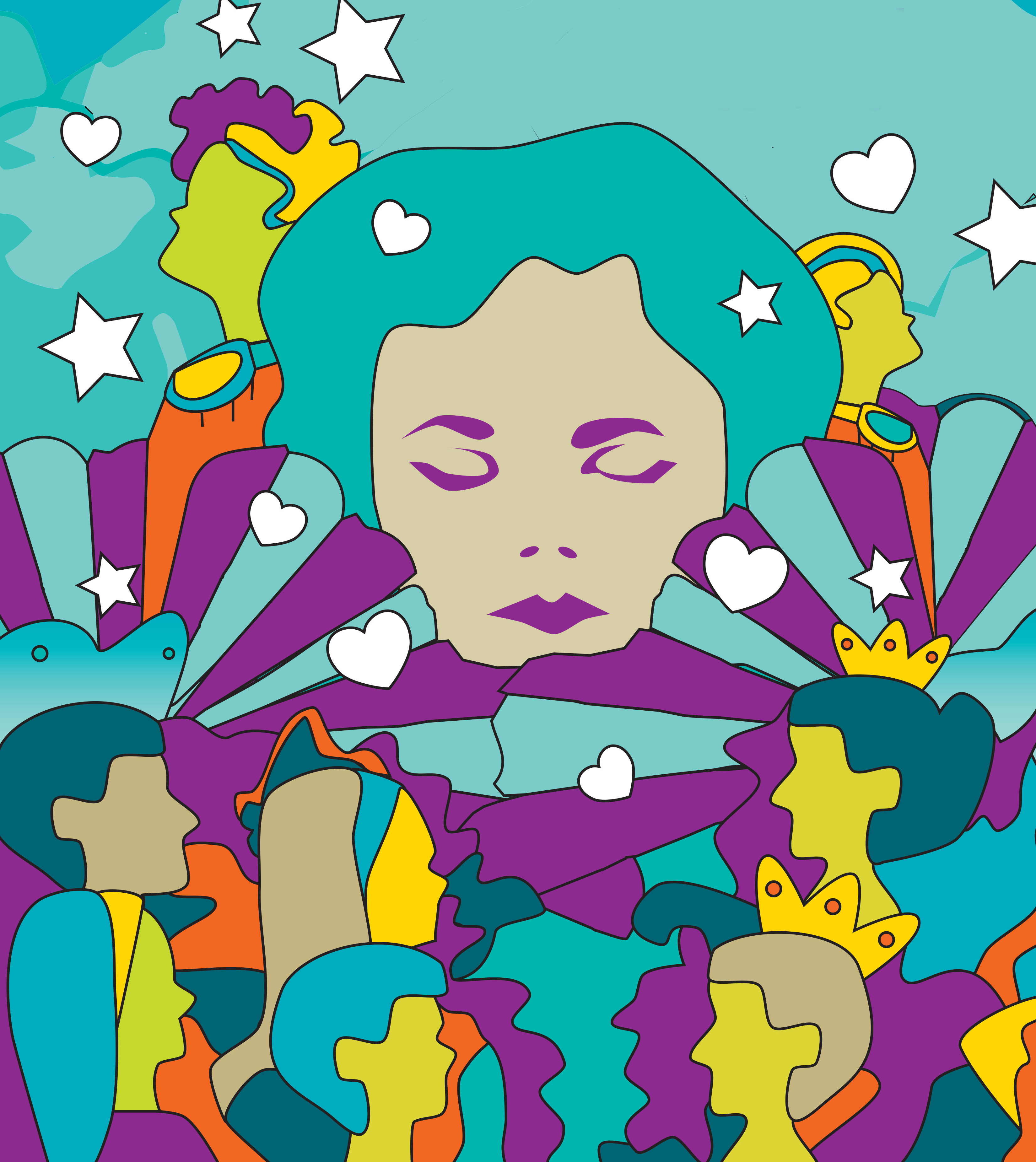 Shakespeare gets the "flower power" treatment. (Art by Holly Mistely)
Shakespeare's A Midsummer Night's Dream takes on a "summer of love" vibe in Sacramento State's production of the Bard's most popular comedy, part of the University's Festival of the Arts.
Performances are at 6:30 p.m. April 11, 19; 8 p.m. April 13-14, 21; and 2 p.m. April 15, 22, on the main stage of the University Theatre.
Staged by the Department of Theatre & Dance, A Midsummer Night's Dream tells the story of four lovers plus an acting troop that have entered an enchanted forest for a royal wedding. But when they get between the king and queen of fairies, they are subjected to spells and mischief-making that lead to many fantastical encounters.
The play incorporates many of Shakespeare's comedic elements, such as mistaken identities and star-crossed lovers, and then throws in a heavy dose of magic for good measure. Characters not only fall under spells, but one poor soul finds himself turned into a donkey.
Sac State director Christine Nicholson and her players have taken that magical aura a step further, setting the adventure in the pop-culture wonderland of the late 1960s, with inspiration from Peter Max and the Beatles' "Sgt. Pepper."
"It's very mod," says Catalina Serrano Bucheli, who plays Fairy Queen Titania. "The fairies are very hippie-like, belonging in San Francisco in 1968. So they will be doing most of the singing and dancing."
Music and dance have been part of the play since the beginning, but Shakespeare never specified a style, leaving it up to the individual production; don't be surprise if you hear the strains of "All You Need is Love," and other tunes popular at the time.
"We're taking songs from the 1960s and applying Shakespeare's words to them," Bucheli says, adding that the dancing, too, is not structured, but more like the free-flowing dance of the 1960s.
In addition to playing the Fairy Queen in some performances, in others Bucheli takes on the male role of Egeus, a reversal of Shakespeare's era when women were not allowed on stage and men played the female roles.
"We're doing a lot of gender bending," Bucheli says. "Shakespeare lends himself to that. We have a lot of women playing roles meant for men."
And with the artistic influence of "Sgt. Pepper" permeating the tale, this Midsummer Night's Dream is sure to attract such a lovely audience.
Tickets for the 6:30 p.m. performances cost $15 general admission, $12 seniors and students, and $10 children. All other performances are $18 general, $15 seniors, and $12 children. Tickets are available at the University Ticket Office or 916-278-4323.
For more information about the Department of Theatre & Dance and its programs, visit the department's website or call 916-278-6368. For media assistance, call Sac State's University Communications at 916-278-6156. - Craig Koscho