Leonardo Perez, 16, says he wants to become an entrepreneur and is using his participation in the Migrant Student Leadership Institute to help set him on that path. (CAMP/Bibiana Ortiz) |
More photos
Leonardo Perez was in kindergarten when he left Mexico to join his father for what they hoped would be a better life in California's Central Valley.
Now a senior at Hanford West High School, 200 miles south of Sacramento, Perez is one of many students from migrant families across the state who eventually reach a crossroad: Either pursue higher education or follow in the footsteps of farmworker parents, laboring in the fields and orchards of the state's vast agriculture industries.
The choice seems clear for Perez, 16, and approximately 85 other high school students who attended the Migrant Student Leadership Institute (MSLI) at Sacramento State, June 18-30, 2018.
"I want to go to college to major in business administration and minor in engineering," says Perez, who has spent parts of previous summers working in the fields with his father.
"I want to become an entrepreneur."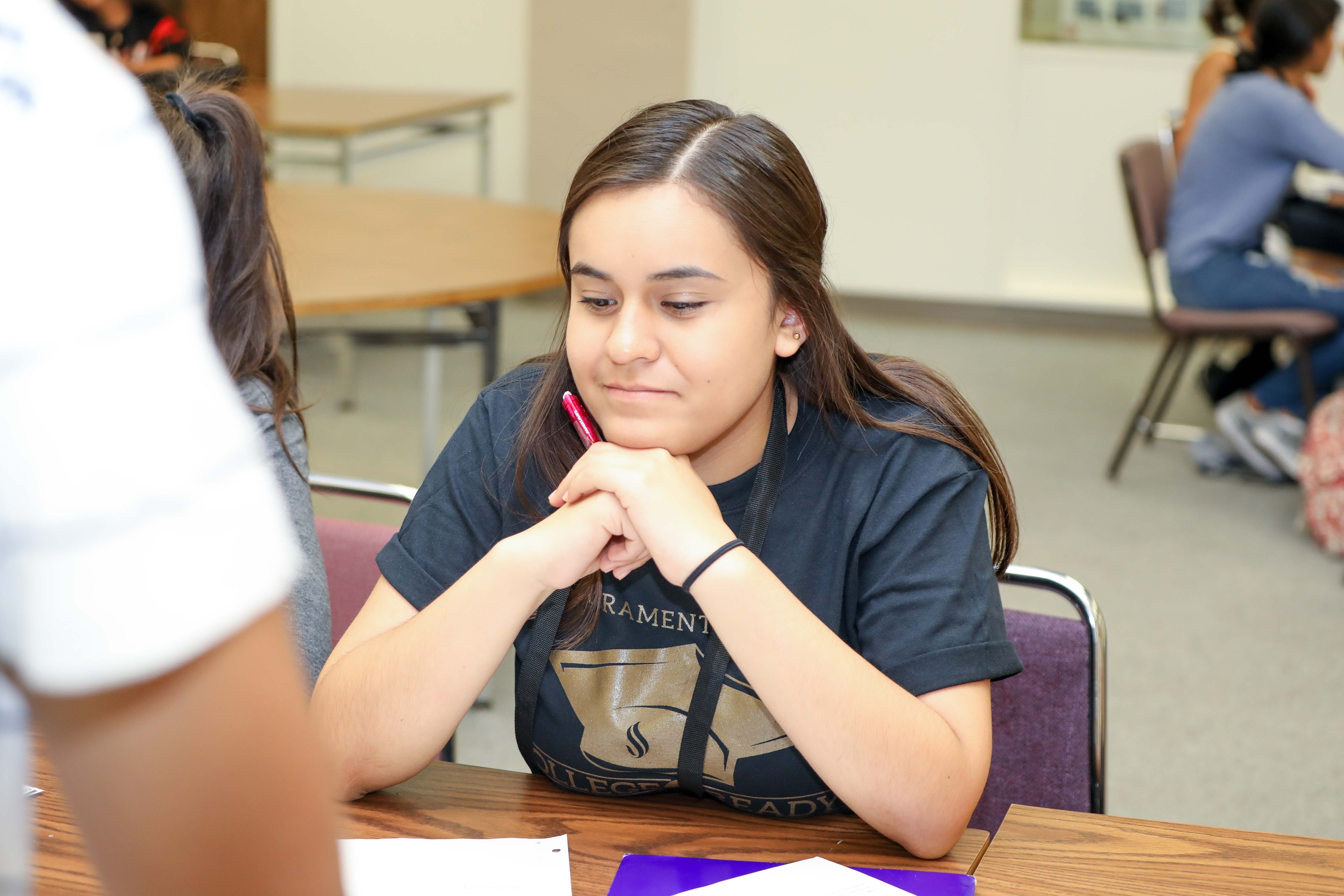 High school junior Mariana Ortiz Calderon, who participated in the recent MSLI, is looking for educational opportunities that eluded her mother. (CAMP/Bibiana Ortiz)
Perez journeyed from home for two weeks to attend the state-funded MSLI, which is designed to prepare students from migrant backgrounds to become college-ready, competitive candidates for admission to a four-year institution.
Along with academic training, students are introduced to financial aid resources, alumni speakers and lessons on how to become leaders in their local communities.
"The MSLI tries to get students early on in their high school education in ninth, 10th and 11th grades," says Viridiana Diaz, assistant vice president of Strategic Diversity Initiatives. Only about 1 percent of migrant students go on to a four-year institution, Diaz says.
She says the program is meant to "plant the seed" for a possible higher-education career in students who might not be on a college track.
"We want to be able to influence them, expose them to college and to role models and to mentors that look like them, have their same background and stories, and may even come from their same town."
For many of the students, attending the MSLI is the first step toward fulfilling their parents' dreams as well as their own.
"I can't really imagine not pursuing an education, because that is what I was taught since I was a little girl," says Mariana Ortiz Calderon, a junior at Vacaville High School. "My mom always told me, 'I didn't get the education I needed, so I need you to do it for me.'
"I try to focus on my education so I don't have to work with my hands as hard as they do."
The MSLI, in its eighth year, annually draws on average approximately 100 students from across California. A recent study indicates that more than 73 percent of participating students have gone to college and about 60 percent of students are pursuing careers in science, technology, engineering, arts or math (STEAM).
"We are very pleased to see the short- and long-term impact of the program," Diaz says. "It shows that early outreach really works if we're able to invest the resources and the time in influencing and educating students while they are in high school."
Calderon and her sister who attends Sac State say they are grateful for opportunities provided by programs such as the MSLI and the College Assistance Migrant Program (CAMP), a federally funded program designed to help ensure success at Sac State for admitted students from migrant and seasonal farmworker backgrounds. CAMP facilitates transition from high school to college and offers first-year support services meant to help students develop the skills necessary to persist and graduate from college.
"Sac State is doing a great job implementing these types of programs because it helps people like us," Perez says. "If it wasn't for these programs, many of us migrants would be lost."
Visit the Migrant Student Leadership Institute and CAMP pages on the Sac State website for more information. - Anita Fitzhugh
RELATED CONTENT