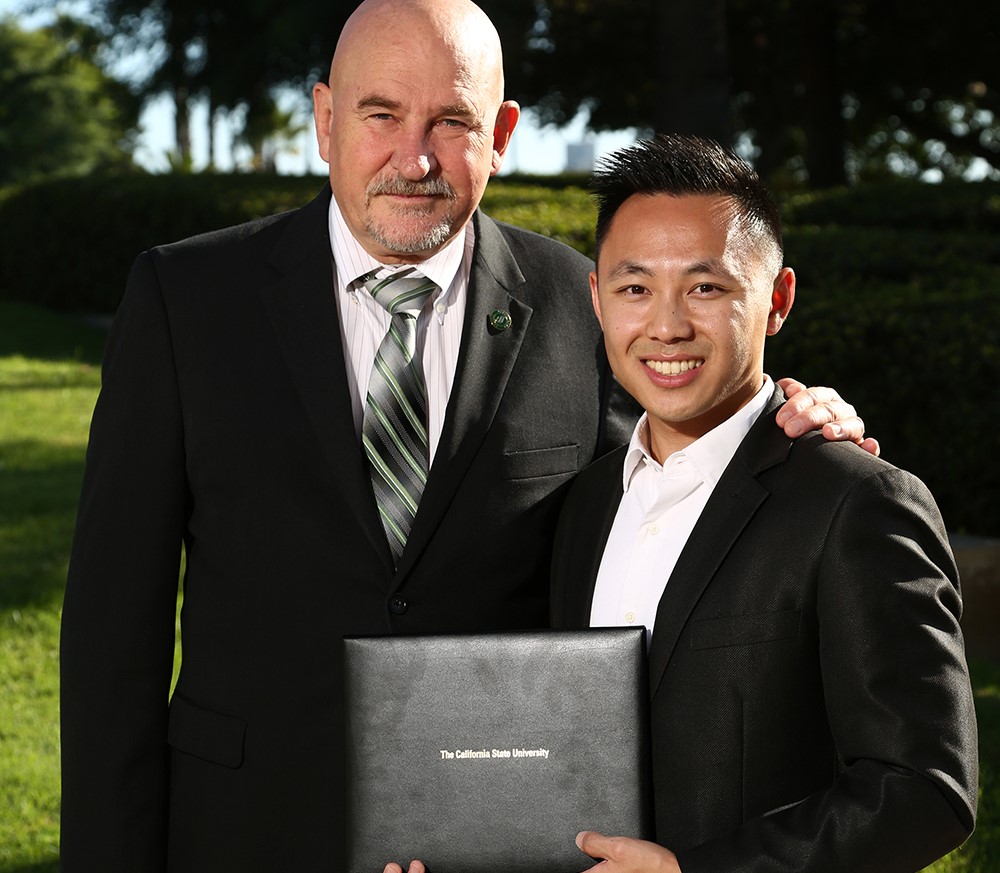 President Robert S. Nelsen, left, accompanies Lay Vang after the graduate student accepted a 2018 CSU Trustees' Award on Sept. 11. (California State University)
A sense of something greater than himself has guided Lay Vang as far back as he can recall. Vang saw his Hmong immigrant parents make many sacrifices to raise 10 children and views his pursuit of success as payback for their investment.
Vang netted a return on that investment Sept. 11 when he was handed one of 23 California State University 2018 Trustees' Award for Outstanding Achievement at the trustees' meeting in Long Beach.
Sac State President Robert S. Nelsen, who was in Long Beach for the award ceremony, characterized Vang as "incredibly deserving" of the award.
"It is an honor to know Lay Vang," Nelsen said. "He has proven himself academically, personally, and through his outstanding service in the community. He is a wonderful young man, and I look forward to following his future successes after graduation."
Vang, who grew up in a south Sacramento neighborhood, graduated from UC Davis in 2016 with a BS in psychology and an education/linguistics double minor. Now a graduate student in Sacramento State's career counseling program, he is a coach for the DEGREES (Dedicated to Educating, Graduating, and Retaining Educational Equity Students) Project. He advises and connects students to campus resources and facilitates career development workshops. But his passion lies in teaching the Hmong language, traditions and history.
"I see that many Hmong Americans are assimilating faster than ever, but I also see that, at this time, many Hmong Americans are yearning to learn more about the Hmong culture and history," he said.
Knowledge of culture and history – and therefore self – is essential to persistence toward graduation for Hmong Americans, Vang says. Low graduation rates for Hmong students and a shortage of Hmong professionals in higher education were decisive factors in Vang's decision to pursue a counseling career. After earning his master's degree, he plans to be a counselor serving the greater Sacramento community.
To Vang, who is third in the birth order, counseling comes naturally.
"I have always played an important role as the mediator and mentor within my family," he said. "Growing up, my family would always reach out to me for support, guidance and advice."
The CSU annually recognizes 23 students with the Trustees' Award, which accompanies a donor-funded scholarship ranging from $6,000 to $12,000. More than 340 students have been honored with the Trustees' Award since the scholarship program was established in 1984 by the William Randolph Hearst Foundation.
"These student scholars embody the leadership, diversity and academic excellence the California State University is known for," said Chancellor Timothy P. White in a CSU news release.
"They have traced unique paths to their goal of a higher education and serve as powerful examples to their families, communities and California. The awards will give these high-achieving and deserving students even more opportunities to attain their academic and career goals." – Ahmed V. Ortiz