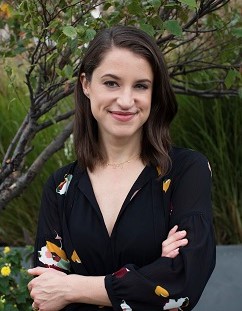 Melissa Dahl, a Sac State alumna, leads off this year's Author Lecture Series on Oct. 9. (Sacramento State)
Melissa Dahl, who was #MadeAtSacState, will kick off the Friends of the Library's 2018-19 Author Lecture Series with a talk at 3 p.m. Tuesday, Oct. 9, at the Harper Alumni Center.
The four author lectures – two this fall and two next spring – are free and open to the public.
Dahl will discuss her first book, Cringeworthy: A Theory of Awkwardness, in which she explains the psychology of awkwardness and explores the idea that perhaps our most inelegant moments are somehow valuable.
She is a senior editor for New York magazine's The Cut, covering health and psychology, and co-founder of the NYMag.com site Science of Us. While at Sac State, Dahl served as news editor for the State Hornet student newspaper before graduating in 2007 with a journalism degree.
The other three events in the 2018-19 Author Lecture Series will begin at 3 p.m. in the University Library Gallery:
Nov. 8 – Sasha Abramsky, who lives in Sacramento and teaches in the University Writing Program at UC Davis, is the author of Jumping at Shadows: The Triumph of Fear and the End of the American Dream. "Fear is very sticky," he said in a 2017 interview with the Sacramento Bee.
"It gets edged into the cavities of your brain. … A whole generation who saw Jaws as a kid, they're all scared of being in the ocean. In fact, you're much more likely to get sick from eating seafood than in danger from sharks."
This is Abramsky's second Author Lecture Series appearance. In April 2017, he recalled his extraordinary grandfather in The House of Twenty Thousand Books.
Feb. 21, 2019 – Nigel Poor, professor of photography at Sacramento State, is fascinated by how people make their mark and leave behind evidence of their existence. Her topic for the Author Lecture Series is "Telling Stories from Prison."
In 2011, she began teaching the history of photography through San Quentin State Prison's on-site college program and later launched the award-winning podcast Ear Hustle, which explores everyday life inside the prison. "Ear Hustle" is prison slang for eavesdropping.
Poor these days spends most of her personal studio time inside the prison working with lifers on photo and radio projects.
April 11, 2019 – Tamim Ansary was born in Afghanistan and, as he likes to say, "grew old in America." He came to this country as a high school junior and soon embraced the 1960s counterculture movement. His memoir Road Trips: Becoming an American in the Vapor Trail of the Sixties recalls the years he dropped out of the American society he'd never really been a part of.
Ansary also is the author of Destiny Disrupted and the memoir West of Kabul, East of New York, which was selected as San Francisco's One City One Book in 2008.
*****
Friends of the Library is a volunteer group that supports the University Library by raising money for books, equipment, and materials. The Friends run the Book Bin, a retail shop that sells used books on the Library's lower level.
The Friends of the Library Charles Martell Author Lecture Series also is sponsored by the University Library, Hornet Bookstore, Sacramento State Creative Services, Sacramento State Alumni Association, California State University (CSU) Retirees Association, and University Library Gallery.
For a parking pass, contact Sally Hitchcock: (916) 278-5954, hitchcoc@csus.edu. – Dixie Reid