Fall at Sacramento State brings not only the rustle of leaves beneath busy feet, but also the bustle of a jampacked arts schedule. This semester's offerings include a Pulitzer Prize-winning play, an array of art exhibits and the always compelling – and always free – Festival of New American Music.
Theatre and Dance
The season's opening production, Transcend18, starting Sept. 12, is very much of the moment, a dance-driven piece meant to entertain, but moreover, an expression of art leading the way out of the prosaic and into something uplifting.
Transcend18 features live-performance works by professional choreographers at various stages of their careers, including works by Sac State faculty members Lorelei Bayne – who directs the show – Melisa Cervantes and Philip Flickinger, as well as guest choreographers Lori Bryhni, Leandro Glory Damasco Jr., Tony Nguyen, and Pepper Von.
Bayne said "transcend" is more than part of the title.
"It's also the theme that choreographers worked with during the process," Bayne said, adding that the creative people behind the production asked, "How do we transcend the current news cycles and unrest to go about our daily lives and continue making positive change?"
Audiences should be offered works that they enjoy on different levels, Bayne suggested, and feel a connection with the artists and director.
"We would like the audience to be entertained, moved, and inspired by the visual imagery they will see in this production," she said.
As for being the first show of the fall season, Bayne said all involved recognize the special place they have at the front of the line.
"Yes!" Bayne responded in an online interview, when asked if being first holds significance. "We are a great kickoff to the entire season, and the performers and choreographers who have been working since July are anxious to share their passion with audiences."
That first show on Sept. 12 is scheduled to begin at 8 p.m. at Solano Dancespace, Solano Hall 1010. The production runs through Sunday, Sept. 23.
Peter and the Starcatcher
October brings to the University Theatre (Shasta Hall 113) Peter and the Starcatcher, a popular play that won five Tony Awards for its Broadway production in 2012.
The titular Peter, of course, is Peter Pan, who, as is well known, has mastered the trick of staying forever young. The show is based on the 2004 novel by famed newspaper columnist and humorist Dave Barry and Ridley Peterson. According to Playbill.com, the play "upends the century-old tale … and playfully explores the depths of greed and despair ... and the bonds of friendship, duty and love."
Sac State's production, under the direction of Michelle Felten, runs Oct. 17-28.
Buried Child
Buried Child turns the mood sharply for November. Sam Shepard's bleak look at the life of an unraveling family in middle rural America during the 1970s economic downturn won the 1979 Pulitzer for Best Drama. The Theatre and Dance web page calls the play "alternately funny and macabre." It is considered a masterpiece of modern American drama.
Roberto Pomo directs Sac State's production, which runs Nov. 7-18 at Playwrights' Theatre (Shasta 101).
Dance Sites
The fall stage season concludes with the annual Dance Sites performances Nov. 28-Dec. 9. The University Dance Company's annual celebration of concert dance in America, in its 15th year, is a research vehicle for faculty and students to explore and create new works and restage important historical works. Highlighting the diverse perspectives on the ever-evolving art form of dance, renowned faculty and professional guest artists expose audiences to riveting concepts and fierce athleticism, according to information on the Theatre and Dance web page.
Performances for all shows are at 6:30 and 8 p.m. Wednesdays and Thursdays, 8 p.m. Fridays and Saturdays, and 2 p.m. Sundays.
See the Hornet Ticket Office page for full schedules and ticket information for the fall productions.
Music
The 41st annual Festival of New American Music (FeNAM), the nation's longest-running festival celebrating new American music, runs Nov. 2-11. Guest artists from across the nation perform nightly at Capistrano Concert Hall with one change from past years: an earlier start time of 7 p.m.
Gyan, left, and legendary Minimalist composer Terry Riley will close out the Festival of New American Music on Nov. 11.
Featured guest artists include soprano Jamie Jordan on Saturday, Nov. 3; the Empyrean Ensemble on Sunday, Nov. 4; and pianist Jeffrey Jacob on Monday, Nov. 5. Legendary California composer Terry Riley, who is credited with launching the Minimalist movement, closes FeNAM at 7 p.m. Sunday, Nov. 11, performing with his guitarist son, Gyan. Terry Riley also will deliver the event's keynote address.
All performances are at Capistrano Hall, except for classical guitar/violin group Duo46, which performs at 3 p.m. Nov. 11 at the Crocker Art Museum (admission fee applies). Go to the Festival of New American Music web page for more information.
Other music highlights
Guest pianist Kirill Gliadkovsky opens this year's Piano Series at 7 p.m. Saturday, Sept. 8. Gliadkovsky, who has studied music since age 5, attended Russia's most prestigious music institution, the Tchaikovsky Conservatory in Moscow, where his teachers included renowned musicians Lev Vlasenko, Mikhail Pletniev, and Leonid Royzman. Gliadkovsky earned both his master's and doctoral musical arts degrees at the University of Southern California.
Jazz saxophonist Donny McCaslin, a three-time Grammy nominee, performs with his quintet at 7 p.m. Friday, Sept. 21, at Capistrano Concert Hall. McCaslin is widely acclaimed commercially and critically for his work in jazz, rock, and electronica. He is best known for his collaboration and friendship with the late, great David Bowie, with whom McCaslin worked closely on Bowie's final album, Blackstar. Raised in Santa Cruz, McCaslin attended Berklee College of Music. He also has worked with Maria Schneider, Dave Douglas, Danilo Perez, Brian Blade, the Gil Evans Project, Steps Ahead, and many others.
The University's award-winning jazz ensembles perform, under the direction of Mike McMullen and Mark Tulga, at 7 p.m. Thursday, Oct. 18, at Capistrano Concert Hall.
Sac State's award-winning vocal jazz ensembles perform, under the direction of Gaw Vang Williams, at 7 p.m. Friday, Nov. 30, at Capistrano Concert Hall.
The semester concludes with the annual String Project Recital at 7 p.m. Monday, Dec. 10, at Capistrano Concert Hall. This endearing free show features elementary school-age children from throughout the area who have been taking violin and cello lessons from the University's music majors.
See the Hornet Ticket Office page for information about School of Music performance schedules and ticketing.
Art
The fall season also brings to light works by numerous artists in various media, each part of a greater whole and carrying the potential to affect the public discourse, however subtly.
Art Department Chair Carolyn Gibbs said the connection and context created by public art is at the heart of its importance in a community.
"Public art is especially exciting for me because this art, in particular, creates unique relationships with the surrounding architecture and landscape," said Gibbs, a licensed architect. "Public art deepens placemaking.
"Our campus is beautifully landscaped with many wonderful gathering points. The public art on this campus transforms our campus and strengthens our commitment to place and placemaking."
Gibbs pointed to the Sacramento Mural at Sac State gracing the Shasta Hall exterior wall as part of the University's vibrant art scene.
"It is also exciting to see the visibility that public art on our campus is receiving," she said. "The Sacramento Mural at Sac State is just one of many public art pieces that create an artistic 'trail' that is accessible to our campus community and the visitors to our campus."
As for the artists whose work will be displayed during the fall, their contributions represent risk as well as potential reward.
"All professional artists know that at some point their work will be both examined and enjoyed by the public," Gibbs said.
The follow are highlights from the fall art displays:
Robert Else Gallery
This semester brings a first: a fall Senior Show, featuring bachelor of arts candidates in the Art Studio concentration. The show, which runs Nov. 26-Dec. 14 at the Else Gallery, provides the students valuable exhibition experience before graduation.
The gallery is open from noon-4:30 p.m. Tuesday-Friday throughout the semester.
R.W. Witt Gallery
Each week features a new student exhibition at the Witt Gallery, regular hours for which are noon-4:30 p.m. Monday-Friday, although hours might vary.
The lineup of artists and their work:
Aug. 27-31
Danh Cao and Dominique Garcia: Two bodies of works, both in paintings, exploring the ideas of borders and identity, and the collapsing of physical, domestic forms.
Sept. 4-7
Valerie Dacpano: Works emphasizing physical balance with the use of assembled found objects.
Sept. 10-14
Andrew Rosas: A series of balancing kinetic sculptures made of steel, incorporating some found materials.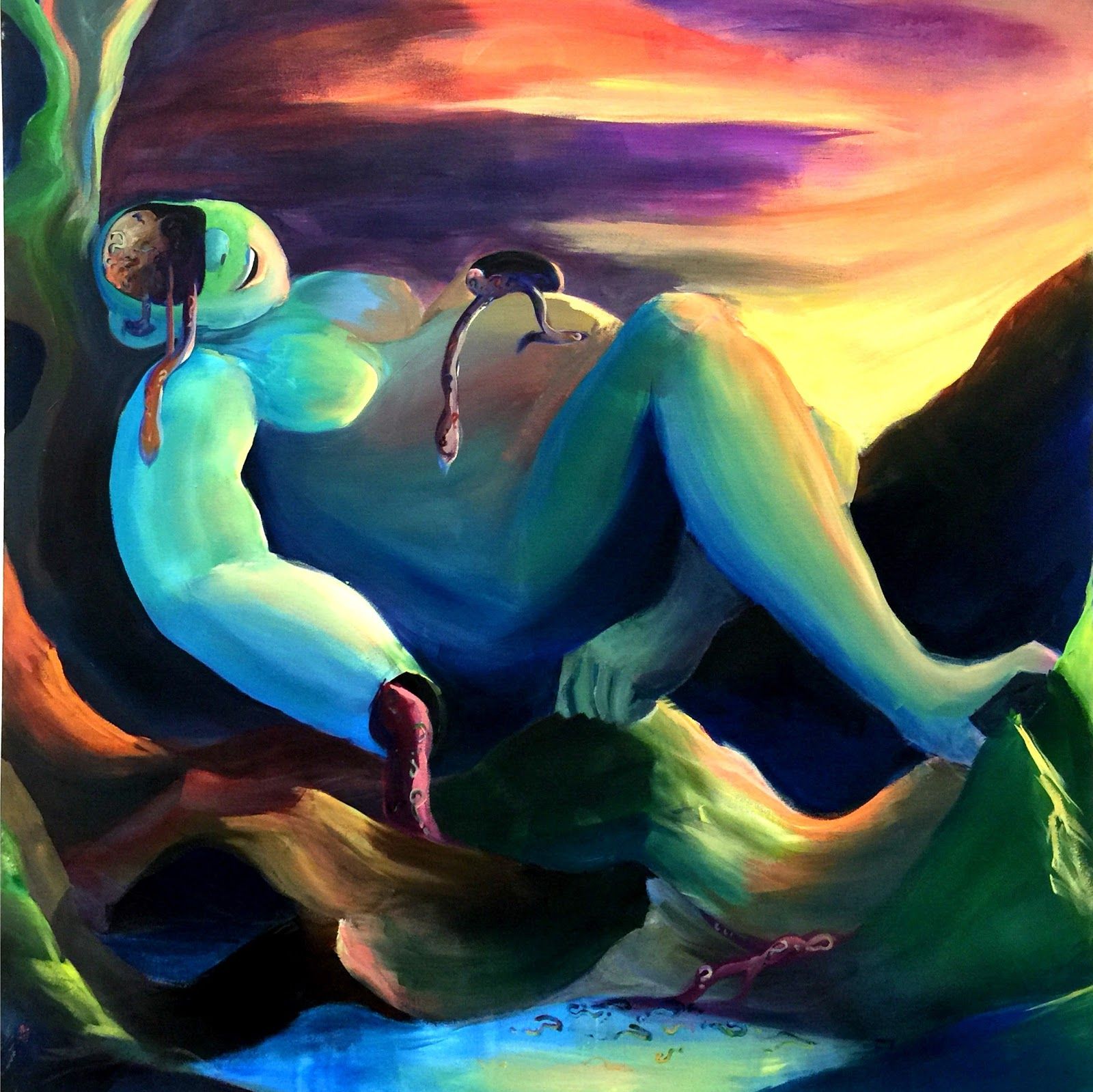 Student artist Sarah Hughes' work will be displayed at R.W. Witt Gallery the week of Sept. 17-21.
Sept. 17-21
Sarah Hughes and Carmen Tham: Hughes' work explores, in her words, "the quiet contemplation that accompanies exploration of the self and the burst of emotion that follows. Tham uses flowers and plants to create a sensual desire."
Sept. 24-28
Sarah Veliz: Sculptures created using found objects.
Oct. 1-5
Madison Short: This show, is inspired by a biblical passage, Luke 19:40 ("He answered, 'I tell you, if these were silent, the very stones would cry out.' "), Short hopes the show inspires "conversation and ideas about a simple foundational object such as rocks."
Oct. 8-12
Camilo Pico: A collection of sculptures and drawings that represent human interactions with Earth's creatures and the environment, highlighting a series of extinct animals the demises of which were caused by human activity.
Oct. 15-19
Shixiang Huang: Paintings and watercolor drawings that reflect a combination of cultures.
Oct. 22-26
Elise Robins, Kayelynn Welsh, and Nathan Nguyen: Assemblage, prints, paintings, and sculptures of various materials.
Oct. 29-Nov. 2
John Klaiber: Sculpture, paintings, ceramics, performance and original music.
Nov. 5-9
Shara Poole: Works highlighting the agricultural-industrial landscape of the California Central Valley using various printmaking techniques, including relief, intaglio, and lithography.
Nov. 13-16
Kayelynn Welsh: Through visceral forms, juxtaposition of color and texture, and heavy use of line, the artist showcases recent work resulting from an attempt "to give myself a voice."
Nov. 19-30
Sac State Ceramics Guild: Works by several ceramic artists with skills ranging from beginning to advanced.
Dec. 3-7
Dafne Navarro and Joy Benner: An exhibit exploring the idea of sensuality and the many interpretations of sorrow.
Dec. 10-14
Group: An exhibition of work by students from two classes, New Media Art 199 and Printmaking Art 149, in the form of two- and three-dimensional works, installations, digital prints, screen- and projection-based animations, videos and/or interactive artworks.
See the Art Department web page for more information.
For media assistance on any of Sacramento State's arts programs and events, call the University's Communications office at (916) 278-6156. – Ahmed V. Ortiz