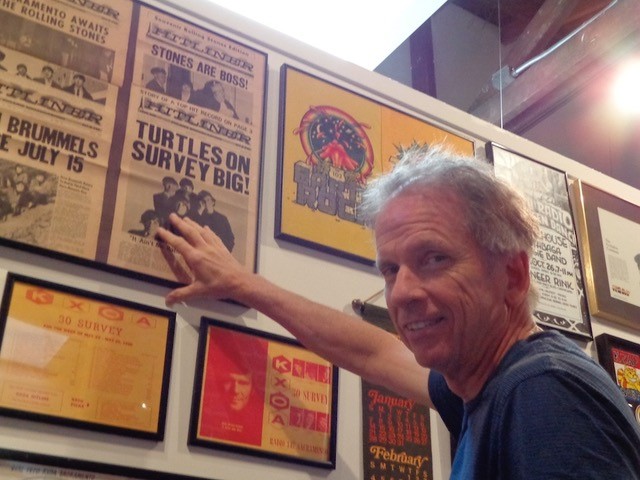 Dennis Newhall, with some of his rock 'n' roll posters and artifacts, has donated the collection to Sac State. (Photo courtesy of Dennis Newhall)
The Ed Sullivan Show, broadcast in grainy black-and-white, was must-see TV for American families in the 1960s. Millions tuned in when Sullivan introduced U.S. audiences to the Beatles in February 1964.
But it was the Rolling Stones' appearance eight months later that put Sacramento in the national spotlight.
Mick Jagger, then 21 years old, and his bandmates rocked their new single, Time is On My Side, to a studio audience of screaming teenagers before the host came out to say goodbye.
"I want to wish all of you fellows a big success tomorrow night in Sacramento, California," Sullivan said.
Suddenly, Sacramento had cachet as a rock 'n' roll town, and the whole country knew it.
The Stones flew cross-country to play Sacramento's Memorial Auditorium, then the largest venue in town, on Monday, Oct. 26.
"There was a poster from the Stones' show, and if I had a real one, it'd be worth $6,000 or $8,000," says Dennis Newhall, the accidental curator and chronicler of Sacramento's rock 'n' roll and rock music history. "I didn't have one, so I had a friend find all the same fonts and photo, and rebuild it."
Newhall '73 (Theatre Arts) recently donated to his alma mater nearly 4,000 items – hundreds of authentic (and at least one fake) concert posters, handbills, T-shirts, a necktie, K-ZAP Radio logo wear, photographs, concert tickets, and even an Oasis Ballroom cocktail table – from his now-closed Sacramento Rock & Radio Museum.
This poster announced a concert by Jimi Hendrix at Sac State in 1968. Cost? $2.75 advance, $3 at the door. (Image courtesy of Dennis Newhall)
The University's newly acquired Sacramento Rock & Radio Collection lives in the Gerth Special Collections & University Archives, where it's available for study and research. The collection will continue to grow with contributions from new generations of Sacramento music fans.
"This is not an art collection," Newhall says. "This is a story about the venues, the poster artists, the pioneering radio stations that brought rock 'n' roll and rock to Sacramento, and the rock bands that played here."
Sac State will celebrate the gift with an exhibition and reception, complete with a cake resembling a vinyl record, 4-5:30 p.m. Wednesday, Feb. 13, in Special Collections & University Archives (on the south side of University Library.) The event is free and open to the public.
In addition to Newhall, Sacramento artist Jim Ford is expected to attend. Over a span of 14 months in the late 1960s, he created iconic psychedelic posters for some of the biggest bands ever to play Sacramento, including the Jimi Hendrix Experience at then-Sacramento State College, and the only time Cream and the Grateful Dead shared a bill, playing Memorial Auditorium.
"There is no other collection like this on the planet, not even in Cleveland (home of the Rock & Roll Hall of Fame)," says James Fox, head of Special Collections & University Archives. "We now have a pretty comprehensive collection of rock 'n' roll posters for our city from the 1960s to the present. It's a unique body of material, and it's a fabulous moment for the University."
Newhall's interest in collecting music posters began in 1991, when he worked as a sound engineer and voice talent for the commercial recording studio Nakamoto Productions. Owner Ray Nakamoto had moved the business from Rancho Cordova to 907 20th St., in midtown Sacramento. Coincidentally, the building once housed the popular music club Crabshaw Corner and, later, another called Oasis Ballroom.
Inspired by the building's legacy, Nakamoto asked Newhall to track down concert posters from the two clubs, to use as wall décor.
Newhall, a rock 'n' roll fan since childhood and former employee of K-ZAP Radio, knew that local artist Roger Shepherd had created most of the posters. Newhall made a call, and Shepherd sent over a stack of posters.
Piece by piece, Newhall would build a gallery of colorful and historic Sacramento-area music posters. The Sacramento Rock & Radio Museum inside Nakamoto's shop was a popular stop on Sacramento's Second Saturday Art Walk, in part because it was adjacent to the trendy 20th Street Art Gallery. Newhall's friend, Jeff Hughson, an original K-ZAP deejay, helped to care for the museum in its first five years.
"We were getting 300 people through every hour a few nights during the summer," Newhall says. "The mission from the beginning was not for it to be just old posters, but new artists and new posters, too. And it's not just a collection of pretty posters. It's the story of this community."
Newhall has a story for every poster. For instance, Nirvana once played the Cattle Club (now a barbecue restaurant) south of the Sac State campus. The poster isn't much to look at, he concedes, "but it's Nirvana."
The Red Hot Chili Peppers, a band that sells out stadiums, once performed in a corner of what's now the Zinfandel Grille on Fair Oaks Boulevard. Jimi Hendrix played to 3,000 fans at Sac State College's Men's Gym, a venue intended for just 1,000.
Over 17 years, Newhall amassed thousands of pieces of Sacramento's rock 'n' roll history, along with items from shows in Davis and Lake Tahoe. A series of circumstances forced him to move the Sacramento Rock & Radio Museum from Nakamoto's place to a couple of warehouses and finally to a friend's garage.
Desperate to find it good home, Newhall did an interview with the neighborhood tabloid Inside Publications. Amy Kautzman, dean of Sacramento State's University Library, saw the article and was intrigued.
"Music is meaningful," she says. "We measure time by music, by the posters we hung over our bed, or what we listened to in cars with our friends."
Kautzman wanted to acquire the collection for Sacramento State.
"So I get this call," Newhall says, "and I realized this would be unlike anything I had imagined: a place where everything would stay together forever. The University has the wherewithal for preservation, and there would be endless opportunities for students to find things to add to the collection."
His initial gift includes approximately 1,000 items. The balance of the collection will come to Sac State over time.
Newhall, now Capital Public Radio's jazz host and co-founder of the rebooted K-ZAP, at k-zap.org, never intended to become the caretaker of his hometown's rock music history.
"I had no plans. I just took advantage of situations." – Dixie Reid