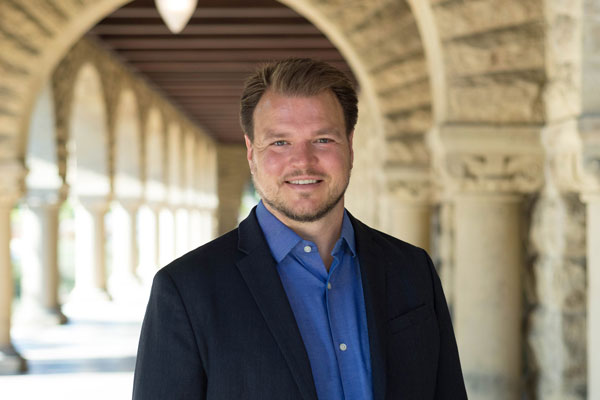 Professor Frank Adamson was part of an international team that created a set of principles meant to strengthen public education and access to it. (Sacamento State)
Countries must provide free, high-quality public education, while regulating private-sector influence on what is taught and how, according to a set of "guiding principles" fashioned by experts that included Sacramento State Professor Frank Adamson.
The Abidjan Principles on the Right to Education were adopted in February, taking the name of the Ivory Coast city where the document was accepted and signed.
Adamson and legal, human-rights and education experts made up the international team that developed the principles, which are increasingly important as unsettling questions arise from the growth of global and local private influence.
"The document's role is to address the concerns of segregation and stratification both within the public system as well as with the increase of private actors in the system," Adamson said.
He said that the increasing private involvement in education over the last five years has necessitated development of legal stipulations for states to follow to ensure access to free, high-quality public education for all students.
Adamson formally presented the Abidjan Principles at the Comparative & International Education Society's annual conference in San Francisco in mid-April, one of several worldwide release events for the document. The ultimate goal, he said, is formal adoption by the United Nations, though individual nations and other education stakeholders may use as a guideline the principles, which outline existing human-rights laws regarding education.
Adamson spent two days in Abidjan working with other committee members, combing through the text to ensure it accurately reflects the latest education research and is understandable to average education stakeholders.
In large part, he said, the document is aimed at the global South, where private actors have taken substantial roles in providing education. But it's just as applicable to the United States and California, where the role of charter schools has been growing.
Adamson's most recent research analyzed educational systems of six countries, three with private school systems and three that invested in public education. Results showed better education outcomes in public schools.
Lately, he has examined the financially troubled Oakland Unified School District, and in his San Francisco presentation he outlined the problems facing that district and where they intersect with the guidelines in the Abidjan Principles.
For example, he said, about $57 million is diverted annually to charter schools from Oakland Unified public schools, and the district is considering closing 23 public schools because of budget deficits – but no charter schools face shuttering.
That situation conflicts with Principle 48a, which stipulates that "private educational institutions do not supplant or replace public education, but supplement it in a way conducive to the realization of the right to education for all, with due regard for cultural diversity."
Even California's classification of charter schools conflicts with the principles. The state views charter schools as public institutions, but the document states clearly that privately managed schools cannot be considered public.
Adamson said school districts and other jurisdictions, including in Sacramento, can look to the Abidjan Principles as they work to address issues of equity and access.
The will of most people for public education systems to function well for everyone is not being met, and the promise of a good education is not being delivered, Adamson said. Following the Abidjan Principles could change that.
"The principles offer an international consensus around what we expect our schools and our countries to provide," Adamson said. "It would be great to see all stakeholders embrace this responsibility." – Jonathan Morales