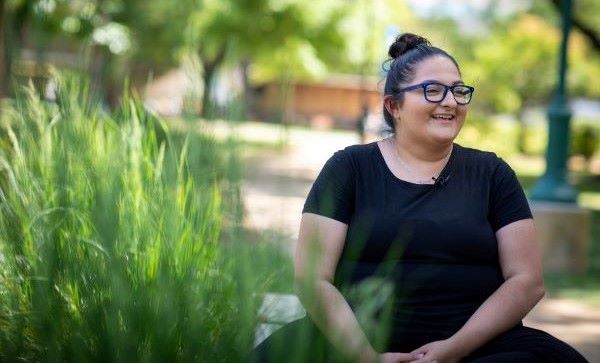 Yasamin Mohammad's path to graduation was cleared in part by the boldness of her parents and their willingness to move from a dangerous part of the world. (Sacramento State/Jessica Vernone)
Had her parents remained in Afghanistan, Yasamin Mohammad likely never would have felt the joyous anticipation of walking across a stage and accepting a college diploma.
Her mother and father risked their lives to flee a country where walking the streets is tempting death, where free expression courts danger, and where girls often are discouraged from obtaining an education.
Because of their sacrifices, Mohammad said, she stands at the cusp of the American Dream. In a matter of days she will become the first in her family, and among a small percentage of women of Afghani descent, to earn a university degree and pursue a profession in the sciences.
"I am so grateful, and so proud of myself for breaking the cycle," she said. "It's been a real challenge, but I wouldn't change anything."
Mohammad has navigated many struggles along her path to commencement. While pursuing a biology degree in the College of Natural Sciences and Mathematics, she worked two jobs to help support her family. She lost a cousin and an aunt to cancer. Her rigorous courses nearly crushed her spirit.
"At times I felt so deflated," she said. "I thought, 'I'm never going to walk at commencement.'
"But guess what? I'm here."
She credited family and Sac State professors for helping her prevail.
Mohammad's parents left Afghanistan in the 1980s, during the country's deadly civil war. At that time, women's rights were severely restricted, a situation that worsened during Taliban rule.
Under the Taliban, women and girls were banned from going to school, working, leaving the house without a male chaperone, showing their skin in public, being involved in politics, or accessing health care delivered by men. Though the U.S.-led invasion ousted the Taliban in 2001, insurgent groups still control many parts of Afghanistan, and violence and severe discrimination against females continues, Human Rights Watch says.
The group reports that only one in three girls attends school regularly. The literacy rate among girls is 37 percent, compared to 66 percent among boys. Only 19 percent of adult women are literate, compared to 49 percent of men.
Mohammad's mother and father escaped Afghanistan with little but "the clothes on their backs," she said. Because her father worked for the Afghan government, they risked being killed by opposition forces during a harrowing journey from Pakistan to India and, finally, to the United States. Mohammad's parents raised their four children in the Sacramento area.
Because Farsi was her first language, Mohammad struggled during elementary school. But by high school, she had mastered English and became interested in science and decided she would study biology, much to her father's chagrin.
"He was strongly against it, because back home women don't pursue science," Mohammad said. But she maintained her vision, attending community college in the Los Rios district and transferring to Sacramento State in the spring of 2016.
Mohammad has routinely worked more than 30 hours a week and taken full course loads at Sac State.
One of her teachers, assistant professor Lani Gleason, said Mohammad became flustered at times in her molecular ecology class. But her determination and "unfailingly positive attitude" pulled her through.
Gleason said Mohammad has an extraordinary ability "to recognize struggles and obstacles as opportunities for growth and learning."
"She was also always excited about what we were learning in class and lab, which made her an absolute joy to have in the classroom," Gleason said.
Another mentor, lecturer Lisa Stillwell, expressed similar sentiments. "Not only did she know her stuff, but her active participation brought all the other students along," Stillwell said.
Nearing graduation, Mohammad said she wonders how her life might have unfolded had her parents stayed in their homeland.
At best, she said, she might have completed high school. Many Afghani girls marry as soon as they reach their teens. They largely are confined to their homes because of safety concerns, harassment and discrimination.
"I am so grateful that my parents were brave enough to risk everything so that we could have a chance to experience the American dream," Mohammad said.
Following graduation, Mohammad plans to study for the Medical College Admission Test in pursuit of becoming a physician.
She said she hopes one day to travel to Afghanistan to help inspire young girls to reach for a higher education.
"I'm very, very grateful to be where I am today," Mohammad said. "I had many obstacles to overcome, but they made me a stronger person. I'm extremely blessed." - Cynthia Hubert