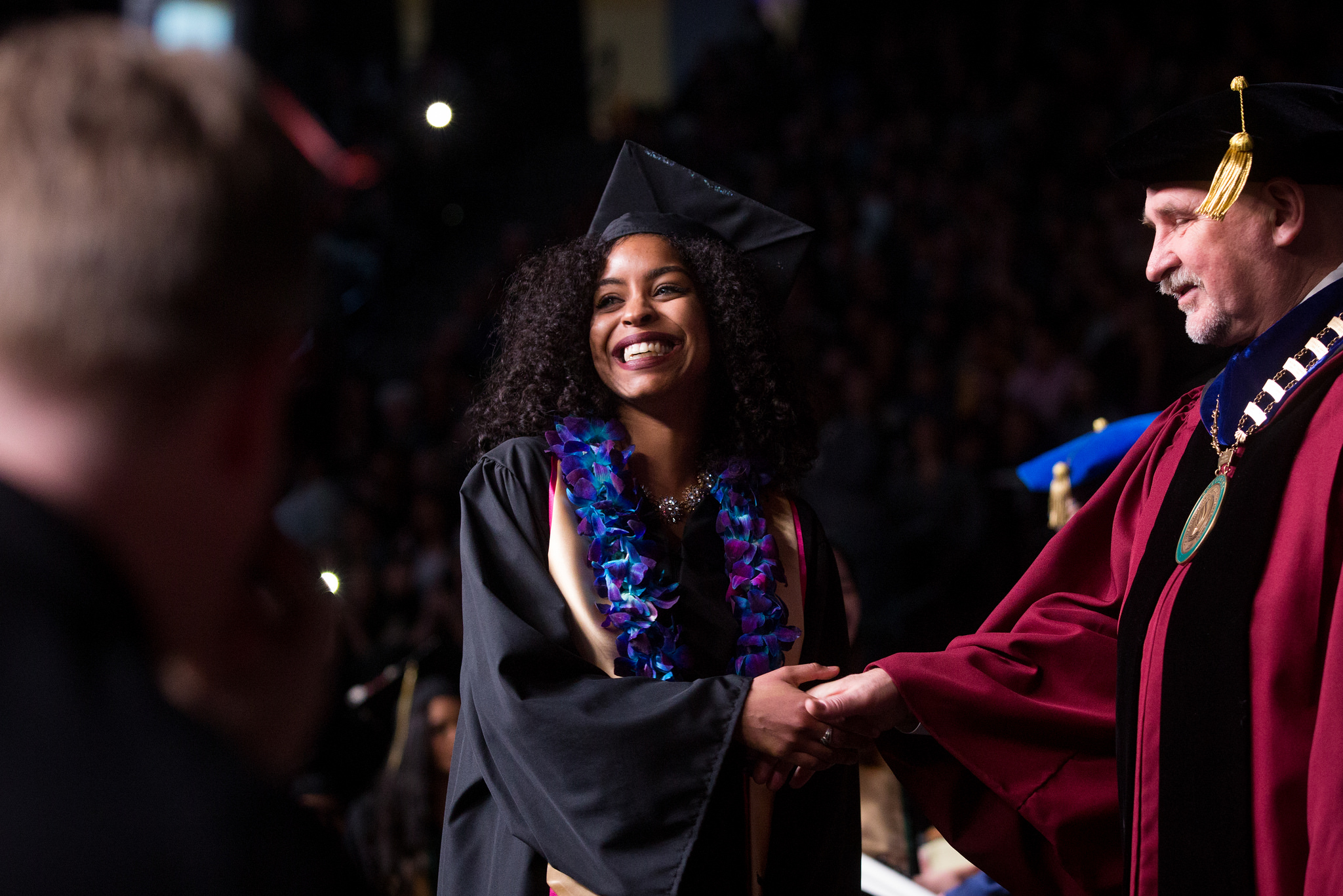 President Robert S. Nelsen will be shaking plenty of hands at Spring Commencement, much as he did during the Winter ceremonies in December (above). Officials say be ready for traffic challenges this time around. (Sacramento State/Jessica Vernone)
Sacramento State graduates, their families and friends, as well as staff and vounteers will want to leave extra early for May 18-19 Commencement ceremonies at Golden 1 Center because of anticipated parking and traffic problems.
Officials say anyone heading for the ceremonies throughout both days should build in an extra hour-and-a-half travel and parking time because of disruptions expected from the Amgen Tour of California bicycle race and other events.
Thousands of people are expected to attend Commencement as the University celebrates the graduation of its class of 2018 and honors the lives and accomplishments of four luminaries whose accomplishments have had a significant impact on Sac State and its students.
A record total of more than 6,600 students – including graduates, pending summer graduates, and credential candidates – are eligible to walk in five ceremonies for the University's seven academic colleges. Ceremonies are at noon and 4 p.m. Friday, and 8 a.m. and 1:30 and 5 p.m. Saturday.
The final stage of the seven-stage Amgen Tour runs Saturday, May 19, starting at 10:15 a.m. in Sacramento and heading across Tower Bridge and into West Sacramento and Yolo County before returning to Sacramento for three loops around the Capitol and a finish at about 1:40 p.m. Streets directly affected include L, N, Q, 10th, and 15th. In addition to Saturday's closures, Sacramento city authorities will close L Street between 10th and 15th beginning at 9 a.m. Friday, May 18.
The event and a concurrent Amgen festival have drawn about 100,000 fans in the past, with many arriving several hours ahead of time to get the best positions.
Traffic and parking also could be affected by crowds attending the popular musical An American in Paris at the Community Center Theatre at 13th and L. It has performances at 8 p.m. Friday, May 18, and 2 p.m. Saturday, May 19. There also are events at Memorial Auditorium and the Convention Center during that same time period.
The primary parking facility in the area, the Capital Garage, will have severely limited access, and motorists are advised to use other sites, such as the Old Sac Parking Garage.
In addition to figuring in extra travel time, people attending Commencement are urged to consider other options such as mass transit or light rail.
For more information about the Tour of California race route, go to the event's website.
COMMENCEMENT CEREMONIES
Friday, May 18
Noon: College of Education (768 students), and College of Natural Sciences and Mathematics (320).
6 p.m.: College of Social Sciences and Interdisciplinary Studies (1,267)
Saturday, May 19
8 a.m.: College of Health and Human Services (1,417)
1:30 p.m.: College of Arts and Letters (899)
6:30 p.m.: College of Business Administration (657), and College of Engineering and Computer Science (512).
Doors open an hour before each ceremony. Students must check in 90 minutes before the ceremony.
For more information, go to Sac State's Commencement website.
SPECIAL HONOREES
A quartet of citizens are being honored for their contributions to Sacramento State, education, and the community.
Alice A. Huffman, a former CSU trustee and president of the California-Hawaii NAACP, will receive an honorary Doctor of Humane Letters during the College of Education ceremonies.
Ruth Rippon, renowned ceramic artist and professor emeritus, received an Honorary Doctor of Fine Arts earlier and will be honored in a video during the College of Arts and Letters ceremony.
Ernest Tschannen, a Swiss immigrant and self-made millionaire who contributed $9 million to Sacramento State's new science building, will receive an honorary Doctor of Humane Letters during the College of Engineering and Computer Science ceremonies.
Sacramento State Professor Emeritus Susan McGinty will be recognized for shaping the physical therapy program into a national leader and securing a doctoral program for the University, with the President's Medal for Distinguished Service. University President Robert S. Nelsen will present the medal at the College of Health and Human Services.
RELATED STORY: High honors await four luminaries at Spring Commencement
For media assistance, call Sacramento State's University Communications at (916) 278-6156. – Craig Koscho